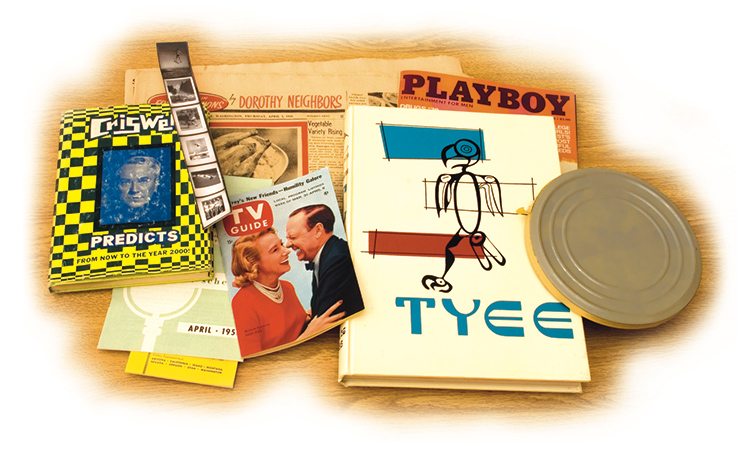 UW communication professors pried open a 51-year-old time capsule on April 26, revealing both its original contents and some more, um, revealing contents. Along with textbooks, newspapers, recordings and photographs from 1956, they found copies of Playboy and the Rocket, a Hustler centerfold, men's underwear, a condom and some well-preserved Twinkies, all from circa 1979.
Suspicion immediately fell on Charles R. Cross, '81—the celebrated biographer of Kurt Cobain and Jimi Hendrix. As editor of the Daily in 1979, he would've had both the opportunity (the capsule was sealed in a wall outside the student paper's editorial office) and the motive (historically, to Daily staffers, a prank has been its own reward).
But Cross, reached by phone at his Shoreline home, wants it to be known that he was not the one. He was one of many.
"When I was at The Daily, there was no one person who was generally responsible for anything," he explains. "And everyone blamed me for, basically, everything that ever happened there during about a six-year period, when I personally was responsible for only a small amount of the shenanigans. No, this is not the work of one person, and not everyone who was involved in it wants to be identified."
The time-delayed jape was written up in the Times and the P-I, and talked about on NPR. Cross admits he was surprised by the amount of attention it received.
"I mean, we were college students at the University of Washington, working at The Daily. We were capable of a lot more than this. I feel underestimated to some degree."
Nevertheless, he can now claim partial credit for what may be the dirty joke with the longest set-up in human history—more than a quarter-century. Had Cross forgotten about the capsule's reopening until the coverage called his attention to it?
"Oh no," he says. "It was on my calendar."