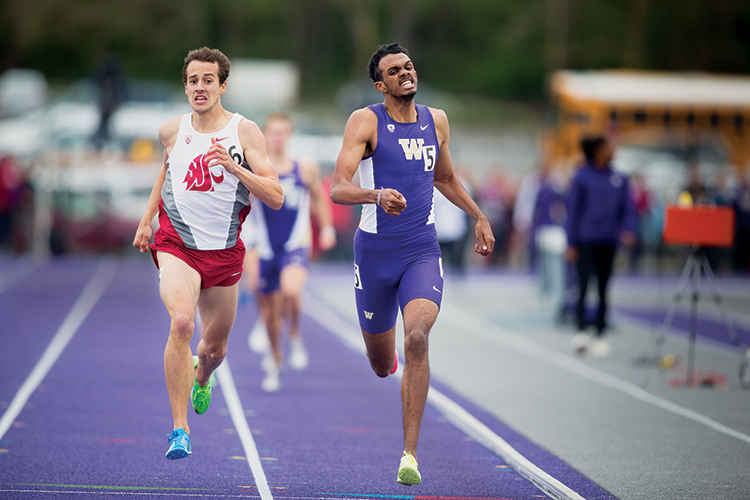 The UW and WSU track teams have squared off 97 times in dual meets, but until this spring, the Huskies had never hosted on an oval of their own.
Since 1920, the track encircling the football field at Husky Stadium was the surface upon which 27 Olympians and 36 NCAA champions sweat for UW. The new—and very purple—Husky Track has been more than 20 years in the making, but the wait was well worth it for track coach Greg Metcalf.
"It's almost like Christmas morning each time I drive around the corner and see this place," Metcalf said before the opening meet against WSU on April 25. "I went to my first real track practice at the University of Washington the other day. Throwers, jumpers, sprinters and hurdlers all training at the same place!"
Construction of the track, which is located adjacent to the E-1 parking lot just north of Husky Stadium, wasn't easy. Turner Construction, the same firm that is renovating Husky Stadium, had to cover a landfill adjacent to swampland at the head of Union Bay and install underground pilings beneath the track to reinforce it.
For Athletic Director Scott Woodward, the extra time and expense was necessary. "With the great history our track program has, this is a very important part of our athletic department and our overall program," he explained. "And this has been built in a way that makes us proud. This is state of the art."
The project isn't quite complete, however. Coach Metcalf wants to increase the seating capacity of the new facility to 4,500, which would be enough to allow UW to host the Washington state high school track and field championships as well as other major events.
Husky Track is already making memories, though. "I've been to a lot of these dual meets over the years, but this was by far my favorite one," Metcalf said after the inaugural event, which the Huskies split with the Cougars. "To see so many alums and fans out here today in this new intimate setting, it just feels like a very special place already."
---