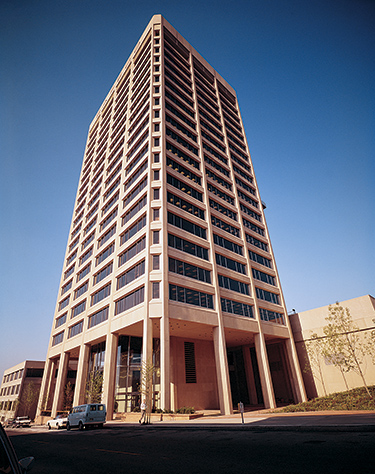 Beating out several other real estate interests, the UW announced Aug. 28 that it successfully negotiated the purchase of the Safeco property in the University District.
The deal includes the prominent Safeco Tower—now named the UW Tower—plus three adjacent low-rise buildings totaling 510,546 square feet, two parking garages with 727 stalls, a residential building with 29 units, and two surface parking lots.
The University purchased the property for $130 million, financed by short- and long-term debt issued by the UW. Safeco will lease back the property through December 2007, when it will move downtown. The UW estimates between 1,500 to 2,000 employees will move into the complex.
Safeco announced earlier this year that it was selling its University District headquarters and consolidating much of its operations in downtown Seattle. About 700 Safeco employees will remain in the district in leased space.
This landmark transaction promises to expand academic space on the campus as administrative units relocate to the UW Tower. The purchase will also enable the University to consolidate in the University District programs and operations that are scattered in leased space throughout the city, bringing these activities in much closer proximity to the University.
"This is an amazing opportunity for the University, one that will have beneficial impacts on our programs and people for generations to come," says UW President Mark A. Emmert, '75. "With this purchase, the University has expanded its office capacity in close proximity to the Seattle campus, opening up many opportunities to benefit both our core academic programs on the campus proper, as well as the many support services spread throughout the city. It's an opportunity that comes along once, and I'm delighted we were able to acquire this property."
The University currently leases 1.2 million square feet of space throughout the city. Resources currently being spent on rent will help finance the debt for the purchase. Over time, as the cost of rent increases, moving units into its own office building will result in considerable cost savings to the University.
Safeco's decision to sell created an opportunity for the University to acquire space in the University District at a cost significantly lower than new construction on or near campus. "From a financial perspective, this transaction makes great sense," says Emmert, "allowing us to reduce the cost of leasing offices while gaining new space at a fraction of replacement costs."
With more University employees working in the heart of the "U" District, local businesses will likely see an increase in drop-in customers, helping support on-going efforts to revitalize the area.