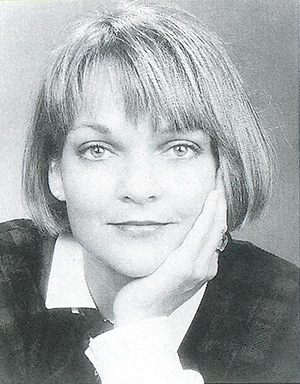 She's an award-winning actress who has played on Broadway and shared the silver screen with Arnold Schwarzenegger. In between roles, Pamela Reed, '75, is also putting her considerable talents to use helping students.
As first vice president of the Screen Actors Guild Foundation, Reed is spearheading a children's reading program called Book Pals, where actors visit elementary school classes and read to children. Every week she visits schools near her Los Angeles home to read to a second-grade class.
"It's a real love of mine," she says.
So is her starring role in the UW School of Drama's Visiting Artist Series. For the past three springs, Reed has come to campus to work with undergraduates and students in the Professional Actor Training Program, helping them prepare for national auditions, talking about her path to success and about the fickle life of an actor.
"It's wonderful working with students at the UW," she says. "I always learn an enormous amount myself. It's given me a sense of my own history, reminded me why I do what I do. And it's great to come home."
A Tacoma native, she moved to Maryland when she was 12 years old. Her early ambition was to be a flight attendant but a school counselor urged her to focus on home economics. She began college at the University of Maryland, but moved back to the West Coast and enrolled at Western Washington University. She did some acting in local community theater in Bellingham and was encouraged to apply to the UW after being inspired by a local director and theater critic. At the UW she studied under Duncan Ross and Robert Hobbs.
To help pay her tuition, she worked a stint as a cook's helper on the Alaska pipeline north of the Arctic Circle. Her dedication and talent paid off when, during national student auditions in her senior year, she was one of a handful to sign with an agency.
After earning her B.F.A. in 1975, she skipped her UW graduation ceremonies and headed for New York. There, she struggled, trying to find a place to live and rewashing the same audition outfit. "I was down to about $3 and decided to blow it on a breakfast," she recalls. "I sat in a grungy coffee shop in my audition outfit, and the guy behind me started giving me a hard time.
"When he asked what I was doing there, I said, 'I am an actress.'"
From then on, she has worked steadily. She performed extensively in the New York theater, winning a Drama Desk Award for her work in Getting Out, and another Drama Desk nomination for The Curse of the Starving Class. She also received an Obie Award.
In 1988, Reed received the Ace Award for best actress in a dramatic series for her performance in Tanner 88, directed by Robert Altman. She made her big screen debut in 1979's Melvin and Howard, and has appeared in such movies as Kindergarten Cop (with Schwarzenegger) and The Right Stuff. Her TV credits include the Hallmark Hall of Fame production Caroline and the NBC series Grand.
She has helped raise money for UW drama students to pay for spring audition tours and says the time has come to develop a scholarship program for the drama school. "We have one of the best drama programs in the entire country," Reed says, "but to be on a par with the very best, we need more support. I really care about our school and the great students we have. We need to do more."