Albert L. Babb, 1925-2014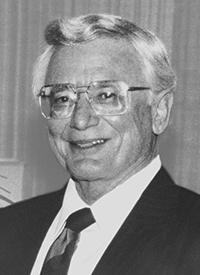 Albert L. "Les" Babb joined the UW chemical engineering faculty in 1952 and spent more than 40 years at the UW. He led the development of a curriculum in nuclear engineering and chaired the Department of Nuclear Engineering from 1965 to 1982.
One of the highlights of his career was his collaboration with Dr. Belding Scribner of the School of Medicine to create equipment that safely automated the process of hemodialysis used to treat acute kidney failure. His contributions were essential, since the number of patients needing dialysis treatment exceeded the capacity of hospitals of hospitals to treat them.
For this reason, Caroline Helm, the 16-year-old daughter of a friend of Babb's, was denied urgent dialysis treatment. So Babb assembled a volunteer team of engineers and physicians who were willing to work nights and weekends. Together, they managed to create a small dialysis machine, simple enough to be used at home without the supervision of a medical professional. They called the machine the "mini-monster." Helm and her mother received training on how to use it and home dialysis was born. Ultimately, Babb was nominated for a Nobel Prize in for this work.
Buddy Ratner, professor of chemical engineering and bioengineering, calls Babb's work "remarkable contributions to humanity."
"Les, along with Belding Scribner, transformed the world with their life-prolonging kidney dialysis and it was truly driven by engineering," Ratner adds. Babb is the only faculty member in UW history to be elected to both the National Academy of Engineering and the Institute of Medicine. He approached life with the mind of an engineer until his death on Oct. 22. He was 88.