Althea D. Stroum, 1922-2011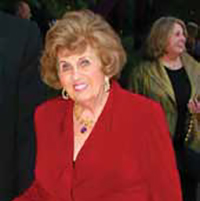 Althea Diesenhaus Stroum, one of the UW's most renowned philanthropists, died March 14 in Santa Barbara, Calif. She was 88.
Stroum and her late husband, Samuel, to whom she was married for 58 years before his death in 2001, dedicated their lives to giving; their generous contributions benefited 300 education, arts, health-care and Jewish organizations and causes.
The couple created the UW's Stroum Jewish Studies Program, which enables students to major or minor in Jewish Studies. The program also awards the Hazel D. Cole Fellowship in Jewish Studies to a doctoral or postdoctoral student. In addition, they established the annual Samuel & Althea Lectures in Jewish Studies.
Their philanthropy stretched far and wide. From the grand lobby in Seattle's Benaroya Hall to countless Jewish groups, the Stroum name can be found on buildings and programs across the region. The Jewish Federation of Greater Seattle in 1991 created the Althea Stroum Woman of Distinction Award, given to a woman who exemplifies the desire to give back.