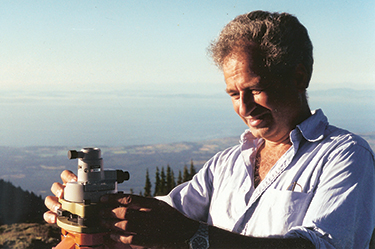 When he wasn't in the classroom teaching applied seismology or on location at the crater of Mount St. Helens tracking seismic activity, Anthony Qamar could often be found on the IMA climbing wall. Even at the age of 62, Qamar, a research professor of Earth and space sciences at the UW, made some of the fittest grad students a little jealous.
He was known as "the phantom rock climber," says Earth and Space Sciences Research Professor Steve Malone, one of his coworkers in the seismology lab. "There's this story that a grad student ran into Tony at the IMA and talked to him a bit, and when Tony left, a few of the workers asked the student, 'Who is that guy? We've seen him all over here. … He's great.' "
Despite Qamar's attempts to remain inconspicuous, his natural ability and adventurous spirit drew a lot of attention. His favorite outdoor activities included kayaking, hiking, backcountry skiing and rock climbing, but he was not one to brag. "Many people who knew him for years didn't know some of the things he accomplished," Malone says. "He was so humble."
Qamar's accomplishments included some important technological innovations within his field. He helped develop a Web-based survey technique for felt earthquakes, as well as seismic processing and mapping software. He also served as the Washington state seismologist, advising the government on earthquake safety issues, and as co-principal investigator for the Pacific Northwest Seismograph Network.
Qamar acquired his love of mountain climbing while a young student in Europe, where he scaled many of the Alps. He was able to extend his passion for the outdoors to his professional life—Malone said both he and Qamar chose to study geophysics for the opportunities it presented to get away from the lab and play outside.
"Any time there was a field project that would take you to the mountains, or any place where you could 'suffer,' Tony was right there volunteering to do it—if not lead it," Malone remembers. When his meetings were over during business or research trips, he might go backcountry skiing or summit Mount Rainier. Among his students, he had a reputation for turning a regular day hike into a weekend adventure.
Qamar was born in Redding, Calif., in 1943, and grew up in the Berkeley area. It could be said that he had the "science genes"—his father was a civil engineer and his grandfather was a well-known agricultural researcher in Switzerland and at UC-Davis. Qamar credited one of his Swiss uncles for teaching him classical mathematics, which led him to study physics and geophysics at Berkeley. He was a professor in the Department of Geology at the University of Montana before joining the faculty at the University of Washington in 1983.
On Oct. 4, Daniel Johnson of the University of Puget Sound asked Qamar to go with him to the Olympic Peninsula to retrieve some GPS equipment they had built to pinpoint the source of earthquakes in the crater of Mount St. Helens. Qamar didn't have to go—collecting the equipment wasn't his particular responsibility, but he was a great team member and friend, Malone says.
A truck heavy with logs was traveling southbound on Highway 101 and experienced equipment failure after entering a sharp turn, according to the Washington State Patrol. The truck lost its load, and Qamar and Johnson lost their lives in the accident.
"He was the best sort of guy, the nicest guy," says Malone. "He'll be greatly missed." A memorial Web site is located at the Earth and space sciences home page.