Bob Ferguson, '73, lands dream job with the Seahawks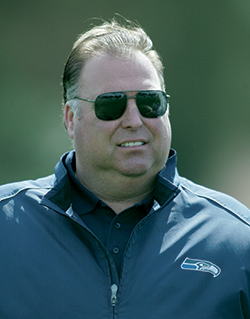 Bob Ferguson, '73, has a daunting task ahead of him this fall: helping the Seattle Seahawks get off the mediocrity merry-go-round and nudge their way into the NFL's elite.
Ferguson, 52, was hired in February as the team's general manager shortly after Coach Mike Holmgren relinquished the GM role. Despite Holmgren's ballyhooed arrival four years ago as the team's leader, the Seahawks have made the playoffs only once.
"My job is to try to get the energy back," Ferguson said.
If anyone can do it, it's the 51-year-old Enumclaw native who earned all-Pac-8 honors as a linebacker for the Huskies. (He earned a bachelor's degree in radio/television communications from the UW in 1973.)
Ferguson, who began his NFL career as director of sales and special events for the Seahawks from 1975-79, carved out a career as a highly respected judge of talent and administrator during his 29 years in the NFL. Before spending the past seven years with the Arizona Cardinals-including the past four as GM-he spent 11 seasons in Buffalo and Denver, where he helped lead his teams to six Super Bowl appearances with savvy player acquisitions.
Ferguson had always hoped to return to Seattle, where he has many relatives, but the opportunity didn't present itself until January, when Holmgren stepped down as Seahawks GM and Ferguson was fired by the Cardinals a week later.
"This opportunity kind of fell out of a tree," Ferguson said. "This is the job I have been dreaming about since the day I walked in the door (of the Seahawk offices back in the 1970s) trying to get a job."