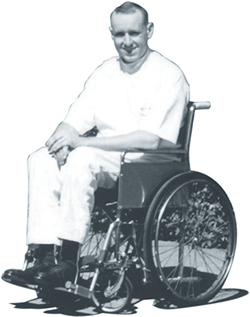 C. Benjamin Graham Jr., '58, '62, the first student in a wheelchair to graduate from medical school at the University of Washington—and possibly the first in the nation—died March 19. He was 80.
Graham, who contracted polio while an undergraduate student at Washington State University, put his studies on hold and left WSU to get treatment for polio. Afterward, he finished his bachelor's degree at the University of Illinois because it had accommodations for wheelchairs.
A top chemistry student, the Missouri native was denied entrance by numerous medical schools because he was in a wheelchair. The UW School of Medicine—then in its infancy in the 1950s—was the only school to admit him. "The UW has a young staff and progressive ideas. I am honored to find myself a part of such an institution," he wrote to his parents.
He earned his M.D., and did his residency, at the UW School of Medicine.
Graham, who met his wife, Pearl, while both were at the UW, was the first pediatric intern at Children's Orthopedic Hospital (now Seattle Children's) in 1958 and the first University Hospital radiology resident in 1959.
He was appointed to the UW medical school faculty in 1963, and was named professor of radiology and pediatrics in 1974. He also was director of radiology at Seattle Children's. He was named an emeritus professor but continued to work at Children's after his retirement.
Graham also played wheelchair basketball and helped organize the first wheelchair basketball team in Seattle. He was the 15th player in the nation inducted into the Wheelchair Basketball Hall of Fame.