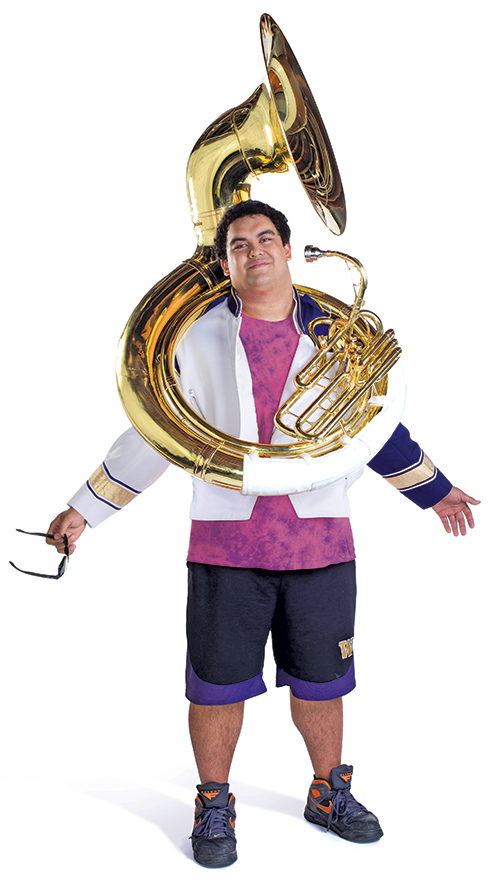 Senior physics major Carlo Torrella joined the UW's 240-member marching band in 2011. It has been one of the most demanding experiences of his life. But "I'm so glad I did it," he says. He describes the sousaphone section, made up of 16 to 20 students, as one of the goofier: "We like to have fun."
Band is not a hobby; it's a life.
We put so much time into it. Practice is Monday, Tuesday, Thursday and Friday. On game days, we have to be ready four hours before kickoff. And then after the games, we have fifth quarter where we perform as people leave the stadium. And then there's sixth quarter, where those of us over 21 finish our band duties and then play for the tailgaters.
I've been playing the tuba …
since 6th grade and sousaphone since high school. It's the same fingering and same notes most of the time. It's just rolled up in a circle so you can wear it rather than flipped on itself. I'm so happy I chose band over football. I have been this size since 9th grade, but I couldn't do both.
I always planned to be in the Husky Marching Band.
It was one of the reasons I applied to the UW. At tryouts, I was so scared. I knew absolutely no one. The section leader said that if I just practiced some of the band pieces, I would get in. But then I froze and played a bunch of bad stuff. They must have needed me. There were three of us trying out and all three of us got in.
My sousaphone weighs 40 pounds, …
the older ones about 45. And most people don't realize that marching band is really physical. We always have sore backs and sore knees. You know you're going to put some wear and tear on the body. And when you hold the weird positions, your body doesn't so much ache, it sort of sweats.
If my sousaphone had a name, …
it would be Jaydon Mickens. He's the Husky wide receiver who was trying to catch the ball at last year's Apple Cup. He was a good step or two out of bounds when he took a late hit from a Coug. I was standing on the sidelines right where it happened and Mickens bumped into my sousaphone. That's why it has a big dent. WSU got a penalty and a bill for repairs.
We have about 20 standard tunes …
and dozens of others when we are in the stands and half-time shows. Lately we've been performing Lady Gaga and [Taio Cruz's song] Dynamite. But one of my favorites is Africano. I know it's funny. It's old. Earth, Wind and Fire. It's just a wild song that the band has been doing for decades.
One of the hardest tunes is …
Bow Down to Washington. It's not like most fight songs, which are in a 4/4 march. Bow Down is a 6/8 time signature. And we have a lot of different versions. The hardest version is called Bow Special. It's twice as long and we play it when we spell out "Huskies" in script on the field. You have to be confident when you're marching like that or you'll run into someone and throw everyone off.
You spend so much time together, …
you're like a family. Then every year, new people come and others leave. You are friends with everyone ahead of you and everyone behind. Ninety-nine percent of the band members who graduate are all sobbing at the last home game. I probably will be, too.