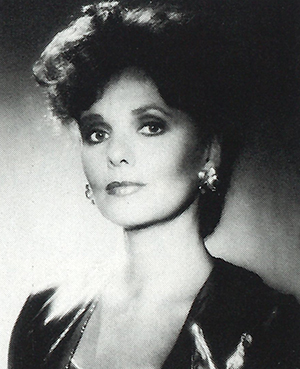 Somewhere in the world, at this very moment, Dawn Wells is still stranded on Gilligan's Island. Wells, a 1960 UW drama graduate, played the naive farm girl Mary Ann on the situation comedy, which aired from 1964 to 1967. Today Gilligan's Island is the longest-running syndicated show in TV history.
A resident of Toluca Lake, Calif., Wells has been recognized as "Mary Ann" in places as far away as Australia. Once, when she was spotted aboard a commercial airliner, the passengers spontaneously sang the show's familiar theme music. While Gilligan's Island has gone on and on, Wells' career has continued with "basically theater," in her words, including Broadway and off-Broadway productions as well as national tours. She recently signed to appear in a film, as yet unnamed, due to begin shooting this spring.
Her stage life—especially those quick costume changes into clothes designed so that "what looks like a one-piece outfit is really three (pieces)"—has inspired a new career. She is the owner and designer of the Wishing Wells Collection, a line of easy-to-put-on clothing for elderly or disabled persons. Wells' inspiration came from caring for her grandmother, who was crippled by a stroke. Her idea was reinforced when she visited a friend who spent 167 days in the hospital recovering from a heart and lung transplant. Her friend longed to break the monotony with colorful clothing.
Wells is preparing to expand the one-year-old Wishing Wells into a comprehensive non-profit organization. She wants to add clothing lines designed for specific situations, such as fashionable head coverings for chemotherapy patients or special make-up to hide radiation scars. She wants to also provide self-esteem classes, theater for people in wheelchairs, and art therapy for the emotionally abused as well as the physically disabled, "to bring some hope, some positiveness out of despair."
A native of Reno (she was Miss Nevada in the 1959 Miss America pageant), Wells majored in chemistry at Stephens College in Columbia, Mo., before transferring to the UW and its "remarkable" drama department under the directorship of Glenn Hughes. She credits the UW with teaching her discipline and providing valuable, nearly nonstop, hard work. "I was in production and rehearsal most of the time," she says. "There's nothing like practical experience." She also learned from professors such as Donal Harrington, Robert Grey and, in costume design, James Crider that "with art you must continue to create and keep honing your tools. You can't just go 'on hold.'"
That has been a challenge at times, especially in the face of a tendency to typecast in films. "It's taken a great deal of time to break away from Mary Ann," she notes.