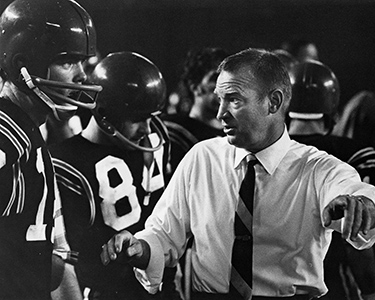 Don Coryell, '50, '51, a Husky defensive back who went on to become one of the greatest offensive coaches in football history, died July 1. He was 85.
Coryell devised the "I formation" and created prolific passing attacks by employing up to four wide receivers on the field at a time. "Air Coryell," as it was called, led San Diego State University, and the NFL's San Diego Chargers and St. Louis Cardinals to great success on the field.
Coryell was the first coach to win 100 games in college and in the pros. Many prominent coaches, including John Madden and Joe Gibbs, trained under Coryell and use his offensive strategies to this day.
Says Mike Martz, a Coryell disciple who coached the St. Louis Rams to a Super Bowl appearance: "Don is the father of the modern passing game. People talk about the 'West Coast offense,' but Don started the 'West Coast' decades ago and kept updating it. You look around the NFL now and so many teams are running a version of the Coryell offense. He has disciples all over the league. He changed the game."