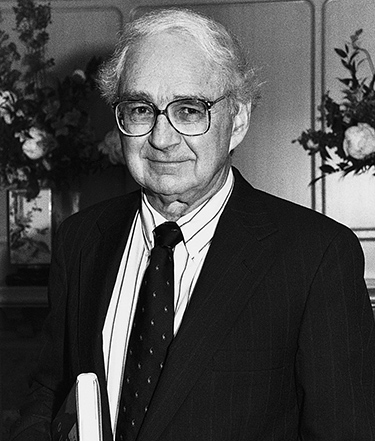 Donald R. Ellegood, who turned the University of Washington Press into one of the nation's top academic publishers during his 33 years as director, died Jan. 7. He was 78.
As head of UW Press from 1963-96, Ellegood published books that focused on local events, culture and art, and brought awareness to the Pacific Northwest's unique history. His ability to transform scholarly works into books for the general public earned him international acclaim.
"His job as an editor was to really find those diamonds in the rough … and develop them to the point that they can be published," says Pat Soden, a good friend and current UW Press director. "He was absolutely brilliant at it."
Today, the UW Press is one of the top 20 academic publishers in the United States in sales and numbers of titles. Ellegood, who was recruited to the UW after serving as director of the Louisiana State University Press, was one of the first university press officials to make official visits to the Soviet Union and China.
Born in Lawton, Okla., he served in the Army Air Corps during World War II and received the Distinguished Flying Cross for seeing combat. He began his career as an editor at the University of Oklahoma Press and Johns Hopkins University Press before becoming director of the LSU Press.
An avid tennis player, he also played clarinet in a jazz trio, Offshore Bookies, which played regular gigs in Seattle.
Ellegood is survived by four children — Elizabeth, Hunter and Lyle Ellegood of Seattle, and Sarah Mitchell of Sandpoint, Idaho. Memorial donations to the Donald R. Ellegood International Publications Endowment, which was created after his 1996 retirement to publish books that reflect his international interests, can be sent to Nina McGuinness, Development Office, University of Washington Press, P.O. Box 50096, Seattle, WA 98145-5096.