Douglas Olesen, '62, '63, '72, makes his name in research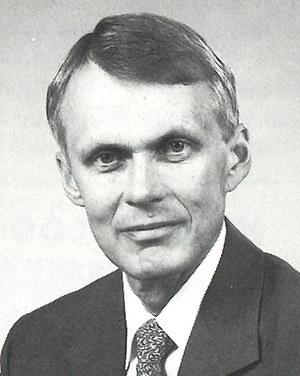 UW graduate Douglas E. Olesen is president and chief executive officer of Battelle Memorial Institute, the world's largest research and development institute, which first gained prominence when it developed copy machine technology 40 years ago. Battelle researchers are also credited with developing the "sandwich" of copper and nickel alloys that replaced silver in U.S. coins, devising the universal product code used in grocery checkouts, and inventing a holographic identification that appears on credit cards.
Olesen earned his bachelor's, master's and Ph.D. degrees from the UW in civil engineering in 1962, 1963 and 1972 respectively. He joined Battelle in 1967 after a brief stint at Boeing, where he helped develop and test life-support systems for long-term space missions. He became Battelle's president and CEO in 1987, at the age of 48.
Although he now lives in Columbus, Ohio, Olesen spent several years in Richland, Wash., at the institute's Pacific Northwest Laboratory (PNL) where he held a variety of posts, including director of the research laboratories. Battelle's PNL invested $6.75 million in joint university research nationwide during fiscal 1989. More than $1 million of that came to the University of Washington, where it supported a variety of projects ranging from molecular modeling to monitoring beaches in Olympic National Park after an oil spill near Grays Harbor.