Drugs, surgery show equal results for heart-attack patients in study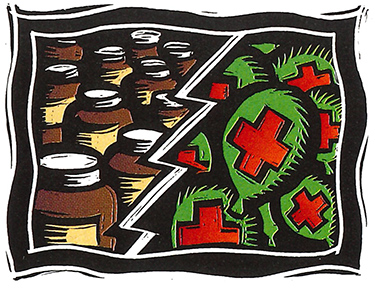 Heart attack patients show nearly identical survival rates, whether treated with powerful anti-clotting drugs or with balloon angioplasty, say UW researchers in a recent issue of the New England Journal of Medicine.
Researchers compared the death rates, both during hospitalization and over the following three years, among 2,095 community hospital patients treated with drug therapy and 1,050 patients treated with primary angioplasty. In this procedure a probe is inserted into an artery and the tip inflates like a balloon to expand the walls of blood vessels. They found no difference in mortality, says Medicine Professor Nathan R. Every.
Earlier studies had showed patients treated with angioplasty had lower hospital mortality rates, says Every, but these earlier studies were done at medical centers that perform more primary angioplasties than the average community hospital.
The study also showed that medical costs, as well as the number of additional procedures, were lower among patients treated with drug therapy, in both the short and the long term. Hospital costs averaged $3,000 less among patients receiving drug therapy.
"Cardiologists have taken hold of primary angioplasty," says Every. "The argument is that it saves more lives. Our message is that the two therapies are equally effective."