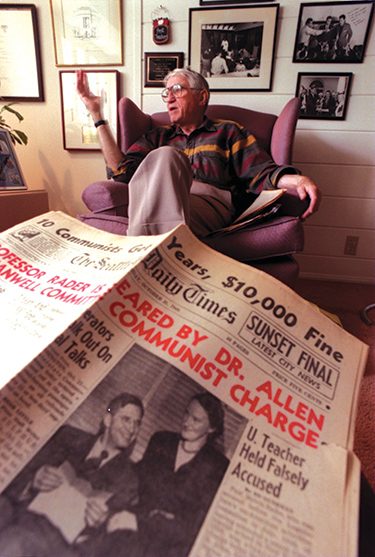 Before earning the Silver Star, Purple Heart and Pulitzer Prize, Edwin O. Guthman earned a bachelor's degree from the University of Washington. The beloved journalist and professor died Aug. 31 at his home in Los Angeles.
Guthman, '41, was a no-nonsense newspaper reporter, admired and emulated by generations of journalists. Before embarking on his writing career, Guthman served in the Army during World War II. He reached the rank of captain, and was recognized for his courage and resiliency.
After returning home to Seattle, he worked as an investigative reporter for The Seattle Times for 13 years. He soon developed a reputation for his relentless pursuit of a story. Guthman's Pulitzer Prize came in 1950 for articles defending, and ultimately exonerating, Melvin Rader, a UW professor falsely accused of being a communist by a state legislative committee. It was the Times' first Pulitzer.
Guthman's unflinching, and well-publicized, charge against corruption in the Teamsters Union led to a stint in politics. U.S Attorney General Robert F. Kennedy took an interest in Guthman and hired him to work in the Justice Department. Guthman was also involved in Kennedy's 1964 Senate run, and later served as his press secretary. He left in 1965 to accept a job with the Los Angeles Times, where he served as editor until 1977.
Guthman was unyielding in his insistence that the Times cover Watergate stories at a time other newspapers dared not. This persistence landed him in the number three spot on President Richard Nixon's infamous "Enemies List."
He spent the next decade writing for the Philadelphia Inquirer until his retirement in 1987. Guthman's idea of retirement turned out to be taking a professorship at the University of Southern California. While there he encouraged young journalists and instilled in them the importance of determination and integrity. He retired from USC in 2007, having remained active as long as his health would allow.
Guthman was the UW's Alumnus Summa Laude Dignatus — the highest honor the University confers upon its graduates — for 1975. In June of this year, Columns named him one of the UW's "Wondrous One Hundred" graduates. He was 89.