Esther M. Wilkins (1916-2016)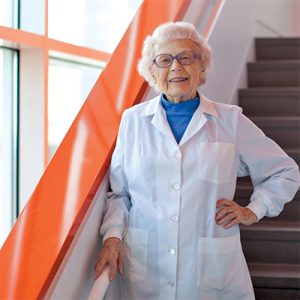 Esther M. Wilkins, who founded the School of Dentistry's dental hygiene program and was widely recognized as the godmother of modern dental hygiene, died Dec. 12 in Boston.
She had celebrated her 100th birthday three days before her death. After graduating from the Tufts University School of Dental Medicine in 1948, Wilkins was recruited by the UW to create a dental hygiene program at its new dental school. During her 12 years at the UW, Wilkins wrote a comprehensive textbook, "Clinical Practice of the Dental Hygienist," which is still in use today.
"We can be forever grateful to her willingness to come west to work with the School of Dentistry," says Dentistry Professor Emeritus Normal Wells, "and for having such a talent in our midst."