1. Explore horizons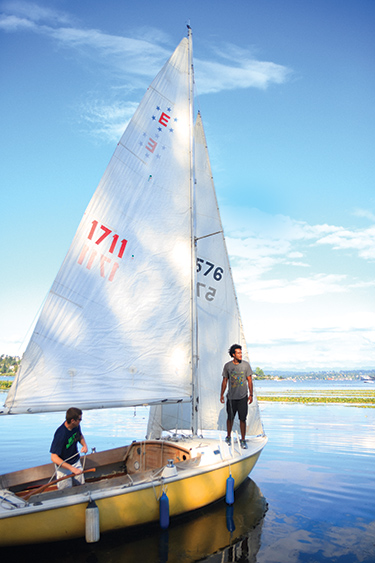 The Washington Yacht Club is not just for seasoned sailors. Alumni who have never even stepped on a boat are welcome to learn how to sail. The student-run organization offers beginner dinghies, and then catamarans and daysailers, before members can work their way up to a 28-foot sailboat and the four large cruising keelboats.
Launching from the Waterfront Activities Center, newer sailers like Albert Smalls, '12, right, and Alex Senko, '16, must stay in Union Bay to learn how to sit, steer straight and maneuver out of the lily pads. As they grow more experienced, they can earn ratings to take the boats farther out into Lake Union and Lake Washington. Smalls picked up sailing as a student. "The first day I went out, it was November, snowing, and there was no wind," he says. "And I loved it." Now, when he has time in the afternoons, he rides his bike to the bay for a little excursion. "In just a few minutes, I can be out in the lake where there's no car noise, no electricity."
Besides taking lessons, members can share in social events and trips like the Summer Snooze and Cruise, an overnight sail to Blake Island. For the speedsters, there's a campus-to-Kirkland challenge, which was created to give members "some direction in their endless quest to sail fast."
Alumni can buy a yearly membership, paying an initiation fee and annual dues, which turn out to be considerably less than private sailing lessons and boat rentals around Seattle.
2. Join a club
Dave Gandara, above, strolls in to the University of Washington Club, and a staffer calls out a friendly, "Hey, Dave." He offers a quick hello and heads into the wood-paneled, midcentury modern building looking for his lunch companion, Fabiola Jimenez, '12, left. A mentor to Jimenez since she was a UW student, Gandara coached her through law school at Seattle University and continues to stay in touch as she studies for the bar exam. As an entrepreneur who works with startups, Gandara, '90, uses the club for business as well as a landing spot for other activities on campus.
The UW's social club was founded more than a century ago to serve the faculty. It existed for many years in a craftsman-style bungalow left over from the 1909 Alaska-Yukon-Pacific Exposition. But by 1959, the structure was ready to be replaced. The club commissioned two of the region's most notable architects, Paul Hayden Kirk, '37, and Victor Steinbrueck, '35, who created a testament to Northwest-style architecture. Understated from the street, the club features an interior that is full of character with broad windows that capture panoramic Lake Washington views.
"A lot of alums don't know that this place is not just for professors and staff," Gandara says. "It allows me to bring people to a great place on campus that they might not know."
The club hosts winemaker dinners, summer barbeques, guest chefs, special dinner and food demonstrations, and meals with Husky coaches. Membership is open to faculty, staff, retirees, and UWAA members.
3. Volunteer in a garden
Her father said she should come with him to the Washington Park Arboretum and pull weeds for a couple of hours. He thought Hilary Vonckx, '16, right, would enjoy a break from her urban existence.
"He was right. I was hooked right away," says the alum from the School of Nursing. "I didn't really know how to weed, but I loved the people I was meeting, and this was a really nice place to spend time."
Created in 1934 and jointly managed by the UW and the City of Seattle, the arboretum boasts 230 acres, 40,000 specimens of trees and shrubs, and status as one of the oldest public gardens in the West. It is a lush oasis of nature in a bustling city. Many alumni, like Vonckx, become "garden stewards" to help care for the grounds. Others come to see plants in their prime, take tram tours, or attend clinics on identifying birds and improving soil. Still more use the park for jogging, picnicking and taking time to stop and smell the flowers.
4. Indulge creativity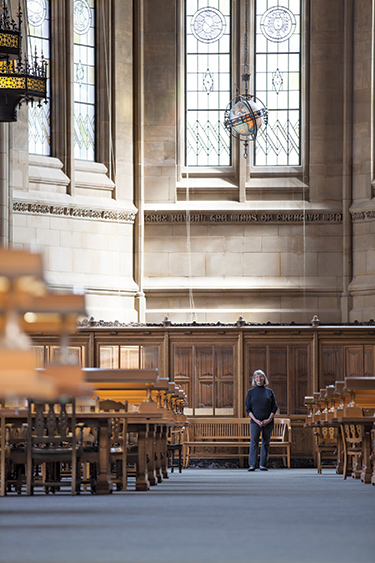 The bold words caught her eye: "Fugitive Slave Case." Lorraine McConaghy, '73, below, was digging into the UW Libraries archives looking for old newspaper stories that showed how locals in the 1860s felt about the Civil War "when my eye strayed across the page to the headline."
The piece told the story of free black people in the region who helped an enslaved 12½-year-old boy escape to Canada. "My mouth just fell open," she says. As the story goes, members of Victoria's black community arranged to stow Charles Mitchell in the galley of a ship leaving Olympia one morning. The lad was discovered during the trip, and locked up so the captain could return him. But when the ship arrived in Victoria, a hundred people, black and white, were waiting to welcome the child. Ultimately a Victoria judge freed Mitchell to the British colony's black community.
McConaghy's discovery led to her book, "Free Boy," which she published last summer.  It's just one of dozens of discoveries she has made on campus. "The UW Libraries open their arms," she says. "As an alumna, it makes me proud." 
5. Leverage expertise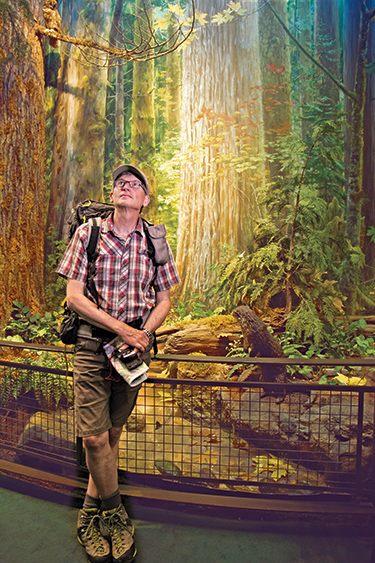 Last June, when the Burke Museum held the grand opening of its Wild Nearby exhibit, Steve McClure, right, stood before a roomful of people and shared his expertise as a mountaineer. He detailed how he uses his smartphone, compass and map to navigate backcountry and off-trail hikes. "So many people are moving to the Northwest to go to school or get a high-tech job, and they want to get out and explore," he says. "There are some very cool, modern tools to help them do that, but we're stuck in the old ways of just a map and compass."
During the week, McClure, '81, is a CPA and partner with a company that advises businesses in the tech, venture-funded and real-estate industries. But there's another side to him—the outdoorsman. An at-large director of The Mountaineers and author of "Guide to 100 Peaks in Mount Rainier National Park," he loves taking off into the wilderness.
His interests dovetail perfectly with the Burke's latest exhibit featuring the North Cascades range that Jack Kerouac described in his novel "Dharma Bums" as "miles and miles of unbelievable mountains grooking on all horizons in the wild broken clouds." The goal of the exhibit is to draw people into the museum to learn more about the wild areas around them—and then urge them out into nature. And McClure hopes they'll do it with their compass, GPS, smartphone, map and altimeter in hand. "These are really serious mountains around here. Weather, snow and so on," he says. Planning and preparing are key. "Part of it is technique, and part of it is just being able to find your way around."
The Wild Nearby exhibit at the Burke runs through February 2017.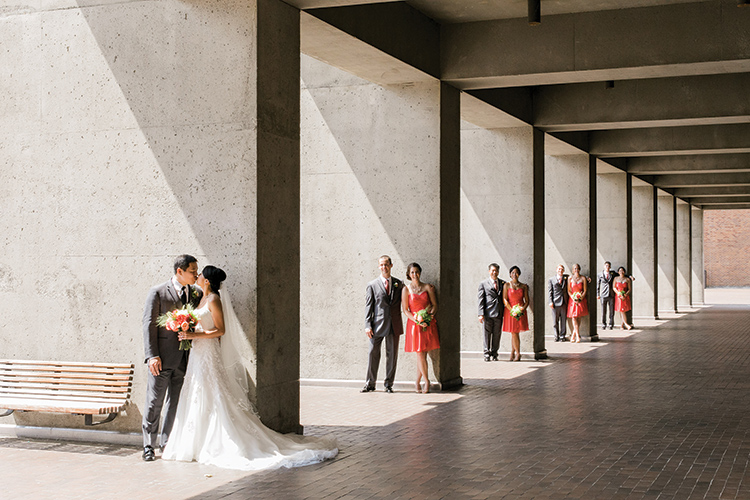 6. Exchange vows
Martha, '11, and Justin Tran, '10, '12, below left, scoured Western Washington for the perfect venue to stage their wedding. They considered dozens of options, including a waterfront hotel in downtown Seattle and a barn in Snohomish County. "But they really didn't feel like us," says the bride. Besides that, some of the sites were head-spinningly expensive, and many had been booked for a year. So they turned their focus to the UW campus.
"It was perfect," says Tran. "First, it was affordable and available. But more importantly, it was right where we wanted to be, here in Seattle near all our friends and family." While many of the guests were also alumni, they hadn't been back to  campus in decades, so coming for the wedding was a revelation.
With a bevy of lovely settings, the UW is a premium venue for weddings and receptions. From the Washington Park Arboretum, to the Burke Museum, to Mary Gates Hall Atrium, there is something for every couple. Some of the Trans' guests had never even seen the Sylvan Grove Theater, the site of their ceremony. "It was a fun discovery for them," says Tran.
The shaded lawn by the historic columns was perfect for the Trans. "Justin and I met at the UW, we both lived on campus, and we went to the Sylvan Grove all the time. Even in the middle of everything, it feels secluded," she says.