As I thought about it, aside from the incomprehensible feeling of the attack itself, the most shocking thing to me was that I could see the plane was a regular-sized, American Airlines flight. I was not aware from the early reports that hijacked domestic airliners were involved. As I kept replaying the scene in my mind, all I could think was, "This is all very wrong. It can't be real."
I stayed in the office until 1 p.m. The building was closed, but the city was in gridlock and I had to pass the Pentagon to get home, so it seemed better to stay. On my way home, I saw an Army attack helicopter in the air over a nearly deserted Capitol Beltway. It seemed surreal yet reassuring.
I deal with defense issues, among other things, for the University and I'm currently co-chair of the Coalition for National Security Research, so I know a lot of people who work in the Pentagon or meet there for business. I spent the next 24 hours, as so many people did, trying to track down all the people I knew who may have been in the area.
I, like most of the country, found comfort in the national day of remembrance and mourning Sept. 14. I have to say that Americans' reaction to this attack has been as positive and strong as the attack was terrifying. Still, as I passed the Pentagon at exactly the same time a week later, I was struck by an eerie and very sad feeling.—Elaine McCusker, associate director, UW Office of Federal Relations, helps represent the University of Washington to the federal government.
***
ER on the streets of New York
I was in New York attending a meeting of emergency physicians, nurses and paramedics. Soon after the collapse of the second tower, we were deployed as a team to Ground Zero, about four blocks from World Trade Center Building 7, which itself collapsed about five hours after our arrival. Twenty-two of our group triaged patients and provided medical support to the police and fire departments.
The enormity of the destruction was exceeded only by the human courage and spirit of the victims. The few deranged terrorists were hopelessly outnumbered by the hundreds of thousands of common, everyday people responding in the only way they knew—with love and compassion.
The owners and managers of the 40-story building, in front of which we set up our casualty station, were single-minded: Give the medical team—and the police and firefighters—whatever they needed or wanted. Tables and chairs were brought outside and used for patients; easels and coat racks were IV poles; any food in the building was ours; medical equipment and supplies were freely removed from a nurses' station in the building. Blankets and pillows appeared almost miraculously. A maintenance crew set up floodlights outside the building for our "hospital." Other maintenance engineers became food service workers.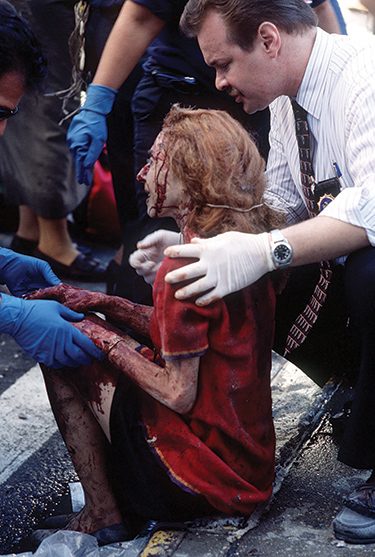 People brought bandages and medications from their own medicine cabinets in their apartments to give to our team.
A doctor needed a bicycle to travel to a triage staging area. A local bicycle merchant gave him one of his new models. The doctor told him, "I don't know when—or if—I'll be able to return it." The shop owner said, "Don't worry about it."
When you asked New Yorkers where to locate something, they wouldn't tell you—they would take you. "Reasonable" replaced "legal." If it was needed, you could, and should, do it.
Injured firefighters and police had only one thought as they were being treated—returning to help their colleagues. Tearful firefighters told us, "Don't call us heroes. We're only doing our job."
Volunteers to help came out of the woodwork (like us, I guess): "I'm a dentist. Can I help?" "I'm a nurse. Can I help?" "I'm a psychologist. Can I help?" "I'm a CNA. Can I help?" "I don't have any medical skills. I can write, and I speak Spanish. Can I help?" "I'm strong and willing. Can I help?"
Every time a group of more than five to 10 police or firefighters walked past our intersection or down the street, onlookers applauded.
A man driving a truck loaded with bottled water stopped at our medical station, unloaded his entire truckload of water, and drove away without a word being spoken to us.
As the World Trade Center Building 7 collapsed four blocks away and sprayed its debris toward our station, some people panicked and ran, and some fell to the sidewalk. But others stopped to help them to their feet to avoid being trampled by the crowd.
Acts of heroism were performed as if routine.
A homeless man spent nearly five hours at our intersection directing traffic—very successfully.
Back at our hotel—a Marriott, by the way—the building was opened for tired and injured people evacuating Manhattan by foot. A large meeting room ("Capacity: 2019") became a shelter. Coffee, water and juice appeared. Food (the good stuff, too—including tortes and pecan pie) came from the kitchen. Blankets, pillows and towels were provided. A first-aid station was set up by some of our team. They even allowed us to establish a blood donation center with the help of local blood bank officials (not exactly "legal" but certainly "reasonable"). Furthermore, the Marriott staff even brought four refrigerators into the first aid room for the donated blood. At that, hundreds of donors had to be turned away.
The human spirit—an element of "common grace"—prevailed in hundreds of thousands of New Yorkers' lives. News reporters want to create scorecards that tally only bodies. That's the wrong way to count.—Clinical Professor of Medicine Leon Greene is a Seattle cardiologist who volunteers at Harborview Medical Center.
***
What I saw: Brooklyn
8:35 a.m.: The phone rings. It's Lena, my best friend. She never calls this early. "You up?" she asks, her voice getting that shrill tone I recognize whenever she's nervous or excited. I'm wide awake but still lazing around in bed. "No," I answer. "But it's okay. What's up?"
"A plane just crashed into the World Trade Center," she says rapidly. Lena is calling from her home office in Harlem, tuned into ABC's morning news show.
"Whaaat?!" I gasp, grabbing the remote. I click on ABC, but the picture on the screen—showing a building gushing flames and smoke—is frozen. A squiggly pattern line is running across the screen. "Lena! The picture on Channel 7 isn't moving. Are you getting reception?" She's 14 miles north of the fire and smoke raging in Lower Manhattan. "Yeah, everything here is okay," she says.
8:57 a.m.: I hit all the commercial channels quickly, repeatedly. Nothing but frozen images. Then I click to the cable channels. They're fine. I know the tower on top of one of the World Trade Center buildings sends television signals to my part of Brooklyn. Suddenly, the picture on the screen starts to move. Reception is back.
9:18 a.m.: Out of nowhere comes another plane. "Oh, my God! There's a second plane!" Lena shrieks. It heads straight for the second World Trade Center tower, crashes through and rips a gaping path that spews forth ravenous, consuming fire.
"Oh, my God."
9:32 a.m.: Lena is braying at full throttle: "The Pentagon has been hit!"
"We're at war," I say calmly, as if the simple declaration of a fact gives order to madness. "Don't say that!" Lena yells. "You can't have a war without knowing who you're fighting. We don't know who did this."
"Yeah, well that's like saying a murder victim ain't dead if you don't know who the killer is," I crack back. "We're at war." Lena and I then get quiet, on edge. A startlingly beautiful workday had gone cold and dark. By the time we hang up, two hours have passed—and so has life as we knew it before her call.
11:23 a.m.: The journalist in me kicks in. From the roof of my Brooklyn apartment building you can see Manhattan's awesome skyline, with the World Trade Center's twin towers in perfect view. The first tower has crumbled. I quickly dress and run up to the roof, just in time to see the second tower go down. Eerily, a towering inferno sinking to the ground in a billowing cloud of black smoke. There are others on the roof, as well: freelancers and the self-employed like me who work from home; housewives; the building superintendent; the Palestinian owner of the grocery store on the corner; two construction workers. We all stand mute, transfixed, traumatized.
Our little band of neighbors, merchants and workers reflect the great ethnic mix that has always given New York its dynamism and its grit. But as we watch—African-American, Hispanic-American, Arab-American, Euro-American—the hyphenated adjectives that mark our differences suddenly fall away like the towers themselves. Left standing is the American in all of us. We look at each other sadly, but also hopefully. Because we all know in that terrible instant the second tower collapsed that we are all in this together.
Postscript: African-Americans occasionally joke that we don't want to be caught in the belly of the beast when it goes down. The "beast," of course, refers to America with its own sins against humanity that demand a reckoning. But we also know that for all of its flaws and contradictions, the real greatness of America is that it inevitably tries to live up to its promise of freedom for everyone.
So yes, we are all in this together. The thousands of people lost in the World Trade Center attacks reflected the same ethnic mix as of those of us gathered on the roof. Our very diversity will prove to be our strength. Whether it's the "homeboys" on my block who now fly the colors of the American flag with the same defiance they once flew gang colors, or the Irish-American firefighters in the station house two blocks away who lost six men (they were among the first on the scene when the World Trade Center went down), it will take all of America's varied races, cultures and sensibilities, uniting as one, to prevail in the months ahead. Let us hope that, like New York City's sometimes-flawed mayor, we will find in our darkest hour, our finest moment, and emerge stronger for having been tested.—Audrey Edwards, '69, is a contributing editor to More Magazine and former executive editor of Essence Magazine.
***
The Cal Ripken of his field
When Army Sgt. Maj. Gilbert Morales talks about his friend and colleague, Sgt. Maj. Larry Strickland, he can't help but make a baseball analogy to the Baltimore Orioles' legendary shortstop.
"He was the Cal Ripken of our career field, a real icon," says Morales. "There is no real replacing him."
Like Ripken, Strickland was planning to retire at the end of September. He had served 30 years in the Army, rising to the highest rank an enlisted man or woman can attain—sergeant major—and for the last 10 years was a personnel adviser to a series of three-star generals in the Pentagon.
Strickland was an advocate for enlisted men and women amid the top brass of the Pentagon as they set policy on everything from promotions to pay raises to family leave.
"He did not hesitate to go to a three-star general and tell him, 'You are about to make a mistake.' That was his job. And he obviously did it well, since we went through four or five generals and each time we got a new one, he asked Larry to stay," says Martha Carden, a civilian Pentagon employee who was Strickland's friend and officemate for 11 years.
Only 19 days away from retirement, Strickland came to his Pentagon office on Sept. 11 even though he didn't have to be there, Morales says. Because he was retiring, he needed to use up his annual leave or he would lose it. But he came in anyway, Morales recalls, because there was going to be an important briefing the next day on Army transformation. "He wanted to make sure those briefings were right," the sergeant major says.
But the former UW student never made it to the briefings or his retirement. On that day American Airlines Flight 77, commandeered by terrorists, crashed into the west side of the Pentagon where he was working. He was one of 189 deaths in the Pentagon attack and the only member of the University of Washington community to die in the terrible events of Sept. 11.
Strickland, 52, is survived by his wife, Debra, a sergeant major at Ft. Belvoir, Va.; three children; Julie, Matthew and Chris; and a year-old grandson, Brendan.
Morales knew Strickland for 16 years, first meeting him when they were both stationed in Germany. Even then, Strickland was a top adviser in personnel matters. "He was fair, honest, never overbearing. He was receptive to different opinions and wasn't locked into any one frame of mind, but he could sure make a decision when it needed to be made," he recalls. "Sgt. Maj. Strickland always kept in mind what was best for the Army as a whole."
Outside of the office, he doted on his year-old grandson and adored his wife. "They were made for each other, a perfect match," says Carden. He was a gourmet cook and an avid gardener, she says, but his overriding passion was fishing, a sport he first learned with his father, by fishing in Puget Sound.
A native of Edmonds, Strickland was the drum major for the Edmonds High School marching band and later played for the Cascade Symphony. He came to the UW in the fall of 1967, planning to be an engineer and joining the Tau Kappa Epsilon fraternity.
He was a "great big guy with a smile, always nodding, sage-like. He was a guy who seemed to understand," says a fraternity brother, Tom Tivnan, '73.
"He seemed to lead a charmed life," adds Bob Cline, '71, who shared a house and an apartment with Strickland once they moved out of the TKE house. "He was handsome and well liked, a take-charge kind of guy and a natural leader. He was one of those guys you just gravitated to."
Strickland was so popular, the TKE president talked him into posing for a rush ad aimed at 1968 freshmen. His brothers dressed him up as Apollo and posed him in front of the University's columns. "It was a fun part of our lives," says Cline of their time at the UW. "None of us will ever forget it."
But unlike most of his fraternity brothers, Strickland did not graduate from the UW. A history major two quarters short of graduation, Strickland left the UW in 1971 to join the Army. His mother, Olga, says his original plan was to get a teaching degree. But that changed due to a poor job market and he enlisted instead. During his Army career, he earned a bachelor's degree from the Regents College of New York.
Though technically not an alumnus, Strickland was a proud Husky. "He followed the scores no matter where he was," recalls his mother. "Whenever they did well, he had to have a new Husky shirt."
Pentagon colleague Carden says he was also an ardent Seattle Seahawks fan, and she would have fun teasing him because she favored the Washington Redskins.
"He was one of the greatest guys I've ever known. He was like a brother," she says. "He looked after me. If I was in difficulty, he was right there and would help me out. I miss him terribly."—Columns Editor Tom Griffin wrote this memorial about Sgt. Maj. Larry Strickland, who would have been a member of the Class of 1971.
***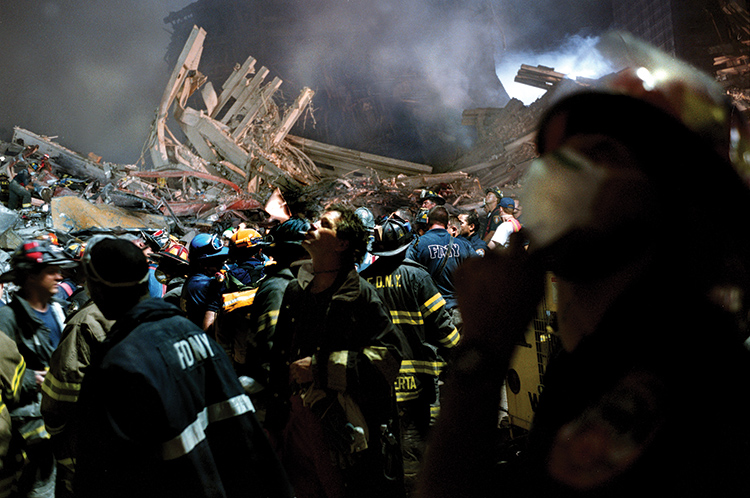 What I saw: Ground Zero
On the night of Sept. 12, I was a volunteer in search and rescue efforts and was able to approach Ground Zero. Although the search effort was concentrated in the immediate area where the towers had stood, the peripheral buildings were frighteningly dark and wore gaping holes in their façades.
When I took this shot late in the night, workers were craning their necks to look up at one of these adjacent buildings. Arms seemed to be reaching out of broken windows, waving lighters in the black, smoky night. Occasionally workers would break their silence and ask each other about it: Could those lights really be survivors trying to communicate with us?
Some of us wanted to investigate, even though it was too dangerous to get closer to the debris. But when the first rays of dawn spread to the building, another sliver of hope was lost: Metal rods, approximately the length of an arm, could be seen swinging in the morning wind. In the eerie work lights at night, the metal had played a cruel trick on hopeful but exhausted eyes. No survivors were found that night—or any night since.—Samantha Appleton, '97, is a former Daily photographer and reporter who now free-lances photography for Associated Press and the New York Times.
***
Lifesaving flight is grounded by F-16s
On the morning of Sept. 11, I got into my car and turned on NPR. My mother-in-law had called a few minutes earlier to tell us a plane had crashed into the World Trade Center. When the radio came on, they were describing the other plane crashing into the second tower.
It was a tough drive. I'm from New York. My brother works in Manhattan. My old roommate works on Wall Street. And my cousin works a block from the trade center. I went to the OR for lung surgery and my nurse informed me that the towers had collapsed. I began operating and the phone rang: There might be a set of lungs from a donor in Alaska.
Doctors once thought donor organs, such as the lungs, could only last four hours outside of the body. Now we are successful with organs that have been out eight hours or longer. Alaska is a stretch for us, but we've been doing retrievals from Alaska.
But the situation was different this day. My father was a Navy pilot and then flew for American Airlines. Through him I've learned a fair amount about air travel. I was fairly certain that the civilian air space would be shut down. Everyone in the room assumed this transplant simply would not happen.
But the people coordinating the transplant, LifeCenter Northwest, stated that they were able to get flight clearance. I called my dad and he voiced his concern. He told me that the more people involved, the more room there is for error. "I really think you are going to be vulnerable," he said. Ultimately LifeCenter stated that the clearance was genuine and the window for flying was broad. I sought two additional assurances and then agreed to go.
We left Boeing Field in two separate planes. I was to do the heart and lung retrieval and Adam Levy the liver and kidney retrieval. It's standard procedure. Because the organs I retrieve are more fragile, I have to get back quickly. On the way up, the pilot was quite nervous. He informed me that we were the only civilian aircraft flying in U.S. air space. We reached the donor hospital and the procedure went perfectly. The donor was a young man who had died tragically. The lungs were pristine. The heart was perfect.
We returned to the airport and met an executive from Alaska Airlines who had been stranded and obtained clearance to fly to Seattle with us. Upon crossing into Canadian airspace we were intercepted by a Canadian Air Force jet. Minutes later we were also picked up by a U.S. fighter. About 12 minutes from Boeing Field we suddenly changed speed and veered off course. We were flying over places we couldn't recognize. At this point, the pilot wasn't talking to us.
We landed at an airport I didn't recognize. As we taxied closer I saw a sign: "Bellingham International Airport." My heart sank. We were well into the time limit for reimplatation and we were far from the University. We were told that we were diverted for security reasons and, as I looked up, I saw two F-16 fighter jets, circling just above us. We found out later that while Dr. Levy's return flight plan was OK'd, ours somehow got lost in the complicated events of the evening.