In fact, Ryan Minkoff, '15, became the first student-athlete from the Husky club hockey team to make it to the professional hockey ranks when he signed with a Finnish minor league team in Lapua. Minkoff, now a Seattle-based hockey agent, recounts his "unconventional" tale in his new book, "Thin Ice: A Hockey Journey from Unknown to Elite and the Gift of a Lifetime."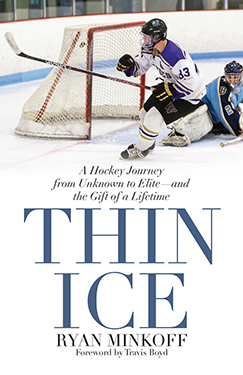 A native of hockey-mad Minnesota and a big fan of the perennial powerhouse University of Minnesota hockey program, Minkoff played schoolboy hockey and set his sights on playing Division I college hockey. But the politics of youth sports meant he bounced around a lot, playing for seven hockey organizations as a kid. He didn't get much ice time during high school, so his dream of playing Division I college hockey was in peril. Union College in upstate New York was the only school to show interest in him but the coaches there waffled and told Minkoff, a defenseman, to go play junior hockey for two years and then they would reconsider having him join the team. But Minkoff didn't want to play junior hockey; he was ready to go to college right from high school.
Ryan considered going to Penn State, which is known for its strong club hockey program, or the UW. Minkoff's mother is from Mount Vernon, Washington, and he always liked visiting the West Coast. "I thought I could help put the UW club hockey on the map," he says. So westward he came.
Having grown up in a hockey hotbed, it was unknown what the quality of play would be at the UW. "It turned out to be better than I thought," he recalls. "Our freshman team was the best UW hockey team in many years. We went to Regionals for the first time in program history and won the conference." Minkoff, who played for the UW from 2011 through 2015, gave his all to make Husky Hockey—which started in 1921—one of the West's premier club hockey programs. Even though he graduated six years ago, he holds seven school scoring records. He wondered if a career in the pros was possible—something that's pretty unusual for club players.
But his winding path to the pros kept winding. While he was vacationing in Mexico, he received a Facebook friend request from someone he hadn't heard of; it turned out to be a representative from a Finnish minor-league team. Minkoff knew he had the skills to play at that level. As a UW sophomore, he had the opportunity to show his stuff when he attended an Everett Silvertips training camp but decided not to pursue a possible stint in the prestigious Western Hockey League (a more typical path to professional hockey) because he wanted to finish school. Three months after he graduated, he was on his way to a small remote town four hours north of Helsinki, to play with the Finnish team. This could be his big break, he thought.
But it didn't quite turn out the way he imagined. Sharing an apartment with a Latvian hockey player on the same Finnish team, Minkoff was one of only two foreign players on the team. Communication was a huge challenge, as he didn't speak Finnish and the other players didn't speak much English. The pay (when it came) was low, so he secured a side job coaching a youth hockey team of 10- and 11-year-olds. He also drove the Zamboni at the local ice rink and worked odd jobs around town. His playing time on the team slowly dwindled throughout the season, in large part due to living-arrangement problems and payment issues he and his roommate had. They found themselves having to directly deal with team management to resolve them. Once the season ended, based on his hockey experiences, he decided to start a hockey agency, leveraging his UW economics and entrepreneurial education.
He was also inspired to go this route because he felt the Finnish team was taking advantage of his Latvian roommate. "I reworked his deal and then he got meals and other opportunities that he didn't have before. That got me thinking that I could create a niche and help other European players with their contracts," Minkoff says. After he helped his first client, his older brother, and some other Finnish players, the word got out and the referrals started coming his way. He was in business.
Minkoff still plays in a men's hockey league (one of his teammates was Mitch Love, now the head coach of the Saskatoon Blades of the Western Hockey League) when he isn't helping players. And he keeps his eye on his goal: making sure other players have an easier time and better experience than he did.