Vilma is just one of the people UW sociologist Alexes Harris, '97, interviewed for her new book, "A Pound of Flesh: Monetary Sanctions as Punishment for the Poor." The book, the product of eight years of research and interviews, analyzes the systems that keep people like Vilma saddled with legal debt assigned by a judge after a prison sentence has been served.
Harris' research is bringing to light facts most Americans don't realize: Most people convicted of misdemeanor and felony crimes in the U.S. face stiff financial penalties. In some cases, fees and fines are the punishment that keeps on giving—to an almost Dickensian degree. Take Washington state, for example. If you're convicted of a felony, you must pay a mandatory fee of $500. If the state takes your blood to send to a national criminal DNA repository, you'll be charged $100. A public defender will run you $450. If you opt for a jury trial, you will pay a charge for the jury. How about 12 percent interest and a $100 annual surcharge on top of that?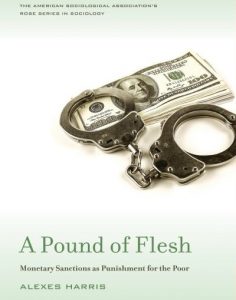 Like most citizens, Harris didn't realize that defendants were required to pay fines and fees. But in 2007, she and a colleague responded to a request for proposals from the Washington State Minority and Justice Commission to study legal financial obligations. In the course of this study, Harris and her colleagues interviewed 50 people who owed money to the court, some of whom were returned to jail for failure to pay. "People were trying to decide whether to buy medicine or pay their court bill," she recalls. "Inequality in the U.S. is perpetuated by this system of fines and fees on the poor, especially people of color who make up 60 percent of the U.S. prison population."
"Let's look at a rich person versus Joe Schmoe. The rich person posts bail, and can go home, spend time with family and go to work while waiting for the trial. If sentenced, the fines and fees are readily paid," Harris explains. But a poor person who can't afford bail must remain incarcerated and may incur thousands of dollars in fees and fines. Some Washington counties even have public collection units that keep in contact with debtors, dunning them regularly to pay off their debt.
In Washington state, individuals can be charged up to $50 per day for prison and $100 per night in jail. Sometimes counties even take court-owed monies out of disability payments. "Or, financial aid checks from colleges, they'll take that," says Harris. As a young woman growing up in Seattle, Harris cut her teeth on the works of Langston Hughes, John Steinbeck and James Baldwin. As an undergraduate at the UW in the 1990s, she entertained thoughts of becoming a lawyer. But a class from storied lecturer Al Black (now principal lecturer emeritus) turned her attention to sociology. It turned out to be a perfect path for Harris. In 2015, she spoke at the White House about monetary sanctions and later that year received a $4 million grant from The Laura and John Arnold Foundaton to examine the issue nationally.
The imposition of fines and fees has grown along with the numbers of people locked up in U.S. prisons. Harris speculates that money collected from prisoners helps subsidize the criminal justice system but the truth is, it's very hard to track down how much money is being generated and where it's going.
"People who make contact with the criminal justice system experience hyper-policed neighborhoods, underfunded and poor-quality schools, a lack of decent housing, and a shortage of living-wage jobs," Harris writes in her book. "After the sentencing of legal financial obligations, the only collateral that defendants have left is a pound of their flesh."
At the time Harris interviewed her, Vilma was making regular payments to the court, and working in a construction apprenticeship. She was proud to be learning new skills and looking forward to earning a decent wage once she completed the program.