She opened a UW resource center in Spokane, presided over the graduations of more than 7,000 students on three campuses and launched a collaborative degree with a major Chinese university. She also started a university-wide initiative on race and equity, helped first-year students move on to campus, shot hoops in Red Square with the men's basketball coach, oh, and landed the job of president.
Cauce now oversees a $6.4 billion budget, 54,000 students, one of the nation's leading medical programs, the law school and, in her words, "the big, messy, hairy, complex work we do together in the service of others, in pursuit of our public mission." The 10-member Board of Regents named Cauce interim president in March, following Michael Young's departure. But she was no stranger to Gerberding Hall, having served as provost, the second highest position in the UW administration with responsibility for the faculty and the budget for the past four years. The appointment came in the middle of the legislative session, in the middle of spring quarter and there was no time to get her bearings.
She wondered how the faculty and staff would accept her, as well as the alumni, regional leaders and donors. And she wondered how she would manage the many different parts a president must play: host, fundraiser, ambassador, legislative liaison. "As I started to really get into those roles, I found that my history here made me more effective," says Cauce, who joined the UW faculty nearly 30 years ago. "And in many ways, it's not that different than teaching. I get to help people see this university through my eyes."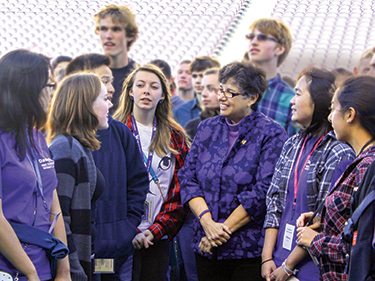 Cauce's own story starts in Cuba, where her father Vicente Cauce was minister of education under dictator Fulgencio Batista. Her parents fled the country in 1959, when Fidel Castro's army took control, leaving Cauce, not yet three, and her five-year-old brother with family until they could join them a few months later. They traded a life of privilege in Havana for one of poverty in Miami where her parents labored in a shoe factory and made their home in a neighborhood near Little Havana.
Though the Cauces lacked money, they placed great store in education. Without question, both children were destined for college. As a little girl, Cauce would line up her toys and teach them. In high school, Cauce worked as a cashier while juggling a few extracurriculars. "I was a yearbook editor and a newspaper editor. I was a geek before it was chic," she says. Her brother transferred from community college to Duke University, and Cauce enrolled at the University of Miami so she could continue to live at home.
Drawn by storytelling and social justice, journalism was her first love. "It was Woodward and Bernstein—journalism can save the world," she says. But then she found a better fit in psychology. "I really liked interacting with people," she says. "It was more meaningful when I did it in a helping context."
Her parents weren't pleased when she moved north for graduate school at Yale. "They would have much preferred I stay home," she says. But her route led her to Edmund W. Gordon, one of the nation's leading scholars in psychology and African American studies. Gordon, himself, was mentored by sociologist and activist W.E.B. Du Bois.
The Yale professor emeritus describes Cauce as hardworking and known for her kindness and candor. "She has her share of confidence and ego," says Gordon. "But they are consistently expressed through the demands and expectations she holds of herself in the service of community and other human beings."
She is arguably the finest student he has had the privilege to teach in his 60-year academic career, says Gordon. "Even in those early days Ana Mari was asking the hard-to-answer questions, and insisting on more than superficial and simplistic answers," he says.
***