President Lee Huntsman named UW Director of Government Relations Dick Thompson, '67, acting director and said there will be a nationwide search for a replacement.
Hedges announced her retirement at a surprise press conference just a week before she left her office in the Tubby Graves Building. Hedges, 66, said that she had planned to retire at the end of June, but decided to leave early. "Given the events of the last six months, I wanted to move the focus away from me and help the University solve the problems we face," she said.
The problems include an ongoing investigation into possibly illegal drug prescriptions by former team doctor William Scheyer and a probe of high stakes gambling on college basketball tournaments by former football coach Rick Neuheisel.
Hedges was the longest serving woman athletic director among NCAA Division I programs in the nation-a role model for other women trying to break into what is still a male-dominated profession. Asked if being a woman made her job more difficult and fired criticism of her performance by some fans, she replied, "I'm not going to even comment about that."
She also ran one of the only Division I programs that is self-supporting, requiring neither state subsidy or student fees to finance a $39 million budget covering 11 men's and 12 women's varsity sports. Hedges is the second-longest serving athletic director in UW history; her predecessor, Mike Lude, holds the record with 15 years.
At the press conference, she said her major accomplishments include improving the welfare of the student-athlete, significant success in every sport and the impact of improved facilities.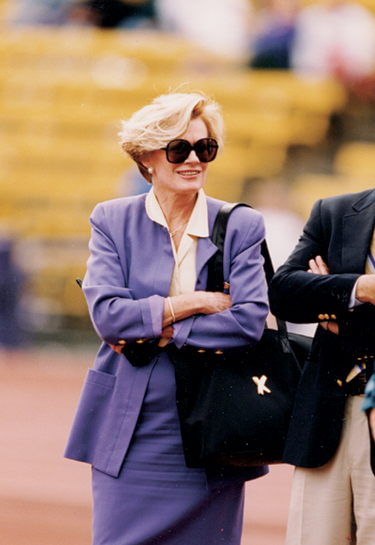 She was particularly proud of the rising graduation rate. "When I came here, the UW graduation rates were near the bottom of the Pac-10," she said. "Now we are second only to Stanford and UC-Berkeley. And the football program graduation rate is second only to Stanford."
During her tenure, the football team was ranked number one in the nation (1991 season), the women's softball team played in the College World Series six times and was national runner-up twice. Both the men's and women's basketball teams appeared in the NCAA playoffs (twice for the men and seven times for the women).
A $90 million fund-raising campaign helped finance the renovation of Hec Edmundson Pavilion, the construction of the Dempsey Indoor practice facility, the reconstruction of the Conibear Shellhouse as a student center, as well as additions to Husky Stadium such as its Fieldturf playfield and electronic scoreboard.
Yet her tenure is clouded by the controversial 1999 hiring of Neuheisel, who led the Huskies to a 2001 Rose Bowl victory and a No. 3 ranking in the final season polls, but also got into trouble with the NCAA over recruiting violations within weeks of his arrival at Montlake.
Other recruiting violations at his former university (Colorado) and at Washington further clouded his reputation. In February 2003 he was caught misleading the media-and Hedges-when he said that he had not interviewed with the San Francisco 49ers. Two days later he retracted his assertion and admitted he had talked to the team about leaving the UW for the NFL.
The last straw was the revelation that he placed bets of more than $5,000 in a gambling pool for NCAA basketball tournaments in 2001 and 2002. Hedges fired Neuheisel effective July 25 and the NCAA and Pac-10 continue to investigate the violations. Neuheisel has filed a wrongful termination lawsuit against the UW and the NCAA.
When reporters asked Hedges if she regretted hiring Neuheisel, she replied, "At that time it was not a mistake to hire Rick. Absolutely not. I have no regrets."
The other major controversy involves former team physician William Scheyer. According to investigators of the state's medical licensing authority, Scheyer wrote hundreds of prescriptions and issued thousands of doses of controlled substances — including anabolic steroids, narcotics, sedatives, stimulants and tranquilizers — in the names of various athletes and trainers. They allege that he paid for the drugs himself, creating a stockpile of medications that were then given to others not listed on the prescription.
Scheyer was one of the UW's team physicians from 1984 to 1999. The department then switched to UW Medicine for its team physicians, but Scheyer stayed on as the softball team physician at the request of Softball Coach Teresa Wilson. Two years ago he was moved to volunteer status with the softball team and in September was removed entirely. In December Hedges removed Wilson from the coach's position and told her that her contract will not be renewed when it expires in June.
Asked by reporters if she were forced to leave office, she replied, "I'm sure you all know how old I am. It's time for me to retire. The last six months escalated my decision."
President Huntsman praised Hedges for her service to the UW. "She's been a terrific athletic director. Twelve years is a long run in a very difficult job." He cited Hedges' primary focus on the student-athlete and the improvement of academic scores as some of her main accomplishments. He also noted the broadening of quality across all sports, the increased participation in women's sports, facilities improvements and the solid finances of the department.
When asked what kind of person he would be seeking in a new athletic director, Huntsman replied, "Barbara Hedges is my standard."
In February, the President appointed Michael Eisenberg, dean of the UW Information School, to chair the search committee for a new athletic director. Members of the committee also include Associate Vice President for University Relations Norm Arkans, '73, '75; community member Libby Armintrout; Tyee member and community developer Ron Crockett , '62; Tyee member and venture capitalist Neal Dempsey, '64; Regent Dan Evans, '48, '49; Communication Professor Kathleen Fearn-Banks; community member Robert Flowers, '65; Oceanography Professor G. Ross Heath; Women's Volleyball Coach Jim McLaughlin; community member Dorothy "Dottie" Simpson, '82; student-athlete James Sims; UW Alumni Association President Dawn Williams, '88; UW Libraries Director Lizabeth Wilson; and a student yet to be named.
Interim Athletic Director Thompson has a strong background in state government and public service. Before joining the UW as government relations director in 1999, he served as the director of the state's Office of Financial Management, chief of staff to Gov. Booth Gardner, secretary of the Department of Social and Health Services and president /chief professional officer of United Way of King County. He also served as city manager or city attorney for the cities of Snohomish, Everett and Puyallup.
Thompson, a native of Everett, is a longtime Husky fan who started attending football games in 1950 when he was seven, watching Hugh McElhenny and Don Heinrich. He says that he "bleeds purple and gold." In addition to his UW law degree, he holds a B.A. from Western Washington University.
What they said about Barbara Hedges
"She has been an outstanding representative of this institution, and we are grateful to her for her years of service."—UW President Lee Huntsman
"Barbara has done a marvelous job in terms of getting us current with our facilities and with getting us all that we have to offer our student-athletes. I hope everyone understands and appreciates that. I truly value all the work she's done for the Huskies, for me personally and for all the student-athletes."—Football Coach Keith Gilbertson
"I really liked Barbara. I hope this is what she wants. I know she's gone through a lot. It's a big organization over there, and you can't watch everyone every moment."—Former Football Coach Don James
"She left to ease the stress on her life and, like a good soldier, to fall on her sword, focusing attention elsewhere for a department that can't get out of the headlines."—Blaine Newnham, Seattle Times
"Gambling, lying, prescription drug abuse and investigations by the NCAA, Pac-10, the state patrol, state ethics commission and federal and state drug officials, while the two highest-profile sports flounder and two prominent coaches are fired, do not constitute glitches. While her age, 66, offers the fig leaf of plausibility for a retirement, this is no retirement."—Art Thiel, Seattle Post-Intelligencer
"Neuheisel didn't cost her her career, only a retirement six months ahead of schedule. But he savaged her reputation and shredded any legacy she might have hoped to leave. With the sundry calamities to befall the Washington athletic department, Hedges could have survived it all if not for Neuheisel."—Dave Boling, (Tacoma) News Tribune
"Barbara had a great balance of not micromanaging while at the same time having her finger on what was going on. She wasn't asking you why you played man-to-man with eight minutes to go in the game, but she was making sure you knew the recruiting rules."—Men's Basketball Coach Lorenzo Romar
"She's one of the first women to be named to a really significant role in intercollegiate athletics. I think Barbara Hedges has done a great job and goes out with the flag waving high."—Former UW Athletic Director Mike Lude
"Her leadership and direction has allowed tremendous growth and success on a national basis in the women's basketball program at Washington both academically and athletically."—Women's Basketball Coach June Daugherty