Blake was a lot like their dad, brother Peter Nordstrom recalled at Blake's memorial service, which was held Jan. 12 at Alaska Airlines Arena on the UW Seattle campus. He was devoted to his wife, Molly, and children, Alex and Andy. He was authentic, friendly to everybody, and always willing to extend himself. "The work hard, try hard thing was totally part of his persona and he really gravitated to people who had that attitude," Peter said.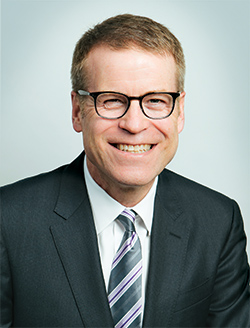 Last December, Blake shared the news of his diagnosis of lymphoma, a form of cancer that affects the immune system. He died on Jan. 2 at the age of 58.
While at the UW, Blake rowed on the 1982 men's crew. After college, he maintained a strong connection to the program. Hours of rowing together in the rain on Lake Washington can build a powerful bond, said former teammate Eric Cohen, '82.
For many years during the Opening Day of boating season, Blake and his friends would borrow a boat and load it up with UW crew T-shirts and sweatshirts to hawk to boaters on the Montlake Cut. The money they raised supported the Husky rowing program.
Not only did Nordstrom value the sport and the lifelong friendships he made as a student-athlete, he also mentored many students throughout the years, said Michael Callahan, '96, the UW men's crew coach.
As a Board of Rowing Steward, he led the rescue of the Husky II, a wooden coaching launch from the 1930s that had succumbed to rot. After a three-year restoration, it is now back in use. He also donated his own racing shell, the last handmade single built by George Pocock, to the Conibear Shellhouse, where it now hangs near the dining hall.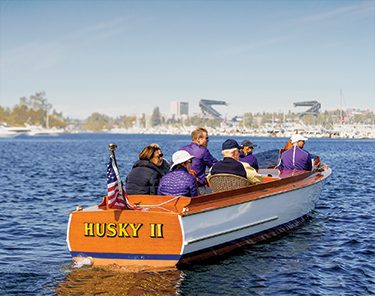 Blake Nordstrom was a longtime leader of the family company. Like his father, Bruce, '55, Blake started his career in the stockroom. During high school and college, he worked as a "shoe dog," the long-used in-house term for a Nordstrom shoe salesman. Working his way up, he became president in 2000 and then co-president in 2015, sharing the role with his younger brothers Peter, '85, and Erik, '85.
In a store known for its customer service, Blake Nordstrom set the standard. He often went out of his way to connect with customers, employees and community members. He also dedicated many hours toward the revitalization of downtown Seattle as a member of the Downtown Seattle Association. With his wife, Molly, he chaired the major gifts campaign for United Way of King County for six years.
"We will always be grateful for his generous support of our students and, as a dyed-in-the-wool Husky, he embodied the spirit of the Pacific Northwest in so many ways," UW President Ana Mari Cauce said. "We are proud to count him, like so many members of his extraordinary family, among our alumni. His impact will be felt here—in classrooms, on the field, on the water, and in the lives of our students—forever."