Bob Ferguson landed on the front page of newspapers across America thanks to Donald Trump. But Donald Trump wasn't thanking Bob Ferguson.
Washington's attorney general sued the president over the first version of his controversial travel ban, which targeted immigrants and green-card holders from seven majority-Muslim countries. The ban, which opponents often call a Muslim ban, was frozen as a result of the lawsuit.
On Friday evening, Ferguson, '89, came back to campus for an event called "Challenging Injustice Through the Courts," hosted by the UW Center for Human Rights (UWCHR). The attorney general received the center's inaugural Justice Award.
UW President Ana Mari Cauce introduced Ferguson at the event. "When we talk about David and Goliath, when we talk about truth to power, we talk about Bob Ferguson," Cauce said. "And he won."
Ferguson treated Friday's audience to a handful of behind-the-scenes stories.
"A lot of people said, 'Hey, Bob, that must have been a really hard decision to sue the president,'" Ferguson told the crowd. "I recognize that this sounds a little bit counterintuitive to say, but it really wasn't."
Ferguson, a 52-year-old Democrat, was a political science major and ASUW president. He served on the King County Council and is an internationally rated chess master, twice winning the Washington State Chess Championship.
He wasn't the only UW grad involved in the travel ban case. Solicitor General Noah Purcell, '02, argued the state's position in court. "He's the most brilliant lawyer I've ever worked with," Ferguson said.
The first travel ban took effect on Friday, Jan. 27, leaving a number of non-U.S. citizens stranded at airports around the country (13 people were detained at Sea-Tac International Airport). Ferguson and Purcell met on Saturday afternoon and decided to pursue the case in court. They filed the suit on Monday.
A court date with a judge was quickly scheduled for the following Friday—just a week after the ban began. On Tuesday, Ferguson asked the lawyers on his team who they thought should argue before the judge. "That's Thursday's problem," Purcell casually responded. And that meant Purcell was the one to do it.
Ferguson, meanwhile, became that week's foil for the president—the audacious attorney general taking on Trump. A representative for Anderson Cooper even called his mother looking to get ahold of him. "I'm not sure if they thought I still lived with my mom," Ferguson told the crowd, laughing, "but they were very resourceful."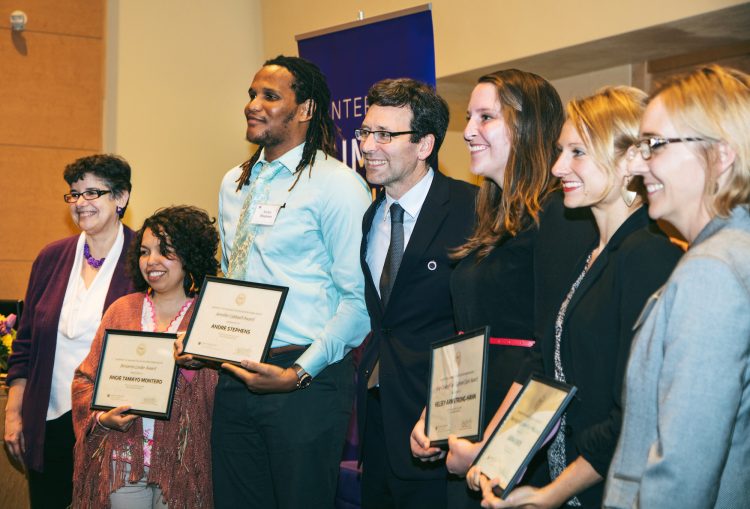 The Trump administration later put forth a revised ban, Executive Order 13780, that was frozen after the state of Hawaii sued (Washington also challenged that order in a separate case).
Ferguson's work earned him a spot in this year's Time Magazine 100, an international list of political influencers and pop-culture pioneers. The profile was written by actor and activist George Takei, who says that watching Ferguson at work took him back to his days as a political prisoner.
"I was reminded of when I was 5 years old and imprisoned behind American barbed-wire fences in a Japanese-American internment camp in Arkansas," Takei writes in the profile. "Every morning at the school, in a black, tar-paper barrack, we began the day by pledging allegiance to the flag: 'With liberty and justice for all.' Bob Ferguson clearly believes everyone deserves those guarantees, no matter their background."
Housed in the Jackson School, the UWCHR was established by the state Legislature in 2009. President Cauce advocated for the center back when she was dean of the College of Arts and Sciences: She met with Professor Angelina Godoy, the center's director, and writer Peter Jackson, son of the late Sen. Henry M. Jackson, as they worked to build momentum for the bill.
"There's no way I could have imagined how important the center would be today," Cauce said. In 2015, the center sued the CIA for withholding documents in a human rights case. On Friday night, Godoy honored five students who are doing human rights research across the globe.
Ferguson told the crowd that his office's lawsuit, Washington v. Trump, is already being taught by law professors.
"It shows that the president's powers are not unchecked, that we have limits, that we are a nation of laws," he said. "That's why I went to law school: to make a difference in the lives of people."