The piece came out as the nation grappled with a wave of stories about sexual misconduct. It went viral, was shared around the world on Facebook and reposted on dozens of sites. Dederer was also interviewed about it on National Public Radio.
"They did or said something awful, and made something great," she writes of these "genius" creators. Knowing about the awful thing affected her enjoyment of the great work, whether it was "Annie Hall," "Chinatown" or "The Cosby Show." She also writes about the "general feeling of not-quite-rightness" she and women across the country have been experiencing even before the Harvey Weinstein accusations were made public.
"I really wrote it for myself," Dederer says now, surprised with its continuing popularity. "But of everything I've written in my whole life, it is the thing that has been most read, responded to and shared by men."
A New York Times best-selling feminist writer, Dederer is on a roll. She also published a midlife memoir about love, libido, intimacy and identity last spring. In "Love and Trouble: A Reckoning," she frankly details her experiences with men and boys, including a childhood assault and fumbling mutual encounters when she was, perhaps, too young.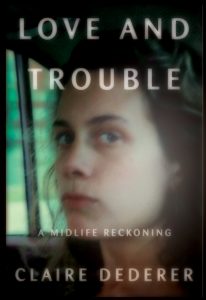 Since her days as a Seattle Weekly film critic in the late 1990s, Dederer has honed a frank and funny point of view.
Dederer realized her calling in a short-story class led by UW professor David Wagoner in the late 1980s. After two difficult years, the Seattle native had dropped out of Oberlin College, a private liberal arts school in a tiny Ohio town 2,400 miles from home. Compounding her angst, the creative writing professor there had rejected her from the program, saying she wasn't cut out to be a writer.
Back home in Washington in 1988, Dederer enrolled at the UW and found Wagoner's course. "This is such a weird story to tell, but I feel lucky to have it," Dederer says from across a table of a Post Alley bar one evening this winter.
That summer school course was a rarity. Wagoner, a Pushcart Prize-winning poet and author, didn't often teach fiction. Dederer was hungry for a deeper understanding of the Northwest—having sought stories of place in the works of Ken Kesey, Betty MacDonald, Tom Robbins and Raymond Carver. "I was so desperate to see where I live reflected in literature," she says. Landing a spot in the class with one of the region's most significant poets was a gift.
Dederer dug in, crafting story after story. Then one day in late summer, Wagoner pulled out one of her pieces. "He read it aloud," she says, "and then dropped it on the desk and said, 'That is an actual short story.'"