Fortunately, Rod did not repeat this problem during the rest of his career. You see, he went on to become one of the best sports photographers in the world. He has won the international Pictures of the Year competition and the best feature photo at the 2008 Beijing Olympics, photographed three covers for Sports Illustrated, shot pictures for ESPN (including one of me posed naked on a bicycle) and is currently the team photographer for the Seattle Seahawks.
This is just one of the fine and sometimes unexpected careers from that softball team. In addition to Rod, two players on our championship team went on to work full time for ESPN: myself and third baseman James "The Meal Ticket'' Levison. That is by no means all of the notable accomplishments, though.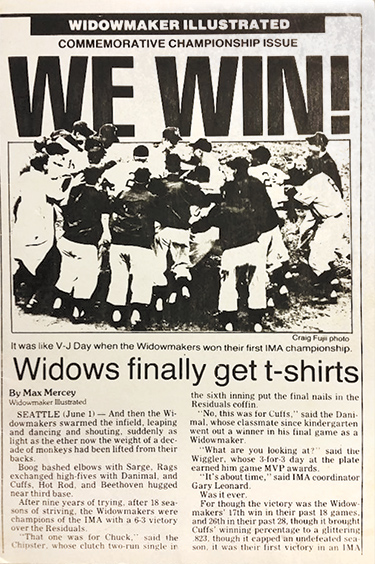 Catcher Chip Lydum became the Husky's associate athletic director while right fielder Dan "Sarge'' Lepse is Seattle Pacific University's assistant athletic director in charge of media relations. First baseman Luke "Boog'' Esser became a state senator in Washington as well as the state's Republican party chairman. He currently represents two of the state's Native American tribes. Outfielder Dan "Danimal" Little was Nordstrom's vice president and chief information officer. Center fielder Eric "Rags'' Radovich is the stadium announcer for Husky football and basketball, and occasionally the Mariners, as well as the Washington state beer commissioner. And our best player, shortstop Erich "Beethoven'' or "Wiggler'' Ludwig, was so good that he went to play softball in New Zealand, a country that takes its softball very seriously.
And those are just the players from that championship team. Other Widowmakers over the years included The Wall Street Journal's former Europe and Central Asia news editor and its current sports editor, Bruce Orwall; Mariners media relations director Tim Hevly; ex-smokejumper and current Cornish University professor Chuck Sheaffer; and former ESPN Emmy award-winning journalist Tom Farrey.
"There was no tryout process for new players," Sarge recalls. "Somebody just showed up on game day to play the open position and they were embraced by the veterans. The rookies instantly became Widowmakers. This colorful collection of misfits shared only two bonds—a desire to hang out once a week with a really good group of guys, and most of us were huge Husky fans."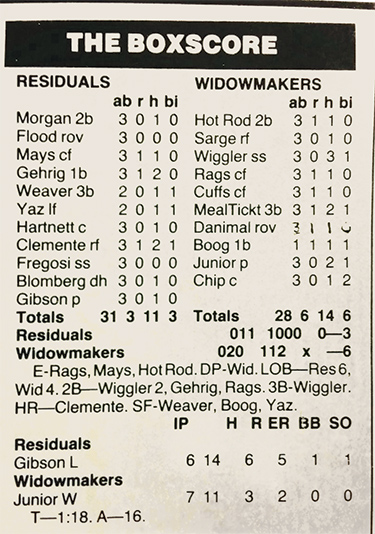 Yes, we were a colorful lot. Almost all of us had nicknames that several of us still go by all these years later. Three teammates wore Mets caps, Sarge wore a Cubs cap, I wore a Red Sox cap and Luke would always wear a striped Chevron shirt in each game. We would all go to Roundtable Pizza after each game.
One of our pitchers, Steve Strom, even threw a no-hitter, though he was not experienced enough to know it. "We were like, 'Oh my God, you just pitched a no-no,'" Hot Rod recalls. "And he said, 'What's a no-no?'"
The season we won the championship, our pitcher was Mark "Scooter'' Thomas, then a 42-year-old Everett Herald employee and Vietnam War veteran. Unfortunately, he broke his ankle in a collision at home plate during our semifinal victory. In his place, his son, Mark Jr., pitched us to victory in the championship final.
Sadly, Mark Jr. died in 2014 from pancreatic cancer. Another player, Tom Verhulp, who played shortstop before Beethoven joined us, died from cancer as well this past summer.
So yes, the name Widowmakers can sound a little inappropriate now. Why did we call ourselves that, anyway? Well, we started as the Deadliners due to the connection several of us had with the UW Daily and its deadlines. Then Boog came up with the Widowmakers name after seeing commercials for monster truck rallies in the Kingdome, where competitors would race up the "Widowmaker" hill.
We made it to the IMA's final four several times before. In the spring of 1989, we rallied from a 3-2 deficit in the championship game to beat the Residuals, 6-3, with Chip driving in two key runs in the bottom of the sixth. And boy, were we excited, especially when we received our IMA championship T-shirts.