Those walls would likely tout the innovative studs incorporated into their steel framing system, unique components that contribute to a more conducive teaching and research environment. They could also boast of being among the first applications of a design that could well make constructing buildings of all types faster, easier and less expensive.
But because these walls are quieter than most—another feature of the showpiece stud—their story will have to be told through the component's inventor, Dennis Edmondson, '80, '13.
Edmondson's involvement in the Nanoengineering & Sciences Building is quite serendipitous, given that his career was shaped in many of the adjacent academic buildings. Originally from California, he earned a master's degree in mechanical engineering at UW, as well as doctorates in material science and engineering, and nanotechnology. Edmondson's diverse career has included performing vibration and dynamic/stress analyses on components on military aircraft, submarines, and even the Space Shuttle.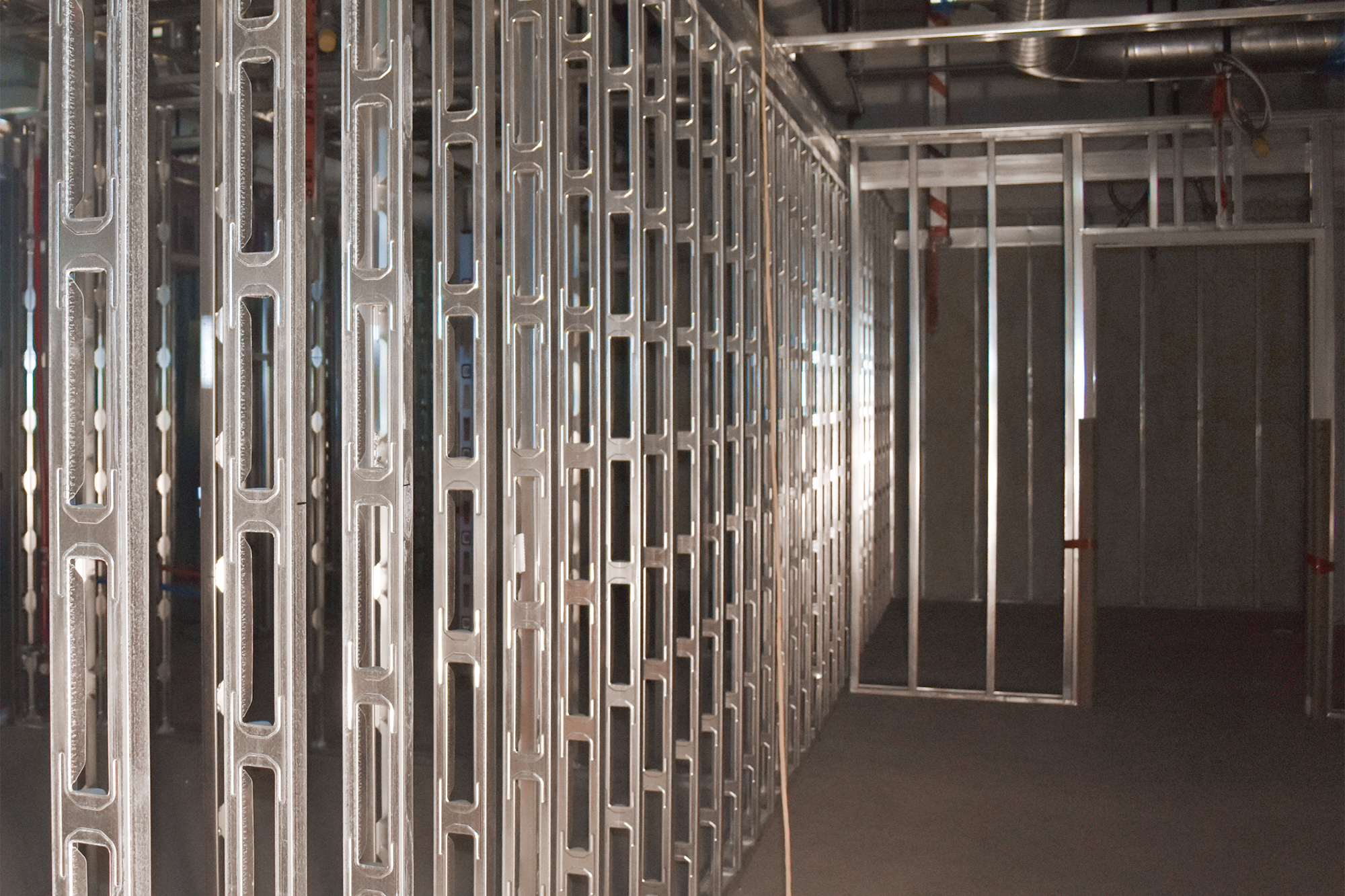 Becoming a self-employed engineering technology consultant allowed Edmondson to lend his expertise and knack for invention to other types of materials, including those commonly used in the building trades. One need that piqued his interest was the vertical steel framing member, or stud, found in many types of non-residential buildings.
Might it be possible, he wondered, to create a stud possessing the thermal insulation properties of wooden components and the strength of steel that would also minimize sound transfer between walls? The stud would also have to be easy to fabricate and install, and not obstruct wiring and piping that would be added along during construction.
"Current studs on the market had some of those features," Edmondson adds, "but none did everything."
It took only one evening in 2006 for him to sketch out a concept for a slotted steel stud configured with a precise layout of overlapping flanges. Several days of finite element analyses and a month of test prototypes later, Edmondson had refined his concept might into a component that could be fabricated using less steel, it would be cheaper to manufacture as well.
As often happens with most inventions, however, his concept was a long way from becoming a marketable product. The process of securing a patent on his design took four years, a result, he says, of it being "such a different concept from what the analysts had seen."
Even then, prospective manufacturing partners were skeptical about demand, leading Edmondson to explore bringing his concept directly to contractors. The real breakthrough came when Portland-area property developer Patrick Lucas discovered Edmonson's design and, more importantly, its potential.
"It fit well with a lot of trends in construction," Lucas says, "particularly minimizing environmental impacts by using materials that make wall insulation materials more efficient, and lowering heating and cooling costs."
Lucas' interest put the product, now called "R-stud" for its R-factor insulation qualities, back on the fast track, in more ways than one. To make the strongest possible case to contractors and help launch a small manufacturing operation, Lucas quickly needed additional information to verify Edmondson's initial calculations and satisfy building code test requirements.
Enlisting the assistance of several colleagues, including David Wood, '86, '97, '01, '08, Edmondson readied the data verifying R-stud's bevy of benefits. Product representatives then presented the component to contractors involved with the Nanoengineering & Sciences Building.
Though having a UW tie-in with Edmondson's involvement certainly helped draw attention to the R-stud, Jerry Jensen, Senior Project Manager for Expert Drywall, Inc., of Redmond, felt the component was a good fit with the specialty insulation to be used in the building's office walls. "This was a good opportunity to use something new, and it proved easy to work with," Jensen says of the construction phase. "It's certainly something we'd use again.
Interest in the R-stud has spread quickly. The component is currently being utilized in a variety of other construction projects in the Northwest, such as the nine-story Knight Cancer Institute Research Building at Oregon Health and Science University, as well as high-rises in Chicago and New York. Edmondson has also been granted several other patents for the R-stud concept, including one that incorporates the component in prefabricated modular building walls, which are helping make the construction process faster and safer.
And it won't be just contractors and building users who benefit from proliferation of the R-stud. Edmondson plans to use royalties from the steel stud to support another longstanding research interest—more effective delivery systems for cancer treatments and other drugs.
For now, Edmondson considers it a privilege to have his invention play an important "supporting" role in one of his graduate alma mater's newest high-profile buildings.
"I hope it can be used elsewhere on campus, because the UW deserves the best," he says, adding with a smile, "especially since there are some very good researchers there."