"It's a wild story," Hurley admits about his queer coming-of-age memoir that starts in the crumbling U.S.S.R. and centers on young Hurley and his mother, a prison doctor. They first escaped into American movies and later emigrated to Seattle when she became a mail-order bride. "At every Q&A, I tell people it's actually 99.9% true. I didn't make anything up in the story. It has a whimsical kind of tone to it. But there are no events or twists or turns that are invented. It's all from real life."
As Marya Sea Kaminski, '04, one of the actors who plays Hurley's delightfully off-kilter mother, puts it: "It's better than fiction."
"Potato Dreams" opens in gritty Vladivostok, Russia, with a very young Potato (born Vasili Naumenko) watching his father assault his mother over a bottle of liquor. It's a devastating scene that sets up the film's grim opening act. Ninety minutes later—without giving everything away—tears of sadness are replaced with tears of joy on a Seattle film set in a meta moment that completes an amazing story arc.
It's a cathartic experience that has the fingerprints of UW graduates all over it (we'll get to that in a bit). It's so unforgettable, an early 13-minute version composed mostly of Hurley and his mother matter-of-factly telling their story captured the competition jury's attention at South by Southwest. The film won the short documentary award and became eligible for the Academy Awards. That led to funding and a distribution deal that put Hurley's fifth feature in theaters around the nation, even amid the pandemic.
Now available via video on demand, the film is part Chris Columbus (the sweet bits), part John Waters (the naughty bits), and has all the hallmarks of a viral sleeper in need of a moment. It's been picked up by HBO for European release this year.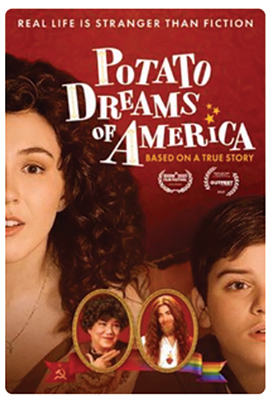 Built on small steps taken toward a huge vision that he developed while watching old movies and soap operas with his mother and daydreaming about the American dream, the film is the culmination of an amazing journey. It's also another new beginning as the film's reception takes Hurley to fresh and unexpected places and experiences.
"It's a huge step for me," Hurley says. "It's the first time where I could pay. It was a union film. We paid everybody union wages. All of my previous projects were volunteer-based. And the fact that it played in theaters, all of that is a really big deal. So hopefully the next one will be easier to make."
Following that harrowing opening scene—young Potato's father is played by  Michael Place, '04—Hurley builds the world of his childhood in simple, poignant scenes that feel like moments from American sitcoms like "The Wonder Years" (the movie even features Wonder dad Dan Lauria) or "Young Sheldon," only with a razor blade hidden in each scene. Their life in Russia is not simple. The post-Soviet world Hurley depicts in the early '90s is brutish, patriarchal, full of violent crime and anti-gay laws. The threat of death looms as more than just a threat.
They are forced to live with Potato's grandmother, played by the delightful "Orange is the New Black" veteran Lea DeLaria, who constantly reminds his mother that she should have stayed with his father. Even an abusive husband was better than no husband at all. And when Potato blanches at a lewd picture of a woman offered by a friend, he masks his emerging sexuality, careful to hide the truth for fear he might be attacked or killed. Oh, and a slacker Jesus Christ makes a cameo appearance.
Young Potato and his mother escape their daily lives by diving into a new channel on television that emerged after the fall of the Soviet Union. It plays American movies and TV shows, the things we might think of as pedestrian. In the America that Potato dreamed of, life was an endless run of schlocky late-20th century comedies that just seemed so … nice.
"I remember so clearly him talking about 'Curly Sue' and 'Beethoven,' right?" Kaminski says. "All these movies that growing up in America, it's like, 'Oh, yeah, 'Curly Sue,' whatever.' But that was so impactful for him. And I remember him talking also about the soap opera 'Santa Barbara,' and that's what they were dreaming of coming to America. They just thought it was going to be just like 'Santa Barbara.' So, you know, to have those sorts of influences, it almost feels like film found him. It so clearly is his medium."
The key moment in "Potato Dreams"—and Hurley's life—comes when his mother, Lena, pursues a mail-order bride opportunity so they can escape to America. It is a desperate move and lands her in another abusive relationship. There's so much more to the story that's best left a surprise. But suffice to say the move changes their world, eventually for the better.
"His mother is like one of those golden people who's literally like magic, you know?" Kaminski says. "She is unbelievably kind, unbelievably funny, always unexpected, has an amazing fashion sense. And when you start to piece together the chapters of her life, she's a miracle."
Hurley wrote the part of his mother in America with Kaminski in mind. The two met at UW where Kaminski was a teaching assistant and Hurley was a student chasing a double major in interdisciplinary visual arts and drama (there was no film school at the time). Later, Kaminski co-founded the Washington Ensemble Theatre and found Hurley an enthusiastic participant, in his own way.
"I learned to use the camera because I bought a camera and I was like a videographer for all of their shows," Hurley says. "And then I started to make short films."
He later delved into episodic entertainment with his web/TV series "Capitol Hill," an interesting pastiche of Seattle weird crossed with '70s and '80s TV dramas that highlighted Hurley's versatility as writer, director and producer.
"He was always working on imaginative, otherworldly projects," says Kaminski, now the artistic director of the Pittsburgh Public Theater. "He always was sort of thinking beyond the rest of us in terms of storytelling."
Rather than decamp to Los Angeles after school, Hurley chose to stay in Seattle, where there are fewer resources for filmmakers. So he made his own, building a community of likeminded creators like Kaminski and Place. The list is a long one.
"They're all over the film, UW people, both on camera and behind the camera," Hurley says. "Bobby Aguilar, who was a UW graduate, he lights all of my films. Gosh, they're like in every scene. There's UW people everywhere and that's great."
Pictured at top: Writer-director Wes Hurley, right, works with actors Dan Lauria, left, and Marya Sea Kaminski during the filming of "Potato Dreams of America" in Seattle.