At some point, she got the idea to replicate the dish in her own restaurant. Meat, fat, frying pan, done—simple, right? Not if you're Erickson.
An energetic, driven woman whose welcoming Seattle restaurants have received acclaim from foodies around the country, Renee Erickson wasn't going to serve just any old beef. The perfect steak would come from a certain kind of cattle, not the Angus that's on every American restaurant menu. It would be grass-fed and dry-aged, of course. And to ensure that the animal was treated humanely, she'd personally select trustworthy suppliers.
Then, an even better idea: what if she and her staff undertook all this themselves—from raising to butchering to aging to cooking? A cattle project centered on leased farmland on Whidbey Island. A journey into the world of farming and ranching unfolded for Erickson and her loyal team. Her biggest lesson so far? She still has an awful lot to learn.
"It's kind of ridiculous to farm your own cows," she says. Especially when you have no idea how to raise them, let alone butcher them. Dry-aging? Never done it. But she wasn't about to let that stop her. Erickson is accustomed to taking on a challenge.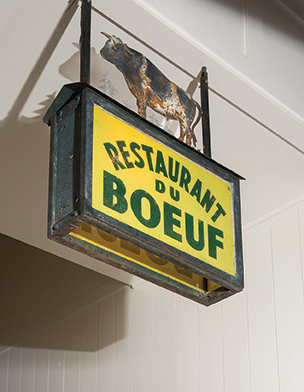 Here's the kind of life Erickson, '95, leads. One moment, she's gamely posing for photos, despite the fact that her feet are stuck in soggy, muddy boots and her hair is wet from walking around a cow pasture in a light drizzle. The next moment, she's responding to a text from a well-known food magazine editor: Could she possibly squeeze in a member of the White House staff for dinner Saturday night at her most acclaimed restaurant—a place that normally has a two-hour wait? (Of course!) An hour ago, she was gleefully examining the first bunch of eggs produced by the farm's chickens.
"We have seven eggs so far, which is very exciting," she says cheerily. Admittedly, the production rate isn't quite up to par yet. It took 110 chickens to get those seven precious eggs. Nonetheless, Erickson has faith. She also works with a farmer/rancher named Paul Houser, who she found and hired specifically to pull off the cattle project. With decades of experience, Houser brings the know-how to make the farm flourish. When Erickson expressed interest in raising chicken breeds that lay pretty-colored eggs, he was the voice of reason: "Can we get some productive hens, too?" he asked.
As they mature, the chickens will start laying more regularly. But they are an illustration of the challenges Erickson is facing in her quest to turn a long-unused piece of farmland into a meat, egg and vegetable supply chain for her six Seattle restaurants.
"It's so idyllic and fantastic," she says of the farm. "We thought, how can we use this? To be able to farm it and use it in the restaurant, it would be perfect—if we could do it."
In one pasture, 16 cows of the Maine-Anjou and Charolais varieties, a kind often raised in France, are filling up on fresh grass. In another, seven sheep graze. The chickens make their presence known. And there is the vegetable garden that's just getting started. She has more ideas percolating.
"I'm kind of in love with these cows," Erickson says. She jumps up and grabs a branch of an apple tree, shaking it until a piece of fruit falls. Then she approaches the fence and holds out an apple to a white heifer newly arrived to the farm. "C'mon, I know you want this," she says. The cow demurs. Erickson's dog Arlo runs in circles, occasionally charging the fence and barking. He hasn't quite gotten used to this whole cow thing yet, either.
In one sense, Erickson is following a trend that's become popular in Seattle and around the country. Chefs are increasingly focused on the source of the food they serve. Erickson, long a believer in that camp, meticulously sources what she puts on her customers' plates, from sustainably raised oysters (a concern that has made her an advocate for ocean acidification awareness) to vegetables grown by a Whidbey Island farmer. Some chefs have gone even further, operating their own farm or restaurant rooftop garden that can be harvested before the dinner rush. But raising your own kale is one thing; raising animals is an order of magnitude far more complicated. It's been done, but typically not with 1,000-pound cows.
"There's a lot of concern around animals and welfare and what they eat," says Erickson. At her restaurants, "we spend a lot of time focusing on trying to get sustainable seafood. We buy sustainably raised cows and pork and chickens and all that. But to be able to do it ourselves is better."
Why does anyone in their right mind open a restaurant? The hours are lousy, the pace is grueling and the money's uncertain. Erickson's cattle project grew out of her quest to open not one, not two, but three establishments all at once this past fall on Seattle's trendy Capitol Hill, with one centered around steak. That's in addition to the three highly acclaimed restaurants she currently runs (along with a cute little food truck named Narwhal). Opening three places at once was a grueling undertaking. When Erickson, who has two business partners, opens a restaurant, she doesn't just worry about the food. She plays a major role in creating the restaurant's visual presentation, from the plates to the ceiling fixtures to the layout, making use of her UW fine arts degree.
On paper, that may sound like the hallmark of a control freak. But everything about Erickson, and her restaurants, seems to come from a place of warmth and generosity, where the goal is to make people feel at home. She sees the restaurant industry not as a stepping-stone to something better, but as a career choice. She hires staff accordingly.
Erickson is not a classically trained chef. Her love affair with restaurants began with Boat Street Café. As a UW undergrad studying painting (she first attended the University of Oregon on a softball scholarship but felt restricted by the time constraints of intercollegiate athletics) nearly 20 years ago, she took a job at the little café, then located in the U District underneath the I-5 overpass. First, she waited tables, then she moved to the kitchen, but the place was struggling, and the owner wanted out. At 25, Erickson made the decision—as brash as it was naïve—to buy it. Boat Street needed work, and she didn't have deep pockets. But she did have an abundance of energy, along with a lot of goodwill and a family who pitched in with everything from carpentry to cooking. Somehow, it all worked.
Boat Street, which she later moved to a location at the edge of Belltown, became a beloved Seattle restaurant. But it never was a great financial success, Erickson concedes, and it closed in the spring of 2015.
Erickson truly made her mark—and came to national attention—was with an adorably convivial Ballard place called The Walrus and The Carpenter. Known for oysters, sparkling wine, and lovely shared plates that mix French and Northwest cuisines, with a little bit of this and that thrown in for fun. New York Times columnist Frank Bruni called it a "happy-making place." Bon Appetit called the food "nurturing." That's where the White House staffer wanted to eat.
Next came The Whale Wins, with a wood-fired oven and a focus on vegetables, and then Barnacle, a hole-in-the-wall bar next door to Walrus. Erickson has appeared on repeated "best of" lists, has twice been nominated for a James Beard Award, and published the widely praised cookbook A Boat, a Whale & a Walrus.
When she made the decision to close Boat Street, she knew she wanted to try something new. She and her partners planned to open a traditional oyster bar on Capitol Hill called Bar Melusine, along with a doughnut shop. Those Whidbey Island chicken eggs will eventually be used for making doughnuts.
And then there is Bateau (that's "boat" in French). Everything about the place revolves around Erickson's vision for the farm and her European-style cows. Obviously, the 16 cows currently on the farm aren't going to sustain a whole restaurant. It's just the beginning of the stock Erickson and company plan to raise. Those cows will be supplemented with animals hand-selected by Erickson from other local farms.
It takes longer for grass-fed cows to reach full size than it does cows stuffed with corn. Dry-aging involves hanging gutted whole or half animals in a cooler for weeks. In the process, the beef loses considerable water weight, so 800 pounds of meat may shrink to 700. And your inventory is tied up for weeks at a time. It takes a lot of space, too. There's a reason you don't see dry-aged beef in supermarkets or on most restaurant menus: It's expensive to produce. In this case, there's also a learning process for Erickson and her employees.
"The chef at Bateau said, 'Renee, you've backed us up to a cliff,'" she recalls with a laugh. You get the idea he's been there before.
What diners receive for all this effort is a tender steak with a concentrated flavor that is often described as mushroomy, cheese-like, or just extra beefy. Bateau's dining room is designed so diners can see into the dry-aging room. The idea is to use every possible part of the animal, whether it's tallow or bones or rib eye. Hamburger will be prominently featured on the menu.
For a woman who professes such a love of cows, you might wonder how she's going to allow them to be slaughtered and served for dinner. She witnessed the process right on a farm, performed quickly by a guy with lots of training. It's something she's clearly thought about.
"It's a big deal we're able to eat something that was alive," she says, "so treating them with respect is important. I think treating animals humanely is really important. It's something I think a lot people don't want to know so they don't pay attention."
Erickson has visions for the farm beyond the livestock and vegetables. Maybe, she says, they could figure out a way to buy the property. Or maybe they could host events or even hold camps for kids who, nowadays, seem to have a lot to learn about their food. Perhaps they could raise persimmons or walnuts. Or harvest some of the trees for wood. All of that is a distance away. For now, the focus is squarely on the cows.
Houser, the rancher, says the chaotic part will pass. "Once we have our infrastructure and systems in place, we're going to be a model. It takes momentum and money to build this kind of thing. But we can't fail." He eyes the pasture. "I mean, look at these animals!"
Boat Street Bread Pudding
From A Boat, A Whale and A Walrus (Sasquatch Books)
Prep time: 35 minutes
Total time: 1 hour 35 minutes, plus time to soak raisins and let bread soak
Serves 6 to 8
1 cup golden raisins
1 1/4 cup good-quality Bourbon, divided
3 large eggs
1 1/2 cups sugar
Grated zest of one large orange
1 teaspoon vanilla extract
1/2 teaspoon kosher salt, plus a pinch for the sauce
4 cups heavy cream
1 large baguette (about 1 pound), torn into 1-inch pieces
1/2 cup (1 stick) unsalted butter
2 cups confectioners' sugar
1 (14-ounce) can sweetened condensed milk
2 cups heavy cream, for serving
In a small bowl, combine the raisins and 1/2 cup of the bourbon, cover, and let sit at room temperature for at least 1 hour or up to 1 day. Drain the raisins and set aside, reserving the bourbon for the sauce.
Preheat the oven to 350 degrees F.
In a large mixing bowl, whisk together the eggs, sugar, orange zest, and 1/2 teaspoon kosher salt until blended. Add the cream, whisk to blend, then add the bread pieces and reserved raisins, tossing the mixture together (hands work best) until every piece of bread is coated in the pudding. Transfer the mixture to a 9-by-13-inch (or similar) baking pan.
Place the baking dish on a baking sheet to catch any drips, and bake on the middle rack for about 1 hour, or until the top layer of bread is nicely browned, the edges are bubbling, and the center of the pudding is firm to the touch. Remove the bread pudding from the oven at let cool. Turn the oven off.
Make the sauce: In a small saucepan, melt the butter over low heat. Whisk in the powdered sugar until it's completely melted into the butter. Next, carefully add in the reserved bourbon and the additional 3/4 cup bourbon, and bring the sauce to a strong simmer. Cook the mixture until all the alcohol has burned off, about 5 minutesAdd a pinch of salt, whisk in the sweetened condensed milk, and continue to stir and thicken the sauce for another minute or two. Set the sauce aside to cool until ready to serve. (If you'd like, you can refrigerate the sauce up to 3 days before serving.)
To serve, preheat the oven again, to 400 degrees F. Scoop the bread pudding into large, shallow ovenproof bowls and drizzle with about 1/4 cup of the sauce. Carefully slide the bowls into the oven and bake for about 5 minutes, or until the sauce is bubbly, then serve immediately, topped with an indecent amount of cream. (Don't be stingy; each serving should have about 1/4 cup heavy cream on top of the sauce.)