"It's probably my gold medal," Whipple said boisterously.
"Yeah, right."
Turns out she wasn't fibbing. Whipple, '02, won gold in Beijing along with UW teammate Anna (Mickleson) Cummins, '02, as part of the women's eight crew (Whipple is pictured at left above; Cummins at right). It was the first gold medal for the U.S. in that event since 1984, when an American octet raced to victory in Los Angeles under the guidance of Washington coach Bob Ernst.
"Every time I look at it I just remember how we got it," Whipple says of her new hardware. "I think that's what's so special about a gold medal. It represents something great you achieved." Whipple and Cummins have been rowing together since 1999, their freshman year at the UW. Together, they've won national championships, world championships and a silver medal at the 2004 Olympic Games in Athens. Now, they're good as gold.
"Winning with Mary is beyond words," Cummins says. "To have somebody there with you that knows you in and out and has your back — it just made it more magical."
For Cummins, one of the most decorated rowers in U.S. history, the gold medal race marked the end of a stellar career. She recently moved back to Seattle with her husband, former national team member Bob Cummins, to start a chiropractic clinic in Bellevue. And what a swan song Beijing turned out to be. "It still hasn't sunk in yet," Cummins says with a sigh.
Washington's rowing history is incredibly rich, and the Huskies have long made their presence felt at the Olympics. This year alone, the UW sent 10 rowers to Beijing. David Calder, '02, won a silver medal for Canada in the men's coxless pair.
"The first thing you learn when you put on your Washington uniform," Cummins says, "is that you are no longer an individual. You're a part of this wonderful tradition."
Going to the Mat
Leon Preston, '73, reached the pinnacle of his sport this summer, qualifying for the Beijing Games as a tae kwon do referee. Preston, a part-time lecturer for the UW School of Social Work, was one of 29 international referees chosen to work at the Olympics. He has practiced tae kwon do for more than 35 years.
Never-Give-Up Hope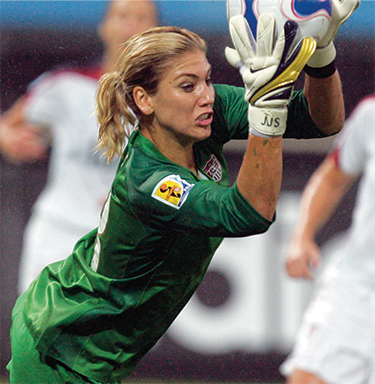 Hope Solo, '04, is a goalkeeper in two senses. Banished from the U.S. women's soccer team after publicly criticizing her coach for benching her in the 2007 World Cup semifinals, Solo worked tirelessly toward her goal of reclaiming her roster spot and regaining the trust of her teammates.
And she did it. At the gold-medal game in Beijing, against the same Brazilian squad she was denied a shot at in the '07 World Cup, a rejuvenated Solo showed why she's considered one of the top goalkeepers in the world. She made several key stops, including a one-handed beauty in the 72nd minute, to help the U.S. net a 1-0 overtime win and earn its third gold medal in four Olympics.
"I went through hell," Solo told The Seattle Times after the game. "But one gold medal takes away all the pain."
Hitting High Notes
Husky Band Leader Brad McDavid is an Olympian, too. McDavid was one of the international band directors for the 2008 Beijing Olympic Orchestra, which performed at concert venues around the city, including Tiananmen Square. The 2,000-person orchestra featured 300 members from the Pacific Northwest and 63 from the UW.
Muscle Mom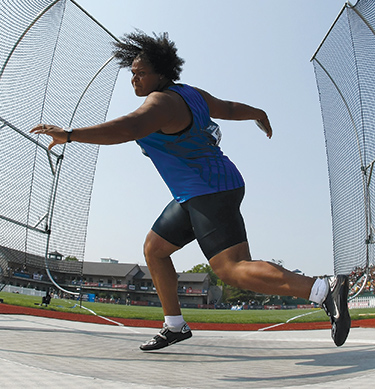 Just a year after giving birth to her son, Theo, Aretha (Hill) Thurmond, '98, donned the red, white and blue for the third time in her illustrious career. A four-time All-American at the UW and one of America's preeminent discus throwers for more than a decade, Thurmond finished 10th in Beijing after qualifying for her first Olympic final.
Olympic Alums
The UW was one of the best-represented American universities at the 2008 Summer Olympics. Here's a look at the Huskies who made the big trip to Beijing.
CREW
David Calder, '01, coxless pair (Canada) — SILVER
Anna (Mickelson) Cummins, '02, women's eight — GOLD
Scott Gault, '06, four-man scull
Rika Geyser, '01, single scull (South Africa)
Rob Gibson, senior, coxless pair (alternate)
Megan Kalmoe, '06, scull pairs
Ante Kusurin, '06, two-man (Croatia)
Giuseppe Lanzone, '05, straight four
Brett Newlin, '05, straight four
Mary Whipple, '02, women's eight — GOLD
TRACK & FIELD
Aretha Thurmond, '98, discus
Brad Walker, '04, pole vault
Leila Ben-Youssef, medical student, pole vault (Tunisia)
SOCCER
Clare Rustad, '04, defender (Canada)
Hope Solo, '04, goalkeeper — GOLD
SOFTBALL
Danielle Lawrie, senior, pitcher (Canada)
BASKETBALL
Patrick Femerling, center (Germany)