The Rome Center—which faces the Campo de' Fiori, the great market square—hosts undergraduate and graduate study-abroad programs from a great many UW departments. Diverse groups of students use the center as a base for rigorous scholarship in their programs of study and exploration of one of the world's great cities. For almost 30 years, the Rome Center has made it possible for UW students to expand their experiences and to see themselves as citizens of the world. "Some of our students have never left Washington state. Because of the Rome Center opportunity our students begin thinking about the world, even if they don't ever leave Washington state again," said Anita Ramasastry, UW professor of law.
When UW took over the building that became the Rome Center in 1984, the structure was a once-grand old lady desperately in need of repair. Since then, the UW has renovated and gradually enhanced three floors in the building with areas of air conditioning, apartments for faculty and students, studios, a student lounge, computer access, conference rooms and even a small library.
Even more essential than the academic necessities, the center has a small staff that makes arrangements for everything UW faculty need to maximize the learning experiences of their students. For example, they arrange for the students partaking in the five-week Law, Societies and Justice Rome program to attend court to learn more about Italian immigration issues. They also arrange special viewings of historical sites and museums, and manage travel and transportation to cultural events and exhibits as well.
"I went to the Rome Center with the art history program, 12 of us, two professors and one was a medievalist," recalls Lauren Easterling, '04. "We got to go inside San Marco and the custodian slowly turned on the lights inside the church and the entire thing was covered in mosaics. For a bunch of art history students this was like the Super Bowl. The medievalist started to cry and the rest of us started to cry." Easterling is now manager of faculty-led programs in the UW Office of International Programs and Exchanges.
Students from departments as diverse as Built Environments, Art History, Creative Writing, Visual Communication Design, Math, Astronomy and the Foster School of Business have gone to Rome to enhance study in their disciplines. Rome Center Administrator Sheryl Brandalik says there is still room for other academic departments that would like to plan an enriching study-abroad experience for students. She and her colleagues are happy to work with faculty to continue to develop new programs. The experiences of the students and faculty who have visited the Rome Center are unique; every person who goes there has their own personal adventure. "It was in Rome that I found my voice. I fell in love not just with Rome, but how to be a writer in the world," says Rebecca Hoogs, '01, '04, poet and poetry series curator for Seattle Arts & Lectures.
The experience of studying at the Rome Center inspires students and enriches the very idea of learning. Perhaps Michael McCann, UW professor of Political Sciences, sums it up best:
"It (being in Rome) brings to life what doesn't always leave the page in the ordinary classroom."
Rome poetry
By Rebecca Hoogs
It was up to me to take myself down
a notch or two. Ascending to the present,
there was a bust in the ticket area
of some Caesar for sale, and behind the bust
a mirror in which I fixed my hair.
I'm so over myself.
-Excerpt from SAN CLEMENTE
Let me put you into perspective:
You are far away and small. I am here and big.
I am an entourage of one for what's left
of Cavallini's fresco of Jesus' entourage of angels.
-Excerpt from RELIC
… and then he touched my arm and said veni qui,
veni qui, and so we went to another part
of the breakable underworld where real
about-to-be-married Italians were filling
their bridal registry and so like me did not yet
have all their words for negativity …
-Excerpt from COME HERE
Alumni: Rent at the Rome Center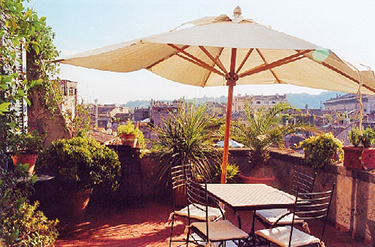 Located in the heart of Rome's historic center, overlooking the Campo de'Fiori open-air fruit and vegetable market, the UW Rome Center penthouse apartment is available for rent throughout the year to UW affiliates—including alumni. The unit has two spacious bedrooms, two bathrooms, living room, fully equipped eat-in kitchen, and a lovely furnished terrace affording panoramic views of the city. It sleeps up to seven people. Rome Center staff is also available for assistance throughout your stay.
Rental rate: $260/night plus utilities for 1-4 guests, additional guests $25/person/night, children up to 6 years old free; 3-night minimum stay
For more information and availability, contact Sheryl Brandalik at sbrandal@uw.edu
Bringing home a taste of Rome
In 2004, Brian Ugurlu was a history major with a jones for Napoleonic history. That's why he signed up for a study-abroad program at the Rome Center. As it turned out, he did learn a lot about Napoleon. He also discovered gelato. "In Italy people eat with their eyes. Italy has high fashion and beautifully designed cars, and gelato fits into the lifestyle. Every pan of gelato is hand designed and uniquely presented." Ugurlu was so taken that he decided to open his own gelato shop, and in 2005, Sirena Gelato opened in Bellingham. A third-generation gelato-maker from Venice taught Ugurlu his family's recipe. It was so successful that Ugurlu opened another Sirena Gelato in downtown Kirkland and a third one recently in Fremont. Urgulu says if he hadn't discovered gelato, he most likely would be sitting in a dusty museum basement sifting through relics and papers. "I speak highly of the UW Rome Center and the UW in general," he says. "We had wonderful gelato there."
To join the UW Rome Center mailing list, email program administrator Sheryl Brandalik at Sbrandal@uw.edu.