"I work long hours, doing difficult visa adjudications and turning away people who are in desperate need of a chance at a better life," she says. "But I want to stay—there is work to be done, and the spirit and the strength of the people here inspires me."
She wasn't the only UW graduate in the Haitian capitol on the day of the devastation. Former Husky swim team captain Erin Kloos, '05, was volunteering in a seven-story orphanage building in Petionville when it collapsed in the quake. Badly injured, she was rescued a day later and taken to a Florida hospital. Her brother, Ryan, died in the collapse.
Jesse Hagopian, '06, and wife Sarah Wilhelm, '06, were luckier. Uninjured in the temblor, Seattle teacher Hagopian turned medical worker after the quake, tending to the injured in Petionville, a Port-au-Prince suburb.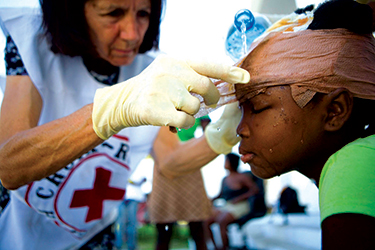 In the aftermath of the quake, numerous UW Medicine and Health Sciences faculty, students and health professionals went to Haiti to treat the injured and sick and care for the displaced.
Several UW Medicine physicians responded to a request for help from the U.S. Department of Health and Human Services. Among the UW experts in spine trauma, pediatric trauma, general trauma and trauma anesthesiology who volunteered are UW orthopedists David Barei, '00; Carlo Bellabarba; Rick Bransford, '00, '01; Jens Chapman; Bob Dunbar; and Chris Wahl, '00.
Faculty and alumni physicians also helped with other organizations. Members of the Harborview-based International Medical Surgical Response Team went to Haiti, and spine surgeon Jim Krieger operated out of the Port-au-Prince soccer stadium.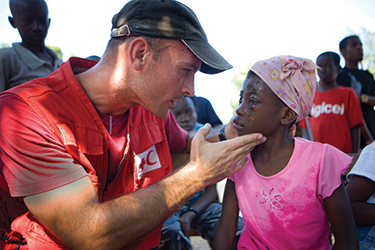 Volunteers for other organizations included Kathleen Jobe, director of UW Medical Center Emergency Services, who traveled to Haiti for the Seattle/King County Disaster Team; Elizabeth Dorn, a UW emergency medicine physician working with Global Health Ministries; and Silverdale physician and clinical assistant professor at the School of Medicine Dan Diamond, '83, who volunteered at United Nations field hospitals with a Medical Teams International group.
Other UW colleagues are raising funds. The 36 Haiti-based employees of the UW's International Training and Education for Health set up a relief fund for their Haitian colleagues. Ann Marie Kimball, UW professor of epidemiology and health services, offered to match student donations to relief agencies, raising more than $2,000, for Partners in Health, Medicins Sans Frontiers, International Red Cross, Meds and Food for Children and Mercy Corps.
Meanwhile, Martine Pierre-Louis, director of interpreter services and community house calls at Harborview Medical Center, has been working with a team at Harborview to prepare information and services to help survivors of psychological trauma, including translating material into Creole and making it suitable for Haitian culture.