"I saw these animals competing and the crowd was all nice and quiet. When the horses came into the stretch, people would start standing up and yelling. And it resonated," he says. "I was like, 'Wow, that's pretty neat.' And then I see these little jockeys and I knew I couldn't ride. But in some way I wanted to participate."
He started training horses after his football career ended in the early 1970s. At Emerald Downs, Coffey has been one of the track's most successful trainers, with his horses winning more than 170 races.
Coffey grew up in the 1950s in the little town of Dimmit, Texas, where he was the first black player on his high school football team. He was so good—and inspirational—that a former teammate once told a reporter, "He was sort of the Jackie Robinson of the area."
"I know it's changed a lot (since then)," Coffey says. "People have changed but those were some trying times." When Coffey's high school team would be on the road and stop to eat at a restaurant, he would sometimes have to eat in the kitchen because of his skin color. After graduating in 1961, he could not play college football in his home state because the Southwest Conference and other Southern schools still did not allow blacks to play. "You just can't fathom being in those situations,'' Coffey says. "It was really traumatizing."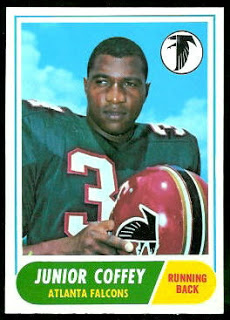 His high school coach said he was talented enough to play anywhere else, including the West Coast. Recruited by several universities, including USC, Coffey wound up choosing the UW. "I came to Seattle and I spent two days here and that's what convinced me to come to school here," he says.
Coffey credits his aunt with helping him with his life and career. For instance, she got him a short-term job at a slaughterhouse. "She said (to the hiring manager), 'I want you to give him a job working in the slaughterhouse or somewhere so that he understands that if you're going to gain anything, you have to work for it.'"
Coffey enjoyed a great career at UW, where he played running back and linebacker, helping the Huskies to the 1964 Rose Bowl. "My running style was no Jim Brown," he says with a smile, "but it was similar to men making contact (with the defense) and then breaking out of it. 'Oh, he's down.' And then, 'No, he's still going. I can't believe it!'"
After his Husky career, he played seven seasons in the NFL. During that time, Coffey bought a couple of horses and decided to become a trainer. "During the offseason, I would hang around horse races and I thought, because conditioning is a big part of football, maybe I can start trying to train horses and see what else I have to learn," he says. "Rather than coaching athletes, I'll coach a horse. I sort of trained the horses the way I thought I trained myself, to build up slowly, build the muscles up. I could recognize ability, timing, how fast they worked, how much recovery there was."
Although Coffey is now 76 years old, he wants to continue training for a few more years. And he remains grateful for his UW experience. Says Coffey: "I wouldn't be where I am now if it hadn't been for the opportunity to come here and play."