Alex, Bayard, Blanks and Mills were suspended from the team that year for refusing to pledge loyalty to head coach Jim Owens. The coach reinstated all but Blanks on Nov. 9, 1969, prompting Gayton, an assistant coach hired to help with communication with African American players, to resign. Bayard, a wide receiver, played in the final game of the regular season, catching two touchdowns in a 30-21 victory over WSU in the Apple Cup. It was the Huskies' only victory that season.
Bayard, '71, '77, '03, went on to earn a Ph.D. in education at the UW and enjoyed a long career in secondary and higher education administration in the state of Washington. He has also been a senior leader of Casey Family Programs. Alex, '71, served 13 years as the Huskies' team chaplain. Mills, '71, '76, became a Seattle attorney, while Blanks went on to earn a degree at Cornell University and became an actor. Gayton, '60, '72, '76, had a storied career with Boeing, state government, and in education reform. He also worked as an FBI agent. He also went on to serve on the UW Foundation Board and was president of the UW Alumni Association.
Also being inducted into the Husky Hall of Fame this year are two of the most famous quarterbacks in UW history: Jake Locker, '10, and Marques Tuiasosopo, '01.
Locker, who played for the Huskies from 2007 to 2010, was named the Pac-10 Freshman of the Year in 2007, and received the Guy Flaherty Most Inspirational Award in 2009 and 2010. "That was pretty special," he said. In 2010, he became the first Husky quarterback ever selected in the first round in the NFL draft. He is married to former UW softball outfielder Lauren Greer, '09, who helped the Huskies win the NCAA championship in 2009. They live in Ferndale, where he runs the Locker Room Fitness Center. Tuiasosopo, who played for the Huskies from 1997 to 2000, was the first freshman quarterback to play for the UW. As a junior, he was the first player in NCAA history to pass for more than 300 yards and rush for more than 200 yards in a single game. In 2000, he led the Huskies to an 11-1 record, a Pac-10 championship, a 34-24 Rose Bowl victory over Purdue and a No. 3 national ranking. Today, he is the offensive coordinator and quarterbacks coach at Rice University in Houston.
The other student-athletes who are part of the 2021 Husky Hall of Fame class are Jon Brockman, men's basketball; Claire Carter and Eric Drew, tennis; Kristen Rivera, softball; and Craig Waibel, soccer.
Brockman, '13, who played basketball from 2005 to 2009, scored 1,805 points and had 1,283 rebounds during his four-year UW career. He is the UW's all-time leading rebounder and was a three-time team MVP. A two-time first-team All-Pac-10 selection, he received the Tom Hansen Conference Medal in 2009. He played three years in the NBA.
Carter, '04, grew up in Nottingham, England, but she came to the UW to play tennis from 2001 to 2004. A four-time All-American, she helped the Huskies make NCAA quarterfinal appearances in 2001 and 2004. She also set the UW record with 93 career wins in doubles. She later became an assistant coach for the UW tennis team from 2005 to 2006.
Drew, '06, became UW's first NCAA singles semifinalist in 1999, the first player to reach that height in 44 years. An All-American in singles and doubles, he helped lead UW to its first-ever national top-10 team ranking. He is now a UW assistant tennis coach.
Rivera, '05, was a four-time All-American softball player at the UW from 2002 to 2005. She played catcher her first three years and switched to play infield her senior year. A .369 hitter, she hit 55 home runs and recorded 172 RBI. She helped lead the team to College World Series appearances in 2003 and 2004 and went on to play professional softball in Japan after graduation. "It is very possible to make a living overseas," she said.
Waibel, '98, was a right back who helped the Husky men's soccer team make it to the NCAA tournaments in 1995, 1997 and 1998. He played professionally for several MLS teams, including the Seattle Sounders, Colorado Rapids, San Jose Earthquakes and the L.A. Galaxy. Today, he is a sporting director for the Seattle Sounders.
Pictured at top: Top row, from left, are Harvey Blanks, Gregg Alex, Ralph Bayard, Lamar Mills, Carver Gayton and Jon Brockman; bottom row, from left, are Jake Locker, Eric Drew, Claire Carter, Kristen Rivera, Marques Tuiasosopo and Craig Waibel.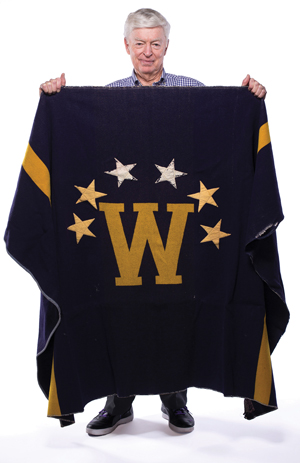 Dave Torrell, '62, curator for the superb Husky Fever Hall of Fame museum for the past 20 years, will be presented with the Don H. Palmer Award, which was established in 1994 to recognize those who have exemplified a special commitment to the UW Athletic Department. Palmer, the unpaid athletic team physician from 1904 to 1947, founded the Big W Alumni Club, the Homecoming Halftime Blanket Parade and the 101 Club.