Dixon, '99, was the world's log-rolling champ. A year earlier, in 1971, she was the champion of the "trick and fancy" category. Her handmade spiked shoes helped latch on to the lumber and keep her from falling.
When log rolling was a sport at the UW in the 1950s and 60s, students rolled in the ripples of Drumheller Fountain. The long-lost activity has been revived after a hiatus of decades, thanks to a group of adventurous UW students and staff. They held a tournament at the IMA on Friday night.
"It's a cool blend of surfing or riding a skateboard where you are super focused," says IMA aquatics and safety manager Justin Berry, who coordinated the tournament. "It's a light-hearted kind of thing, kind of like 'America's Funniest Home Videos'—a constant highlight reel."
Dixon needed spiked shoes because she was standing on cedar logs, but Friday's competitors rolled on specially made plastic pillars (they weigh 482 pounds when filled with water). This splinter-free timber is made by a company called Key Logs. Founder Abby Hoeschler, a log-rolling teacher in Minnesota, is campaigning for the sport to join the Olympics.
At the beginning of the night, most of the IMA competitors could barely even stand up. By the end of the tournament, they were shuffling on logs for upwards of 8-10 seconds. (Not impressed? Today's world champs only do it for about 13-14 seconds.)
In the final round of Friday's tournament, junior Elizabeth Guilford faced off against against sophomore Madison Hoiland. Guilford made Penni proud: She's the new UW champ.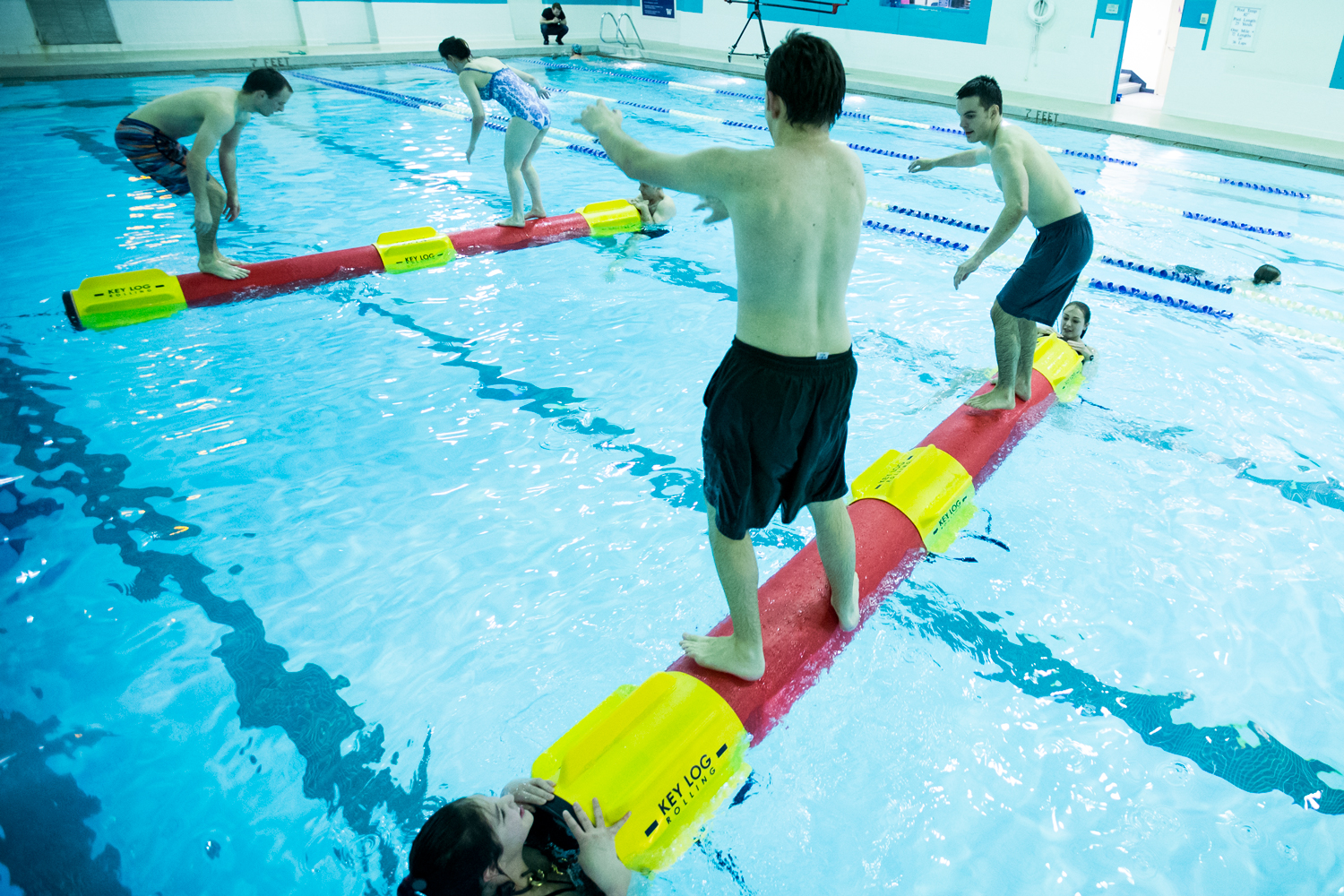 Penni Dixon grew up in Lewiston, Idaho, which turns out to be the informal log-rolling capital of the world. Along with three other young women from Lewiston, Dixon earned 11 world championships over the course of 14 years. She and her log-rolling buddies are even the subject of a documentary called "Queens of the Roleo," which premiered—naturally—in Lewiston in 2015.
Turns out Dixon is no lumberjack, but her current job as lead pharmacist at the Tacoma General Hospital Emergency Pharmacy does require her to be fast on her feet.