Canvases, small businesses and more — name the medium and Hong has used it as a vehicle for her art. Underpinning her work is a creative understanding of design thinking and problem solving, which comes from the Bachelor of Fine Arts she earned at the University of Washington. We sat down to learn more about her journey as an artist, her most meaningful collaborations and how her work is a living business card.
This conversation has been edited for clarity and length.
---
Where did your love of art stem from?
My love of art was fostered by my family, who put me in art lessons for watercolor, calligraphy, and more. Whether it's a family portrait or a public mural, I strive to create physical and digital art that is meaningful. When in college, I pivoted from a pre-med track to earning a Bachelor of Fine Arts after realizing that I felt more at home in an art studio than a chemistry lab.
Where did you find mentorship as an artist?
Growing up in Tukwila, I didn't have an art teacher and didn't see someone making a career as an artist. I accepted the fact that I might have to be a trailblazer because I didn't see a lot of artists who looked like me. I found support from my community, from friends and small business owners who've worked with me or come to see my art. They provided the space and opportunity to sell prints and display my work, which made me feel more confident in my identity as an artist. 
My work has become like a business card on the wall — when people see it and reach out, new opportunities arise.
When did you feel like you had "made it" as an artist?
I felt like I made it when I responded to a call for art submissions in honor of the 25th anniversary of The Notorious B.I.G.'s debut album, Ready to Die. I painted my submission the night before the due date, and what I created felt like a drop in the ocean amid the dozens of people who applied. 
I was one of two artists who won the contest, and my family and I were flown out to New York. When I talked to Biggie's mom, she said she was touched by the reference photo for my art — his style was how he was remembered before he left this earth. It felt like I had picked the right moment to capture, and I got to paint this art as a mural in Brooklyn on the street he grew up on. 
What changed for you after painting that mural?
This was the first mural I painted, and it made me realize that I didn't want my art to just be in galleries. I wanted to create art that existed in public spaces. I also wanted to bring art back to my hometown, which is why I started collaborating with BIPOC-owned businesses. That opened the door to do more collaborations.
What's one of your favorite businesses that you've worked with?
One of my favorite experiences was creating a mural for Salima Specialties, a Cham-owned restaurant in Seattle with cuisines that spans Southeast Asia. This family-owned business felt like home to me, and I wanted to create an art piece that used typography to express a meaningful phrase and their connection to the community. We landed on, "but first, we eat," something that was often said among family members and the people between sharing stories and cooking.
What advice would you give to other artists?
Be brave enough to put yourself out there, and always stay true to how you see the world.
---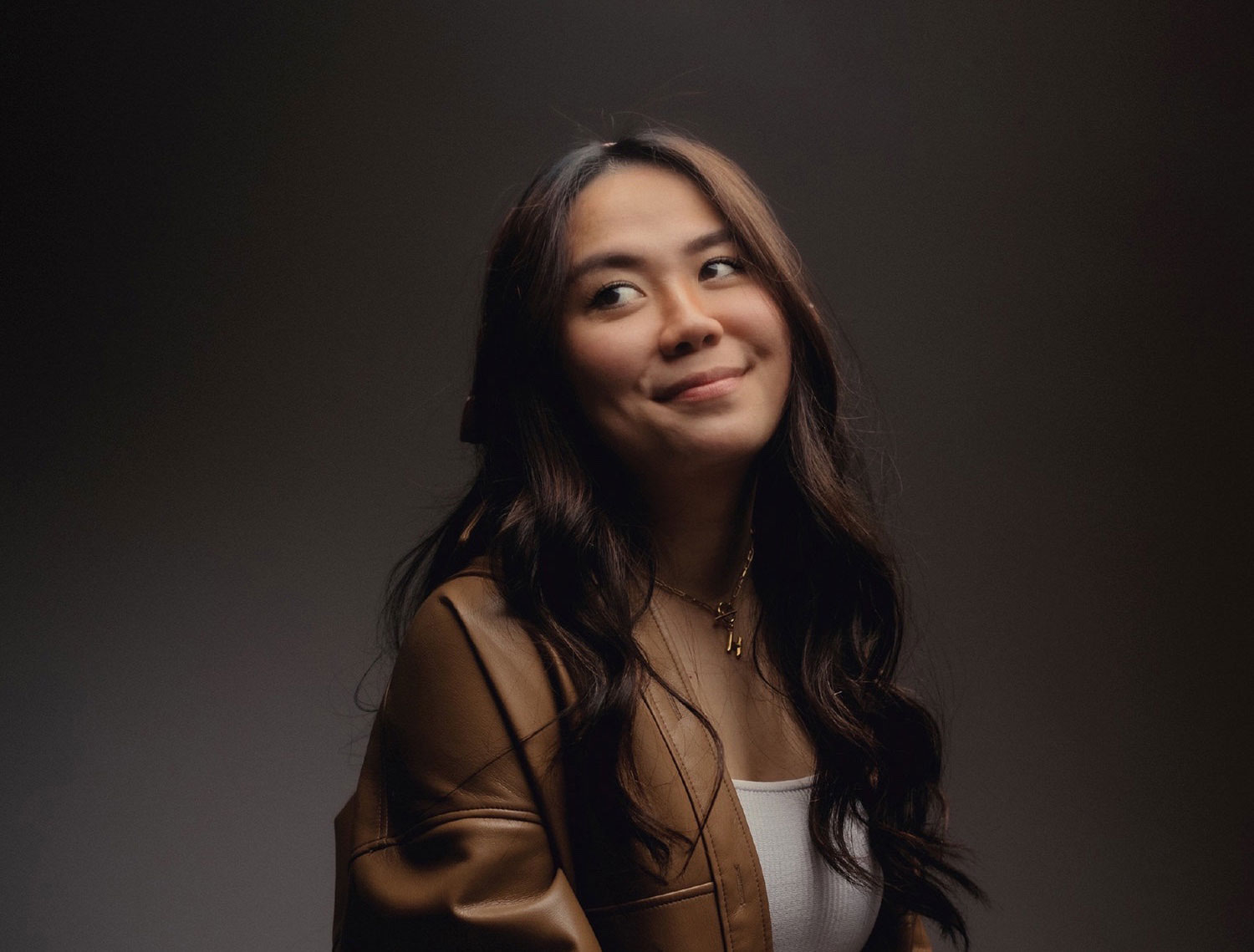 Check out Hoa Hong's work on her Instagram and website. Recognize that photo credit? Jordan Nicholson, who also took this headshot of Hong, appeared on the very first cover of University of Washington Magazine (previously known as Columns) in 2019.
About the author: Aleenah Ansari (she/her) is equal parts storyteller, creative problem solver, and journalist at heart who's rooted in the stories of people behind products, companies, and initiatives. She writes about travel, entrepreneurship, mental health and wellness, and representation in media for Insider, The Seattle Times, Byrdie, and more. You can usually find her searching for murals, reading a book by a BIPOC author, or planning her next trip to New York. You can learn more at www.aleenahansari.com.