"The University of Washington can be a national and global leader in figuring out how we can tackle this challenge. We have superb faculty, remarkable students and the most entrepreneurial community I have ever seen. We have the capacity to think through these challenges and devise creative, effective solutions. No one is better positioned than the UW. It is going to be very exciting."
The excitement of that challenge ultimately enticed Young to leave the University of Utah after seven years packed with eye-popping success on many fronts, from athletics (where the Utes football team went undefeated twice in seven seasons) to overtaking MIT as the nation's leader in turning university research into spinoff companies, from building more than 2 million square feet of new research and teaching facilities to doubling research funding.
He was also enticed by the opportunity to run an academic enterprise that he says is unparalleled in excellence, collaboration and breadth. "There are many universities that are great in one area or another," he said. "But here, the health sciences is only second to Johns Hopkins in federal research funding. The School of Social Work leads the nation in federal grants. The arts and sciences are unparalleled. It's unique to have a university with that kind of breadth and depth of excellence.
"I loved my time at Utah, it was a real love affair," Young added. "Personally, the opportunity for a new challenge was something I could not pass up. I think this is the most exciting challenge in higher education in the country."
And despite the problems and challenges awaiting him here, he is quick to add: "This university is not in need of a makeover. It is extraordinary in every respect and we will just work together to make it even greater."
Young says he plans to spend the next several months listening so he can learn the lay of the land. That will include visiting faculty in their classrooms and labs several hours every week. "The faculty is the heart and soul of a great university," Young explained. "And I love being part of the faculty. After all, I'm just a country lawyer. There are lots of brilliant people here from whom I need to learn."
Teaching and learning have inspired Young ever since he was a child, when he caught the bug to go into law. "I cannot recall a time when I didn't want to be a lawyer," he said. "My mother must have whispered that to me when I was in my crib. I just love being around and involved in issues, the solutions to which might make people's lives better."
Young is thrilled with one new solution that will kick in next fall—the new TV deal that the Pac-12 has entered into with Fox and ESPN. It is the largest TV contract of any college league, worth approximately $3 billion over 12 years. But more than the financial windfall (approximately $21 million to each school every year), the deal will bring something Young says is vital: national exposure. "The Pac-12 has some of the best academic institutions in the world," Young said. "This TV contract is one way we can get national exposure."
In addition to presiding over the most important economic engine in the Pacific Northwest, Young will hold a faculty appointment in the UW School of Law. In the near future, the second editions of two books, one he wrote on international trade law and another he co-authored on international environmental law, will come out, and Young—an expert on Asian law who spent his Mormon mission in Japan—has a large-scale research project in Japan in the works. "I want to keep my hand in it," he said. "I love being a professor."
Along with joining a faculty that ranks among the best in the world, Young also loves the prospect of having the support of an engaged alumni community.
"The faculty is the heart and soul of a university," he said, "but what makes a University truly great is its partnership with alumni. Alumni are the absolute lifeblood of a university. Alumni support their university, not only financially, but also by helping people understand what a university can do and then helping the University do it."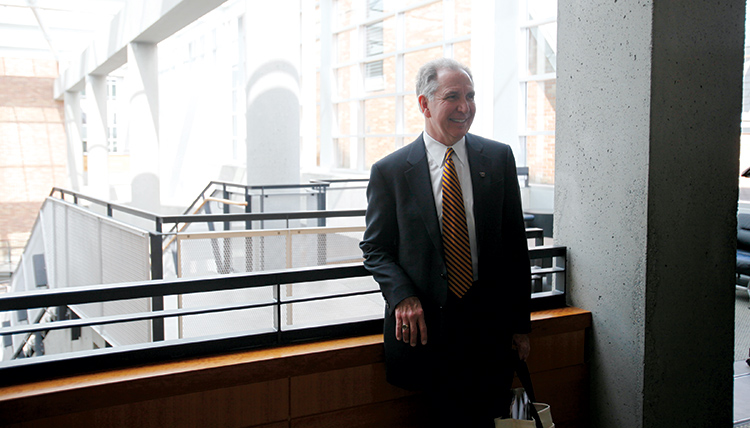 Michael K. Young
EDUCATION
B.A., Political Science and Japanese, Brigham Young University, 1973 (Summa Cum Laude); J.D., Harvard Law School, 1976 (Magna Cum Laude)
CAREER
1976-1978: Clerk to U.S. Supreme Court Associate Justice William H. Rehnquist
1978-1998: Columbia University Law School
– Fuyo Professor of Japanese Law, 1978-1998
– Director, Center for Japanese Legal Studies, 1985-98
– Director, Center for Korean Legal Studies, 1995-98
– Co-Director, Program on Religion, Human Rights and Religious Freedom,1994-98
FEDERAL GOVERNMENT SERVICE
– Deputy Legal Adviser, U.S. State Department, 1989-91
– Deputy Undersecretary for Economic and Agricultural Affairs, 1991-93
– Ambassador for Trade and Environment affairs, 1992-93
1998-2004: George Washington University Law School Dean and Lobinger Professor of Comparative Law and Jurisprudence
2004-2011: President, University of Utah
July 1, 2011: 31st president of the University of Washington
BOOKS PUBLISHED
The Fundamentals of U.S. Trade Law and Japanese Law in Context, and Readings in Society, The Economy, and Politics, both published in 2001.
ALSO
Served two terms as Chair of the U.S. Commission on International Religious Freedom, a major federal advisory commission created by Congress in 1998 to advise the President, the Secretary of State, the National Security Advisor and the Congress on U.S. foreign policy.