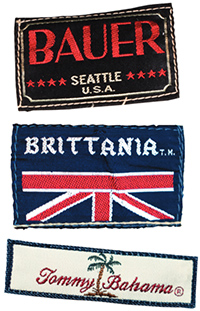 Soon after that first dress, she opened a small downtown atelier, where she made couture and bridal gowns and held fashion shows in the hallway. Yang has since grown her business to include the couture showroom and studio—where gowns are designed, created and altered on site—as well as an exclusive ready-to-wear line, bespoke menswear and, most recently, custom corporate uniform programs for clients including hotels and Alaska Airlines.
With two decades of clothing design under her belt, Yang considers her role in the Seattle fashion scene. "This city is not known for couture," she admits, nodding to the plaid-and-raincoat image. "It's more known for active wear, outdoor wear and outdoor workwear." But there's more to fashion than black-tie events. "It's being smartly dressed for any activity," says Yang. "That's something worth thinking about."
The Museum of History and Industry is also thinking about that. The current exhibit, "Seattle Style: Fashion/Function," is perhaps the first comprehensive look at the history of what people have worn in the Pacific Northwest. It addresses a cultural conversation that should have been opened long ago, says MOHAI curator Clara Berg. Clothing from here is often practical and comfortable, Berg says, but sometimes it's also stylish and edgy.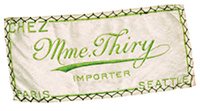 Several years ago, an article in Vogue asked: What to pack for an imaginary lost weekend in Seattle and the Pacific Northwest? The answer: "Something sophisticated, but disarmingly down-to-earth." Our relationship with fashion is complicated, Berg says.
A colorful pair of mannequins greets visitors as they walk into the exhibit. On the left, a woman's form sports a bright-green 1948 ski ensemble from the Seattle Woolen Co. The man's form on the right wears a 1970s custom-made men's suit with a boldly-patterned batik jacket. The pieces play off one another.
"Through most of the exhibit, the women's pieces are fashion and the men's are function," Berg explains. "We thought it would be fun to turn that around right at the beginning."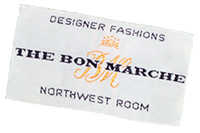 The man's ensemble belonged to John Doyle Bishop, one of Seattle's most in-demand dressers in the 1950s and '60s. Harper's Bazaar named him one of the 100 best-dressed men in the country, and he was broadly known for dressing Seattleites in glamorous clothing and accessories, as well as for his own impeccable, personal touch. "He was sort of my gateway into the Seattle fashion story," says Berg, who first discovered his clothes as a high school student volunteering at the museum. She later made him the focus of her master's thesis at the Fashion Institute of Technology in New York.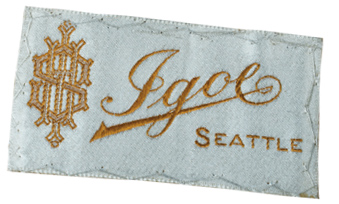 About a decade ago, Berg, who had been working in MOHAI's collections department, decided to explore a career in museums. Her first step was to enroll in the UW's eight-month program for a certificate in museum studies. She found she loved exploring how fashion deepens or challenges what we know of our history. That led her to graduate school in New York.
A few months after she graduated, the job of collections specialist for textiles and costumes opened up at MOHAI. It was a perfect fit.
She finds herself drawn to garments like the waxed canvas rain poncho she discovered in the MOHAI collection years ago. "It's quintessentially Northwest," she says. A big beige square of canvas punctuated with a hole in the middle, framed by a rounded-edge collar that she describes as "enlarged Peter Pan," is the perfect pre-Helly Hansen garb for a wet day on Puget Sound. But it also comes with a great story.
The poncho once belonged to Belle Stevens, a zoologist who earned a Ph.D. in biology from the UW around 1916. At the time of her death, Stevens was a research associate in the Department of Oceanography. Apparently, she had an expertise in hermit crabs, says Berg. "I could see her wearing this while boating in the San Juan Islands, doing research."
Over her time with MOHAI, Berg's tours of historical boutique sites and her fashion presentations like the "Behind the Seams" garment viewings have gained a following. Fashion in Seattle is a big topic, Berg says. "But for this exhibit I wanted to play with the city's high-fashion and high-function story." Berg agrees with Yang that the fashion history of the Pacific Northwest is not well known, even among those of us who have lived with it through decades. In Berg's mind, and in the exhibit, our fashion story is easily broken down into categories. "Nature and place" explains the raincoats, boots, ski pants and hiking jackets. "Growth and aspiration" captures the excitement endemic to the Klondike Gold Rush, which started in the late 1800s, as well as the tech boom today.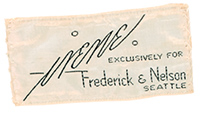 Next is "Casualwear," for which Seattle is one of the country's leaders. "Casual became a focus in the '50s and '60s," says Berg. Sportswear might be another way to describe it—clothing that could be worn for leisure activities, including coordinated separates, comfortable fabrics, sweaters, layers.
The category includes jeanswear, Berg says. "Seattle was a hub for it—with brands like Britannia (which made Seattle the jeans capital of the country in the 1970s), Union Bay and Generra (remember Hypercolor shirts?). The people and connections that came from these businesses led to the formation of companies like Tommy Bahama, which is headquartered on the shore of Lake Union, just a few steps from the museum.
Finally, for Seattle style, Berg points to a fourth category of "Innovators and Rule Breakers." "This last category is kind of a big mix of things," says Berg. "Grunge incorporated so much out of Seattle already—there's the practicality of staying warm, but also an anti-establishment attitude. It combined a lot of Seattle stories together." Some may joke about it, but "grunge was an internationally important movement, and it is coming back," she says.
Overall, this category is a mix of Seattle inventions and individuals forging their own way, Berg says. Eddie Bauer, for example, got the idea for the quilted down jacket in the 1930s after nearly succumbing to hypothermia on a fishing trip to the Olympic Peninsula. And there are many innovators from the original wearers of grunge to Luly Yang and TomboyX, a business that makes underwear for anybody, regardless of where the wearer may fall on the gender spectrum.
Pieces that date or relate to Seattle's early days are featured in nearly every section of the exhibit. Elizabeth Korsmo, '10, '18, who wrote her master's thesis on Seattle garments from the 1850s and '60s, helped provide an understanding of that time period. Since clothing from that era is hard to find in Seattle, it is somewhat limited in the MOHAI collection. Many of the women's garments from that time were resized, passed on to others or repurposed for uses like window curtains.
Still, Korsmo managed to surface several dresses. She also looked into letters and diaries for details. "My favorite print source is a letter from Catherine Blaine [a Methodist missionary] where she is writing explicitly about clothing to her sister back in Seneca Falls," she says. Blaine picked up her trousseau in New York before coming to Washington. "That debunks the idea that we were 10 years out of date out here," Korsmo says. Also, the East Coast fashion magazines usually arrived about six weeks after their print date, she says. "In some ways, life was really not so primitive as it may have seemed."
Some of the pieces Korsmo found were too fragile to display. In her thesis, she describes an approach to a garment that allows a historian to understand more about it and its wearer through careful examination, and these delicate garments allowed for that. "One of the most fun aspects is to spend a couple of hours with each piece and look close-up at each part of the dress." Was it hand-stitched or machine-stitched? Had it been altered for size? Was the original hem worn out and replaced with another band of material?
Dresses haven't always been seen as worthy of historical study, says Korsmo, who now works as a historic interpreter at the Fort Nisqually Living History Museum. "Clothing is about as intimate as you can get," she says. "It's so personal. It tells the story of the wearer and the things they did to make the fabrics last longer and the clothes stay in style."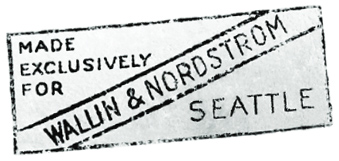 Visitors to the exhibit will find a few surprises, says Berg. One may be that women in Seattle have long been wearing haute couture. She points to a 1930s Elsa Schiaparelli silk evening dress covered with butterflies. It belonged to Guendolen Carkeek Plestcheeff, who, in her time, was considered one of the most fashionable women in the world.
Another delightful detail is Seattle's long history as a place where things were made. "We did have a big industry of things being sewn here," Berg says. Garments from Foster Hochberg, a women's clothier that dominated the corner at Fifth and Union for more than 25 years, still often appear on eBay and Etsy. And Filson, which started in the 1890s as a loggers' apparel maker and then went on to outfit prospectors and outdoorsmen, maintains its factory here.
The exhibit also includes the work of local artists and designers like weaver DeAnn Sackman Jacobson (Duwamish/Suquamish), who has been a visiting researcher at the Burke Museum on UW's campus, and a blanket from Eighth Generation, a Native American-owned business founded by former UW student counselor Louie Gong. It even has a wedding dress—the body-positive gown of Seattle-based writer Lindy West, designed just for her by Seattle's own Mark Mitchell.
Luly Yang selected her Blue Morpho dress, an update of the Monarch crafted 10 years later, for the MOHAI display. It represents her story as a designer from her inspiration from the environment around her to her love of elegant embellishment. "My style is very much inspired by Northwest nature, organic form, and the elements. And the sport we design for is special events," she says. "The Blue Morpho has a corset made of French lace with raffia sewn in, and Swarovski crystals sewn into that. That gives it the texture, a little, of a caterpillar." The skirt uses about 40 yards of fabric including a custom digital print of butterfly wings created on taffeta.
But most of the time, "we're not formally dressed like other cities. Instead, we're smartly dressed, and for any activity," Yang says. "Well-done active wear can be as exciting as couture." The designer applies the activewear design philosophy to her own work, understanding that her customers crave comfort and functionality as much as beauty.
You may have to look harder to understand Seattle style. "It's not Southern California. It's not Miami," Yang says. "We're not about really bright colors you can see from a half mile away. We're about details, function and engineering."
"I'm really excited about the exhibit," says Yang. "I think the world needs to see that when it comes to style, there's lots of layers and complexity here."
Pictured at top, from left: A classic Eddie Bauer 1990s plaid, modified to subvert the masculine look to suit a queer style; a classic boot sold in early Seattle by Wallin & Nordstrom, the company that became the national fashion retailer Nordstrom; a tailored suit that belonged to John Doyle Bishop, a Seattle fashion authority; and a two-piece ball gown from the House of Schiaparelli that belonged to Ruth Schoenfeld Blethen Clayburgh in the 1950s.