Although many oenophiles may not realize it, six UW professors were part of the group that founded one of the state's first wineries, Columbia Winery, and that's just the start. Whether it be old hand Bob Betz, '70, at Betz Family Winery or a relative newcomer like Joe Forest, '00, at Tempus Cellars, UW grads have played a major role in taking the industry where it is today. Ironically, many of the UW grads currently in the industry say they liked wine, but didn't consider it as a potential career path when they graduated.
Betz is a good example.
The Betz Family Winery's master winemaker was a medical student on the alternate list for the UW medical school, but he didn't get in. So, he traveled to Europe where he spent time in the vineyards of Italy, France and Germany and fell in love.
With wine.
"By the end of that trip, I knew the wine industry would be [my] future," he said. Indeed, Chateau Ste. Michelle Winery hired him in 1975 because, as he put it, "I could speak wine." By the time he retired to start his own winery 28 years later, he'd worked his way up to vice president of wine research, served as co-chair of the Washington Auction of Wines and had long acted as an unofficial ambassador for the region.
He still remembers the day 30 years ago when he went to the east coast to talk about the Washington wine industry and had a listener ask, "Which side of the Potomac do you grow your grapes on?"
Like Betz, English Lit major Joe Forest didn't know what he wanted to do after graduation. After traveling for two years, he fell into a job at Seattle Thai restaurant, Wild Ginger, where he discovered Washington wines. Before he knew it, he found himself heading to Walla Walla to work at Seven Hills Winery to see if he liked it. He eventually went on to become an assistant wine maker at Dunham Hills before launching Tempus Cellars in 2006.
Of course, some future winemakers had hints of what was to come.
Land use planner Darcey Fugman-Small, '77, moved to Walla Walla for a job in 1978, but didn't intend to stay until she met her future husband, a farmer and home winemaker who wanted to start his own winery. "In fact, on our second date we made homemade wine," she recalled.
Small and her husband, Rick, not only went on to found Woodward Canyon, Walla Walla's second winery, she also used her land-use training to complete an application to get the federal government to approve the creation of a wine appellation region that runs from Walla Walla down into central Oregon.
Patrick Rawn, '03, at Two Mountain Winery in Yakima may have also had an inkling of his future while he was still in college. That's because his family planted grapes near their farm in the Yakima Valley and began selling wine on the side when he was still at the UW. Although Two Mountain only produces 4,500 cases a year, he has done his fair share to spread the gospel of Washington wines by focusing primarily on distribution outside Washington.
UW med student-turned-restaurateur Lysle Lill, '84, married into wine, sort of. After dropping out of med school in her third year and working in restaurants for a few years, she and her husband, Paul Beveridge, opened a restaurant in Seattle's Madrona neighborhood.
Since Beveridge was already a home winemaker, he decided to make more and serve it in the restaurant. The practice was illegal until Beveridge, a lawyer, lobbied the state Legislature and got the law changed. As Wilridge Winery grew, she closed the restaurant. They helped co-found the Tasting Room Seattle at the Pike Place Market and opened another tasting room in Yakima, which she runs.
John Morgan, '84, may well be one of the few who planned to open a winery, but only as a second career. The Forestry Resources graduate was always interested in making his own wine, but didn't pursue it seriously until after frustration with government red tape prompted him to leave his job as a civil engineer. His winery, Lost River, produces about 4,000 cases a year.
The UW's influence isn't limited to Washington. Kirsten Lumpkin, '63, and her husband, Ned, '66, bought 146 acres in Carlton, Ore., when they couldn't find a suitable property in Walla Walla or Vantage. The communications major and former editor of The Daily didn't grow up with wine, but she and Ned developed an interest after he served in the Army in Germany and later dreamt of starting a winery when they retired.
Their dream isn't all that uncommon, but what they did with it is. They planted 40 acres of grapes, built the wine industry equivalent of a state-of-the-art industrial wine-making facility and invited winemakers without wineries to make, bottle and sell their beverages through the Carleton Winemakers Studio.
"It's enlarged the industry greatly," Lumpkin says, because it's taught aspiring winemakers they don't have to own 15 acres of grapes to make wine and it's been the inspiration for similar operations throughout the county. The operation's a success now, but she admits she wasn't so sure things would work out in 2002 when they planted the grapes. In fact, she says, it reminded her of the opening day of fall quarter 1959 when she heard the campus carillion player plunk out the tune, "Fools Rush In Where Angels Fear to Tread."
"We both use that as an analogy for [our] getting in the wine industry," she says. "Fortunately, it's worked out for us."
Top of the vine
Since 2009, Matthews Estate winery in Woodinville has reserved some of its finest grapes for a special client: the UW President's Residence. The relationship with Matthews Estate was initiated during Mark Emmert's presidency by Cliff, '73, and Diane, '76, Otis, who are part of the winery's ownership team. These wines are only served on special occasions and are not available for sale. However, a portion of the proceeds of Matthews Estate's Blackboard red goes to the Ackerley Foundation, which supports the UW College of Education's efforts to train K-12 teachers.—Paul Fontana
Husky-connected Pacific Northwest wineries
Here is a sampling of wineries created by and/or run by alumni. With more than 740 wineries and 350-plus wine-grape growers in the state, we have no way of knowing about every winery run by a Dawg. So we invite you to tell us about a winery with a UW connection—and if you have a favorite wine produced at one, write us at columns@uw.edu.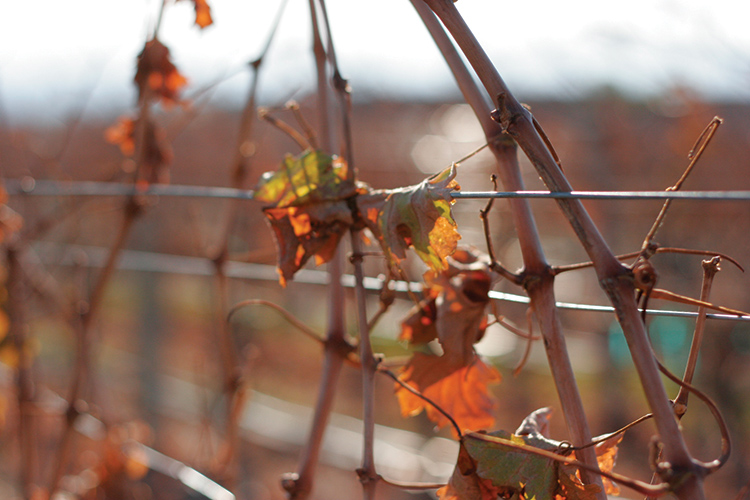 Two Mountain Winery
Zillah
Patrick Rawn, '03
Lost River Winery
Mazama
John Morgan, '84, and Barbara House
Tempus Cellars
Walla Walla
Joe Forest, '00
Wilridge Winery
Yakima
Lysle Wilhelmi, '84, and Paul Beveridge
Otis Kenyon Winery
Walla Walla
Stephen Kenyon, '71, '74, and Deborah Dunbar, '73
AMaurice Cellars
Walla Walla
Anna Schafer, '01
Woodward Canyon Winery
Walla Walla
Darcey Fugman-Small, '77, and Richard Small
Cadaretta Wines
Walla Walla
Rick Middleton, '90, and Ellen Middleton
Betz Family Winery
Walla Walla
Bob Betz, '70
Spring Valley Vineyard
Walla Walla
C. Dean Derby, '58, and Shari Derby
Tamarack Cellars
Walla Walla
Jamie M. Coleman, '83, '88, and Ronald Coleman
Open Road Wine Company
Bothell
Sara (Holzknecht) Papanikolaou, '08 and George Papanikolaou
Novelty Hill Januik Winery
Woodinville
Carolyn Januik, '77, and Mike Januik
Lazy River Vineyard
Yamhill, Oregon
Kirsten Lumpkin, '63 and Ned Lumpkin, '66
WineGirl Wines
Manson
Angela K. Jacobs, '03, '10
Michael Florentino Cellars
Woodinville
Brad Sherman
Seven Hills Winery
Walla Walla
Casey J. McClellan, '83
Precept Wine Brands
Washington, Idaho and Oregon
Dan Baty, '65