We put together a selection committee of folks who know the UW backward and forward, past and present, and asked them to help us come up with 100 famous, fascinating or influential living graduates. It was a process filled with delightful discoveries and difficult choices, and the results are an absolute embarrassment of riches.
WILLIAM FOEGE, '61: In 1972, an esteemed senior fellow at the World Health Organization cold Foege, "If you eradicate smallpox from India, I'll eat the tire off your Jeep." No word on how that tire tasted, but by 1979 smallpox was gone not only from India but from the face of the earth. Foege went on to direct the Centers for Disease Control, and is now a senior fellow at the Gates Foundation.
SUZANNA DARCY-HENNEMANN, '81: Your worst nightmare is her dream job. The first woman ever hired as a test pilot at Boeing, Darcy-Hennemann has spent 22 years making sure jumbo jets can safely do things they should never be asked to—like stall in mid-air and pull out of a nosedive.
LARRY GOSSETT, '71: In 1968, a young social activist named Larry Gossett was arrested during a sit-in and locked in a jail cell on the 12th floor of the King County Courthouse. That part of the building now houses Gossett's own office—he's chair of the King County Council.
DONALD BREN, '56: Real estate mogul and philanthropist Bren attended the UW on a ski scholarship and even tried out for the Olympics in 1956. An injury halted his bid, but the Irvine Co. chairman stands high atop the real estate mountain today with a $13 billion fortune.
HUGH McELHENNY, '52: His sport was football, but his specialty was the 100-yard dash. McElhenny is the only player in UW history to record touchdown runs of over 90 yards as a punt returner, a kickoff returner and a rusher from scrimmage. He's now in three Halls of Fame—Husky, College Football and Pro Football.
DOLORES SIBONGA, '52, '73: In 1978 Sibonga—the first Filipina American woman admitted to the Washington state bar—became the first Filipina American to sit on the Seattle City Council.
RICK STEVES, '78: When Steves decided to teach a travel class at the UW's Experimental College, he expected 20 students to attend. Instead, about 100 people showed up and Steves' multi-million-dollar travel empire was born. Fans can follow Steves' advice through his popular TV series, radio program, columns, guidebooks and tours.
ALEXEI SABA MOHAJERJASBI, '03: As the furious-fingered turntablist for Blue Scholars and Common Market, "Sabzi" is the hottest ticket in town today.
KIM THAYIL, '85: As the heavy-riffing lead guitarist for Soundgarden, Thayil ruled the Seattle music scene for a time—the 1990s—when Seattle music seemed to rule the world.
TIM PATERSON, '78: As an unknown 23-year-old computer designer and engineer, Paterson wrote what became known as the original MS-DOS—the most widely used computer operating system in the 1980s.
WILLIAM BOLCOM, '58: One of the great virtuosos of American music, Balcom is equally comfortable composing symphonies, chamber music, cabaret and ragtime. His many honors include a Pulitzer, the National Medal of Arts, three Grammys and the UW's Alumnus of the Year award.
ART WOLFE, '75: His brilliantly colorful and stunningly composed nature photographs have appeared in major magazines, in dozens of books and on two U.S. postage stamps. Fans can catch up, with him on his new public television series, "Travels to the Edge with Art Wolfe."
DIMITRI KIEFFER, '89: Kieffer is trying to circle the globe under his own power—hiking across Asia, bicycling across North Africa, paddling across the Atlantic, etc. Don't bet against him: he's already walked from Alaska to Siberia across the not-entirely-frozen Bering Strait. He also ran—yes, ran—the Iditarod, pulling the sled himself.
LYNN COLELLA, '72: Colella didn't walk on water—although that would've helped explain some of her achievements in the pool. She won 10 national championships, along with a silver in the 200 butterfly at the 1972 Olympics—the first Olympic medal ever won by a UW woman.
BRAD FITZPATRICK, '02: What's a UW student to do when he wants to keep his friends updated on college life? Write a computer program to maintain his online journal, of course. Fitzpatrick did just that when he created LiveJournal, a site chat now hosts over 15 million accounts, in his Mercer Hall dorm room.
BOOTH GARDNER, '58: Gardner, a former two-term Washington governor, is on the final campaign of his life: to legalize physician-assisted suicide this September. He's not fighting for his own right to die—his Parkinson's disease isn't considered terminal—but he wants Washington voters to give others the right to "death with dignity."
MARILYNNE ROBINSON, '68, '77: Page for page, Robinson may be the most influential fiction writer in America. She has produced only two slender novels—"Housekeeping" and "Gilead"—and both are regarded as modern classics. She's won the Pulitzer, the National Book Critics Circle Award and the PEN/Faulkner.
BEVERLY CLEARY, '39: One of America's best-loved authors, Cleary has spent her life writing the kinds of stories she longed to read as a little girl—stories in which children are children, and not merely means to the end of some adult moral. She was named the UW's Alumna of the Year in 2008.
PETER KITHENE, '07: As an orphaned teenager in Kenya, Kithene raised three siblings by himself. As a UW undergrad, he raised enough money to found a health clinic in his home village. Now he's raising his own baby son while completing a master's at the UW and remotely managing the clinic, which provides care to widows and orphans.
JILL SEAMAN, '79: Physician Seaman has spent her adult life battling epidemics in Sudan, personally dealing with, by one doctor's estimate, more than 10,000 cases of the deadly parasitic disease kala-azar. She's currently fighting tuberculosis through the Sudan TB Project.
KITTY KELLEY, '64: Notorious for her unauthorized biographies of the world's most powerful people, Kelley has written about the Bush family, the British monarchy, Nancy Reagan and Jackie O. Currently, she has her pen aimed at Oprah.
DONALD PETERSEN, '46: One day Petersen, then president and soon to be CEO of the Ford Motor Company, asked some designers if they were proud of that year's models. They said no, and the resulting mandate—Petersen told designers to work only on cars they would be proud to own—led to the development of the Taurus and revived the company.
GORDON HIRABAYASHI, '46, '49, '52: An American hero, Hirabayashi refused to report to internment camps for Japanese Americans in May 1942. He spent nine months in jail and appealed all the way to the Supreme Court, which affirmed his conviction 9-0 for violating the Army's curfew. In 1987, the Ninth Court of Appeals finally ruled that the government misled the courts in 1942 about the threat of Japanese Americans. Hirabayashi earned a Ph.D. at the UW and had a distinguished career as a sociology professor.
1958 CREW: The 1958 Husky men's crew, stung by a loss to Leningrad Trud's crew at the famous Henley Regatta in England, came back to stun the world champions in Moscow's Khimi Reservoir by 1 3/4 lengths. It was the first American sporting victory in the USSR. Fifty years on, they could still take you to school: From left, John Sayre, '58, Lou Gellermann, '59, Chuck Alm, '58, Phil Kieburtz, '58, coxswain John Bisset, '58, Roger MacDonald, '58, alternate Gene Phillips, '61, Bob Svendsen, '59, and alternate John Fish, '58.
DALE CHIHULY, '65: Chihuly brought the notion of collaborative teams to the Studio Glass movement, and made the blown glass form an accepted vehicle for installation art. Once he captured the garden in glass; now his Mille Fiori installations at museums and galleries from Tacoma to New York are gardens themselves.
BOB HOUBREGS, '59: In 1958, the Husky men's basketball team failed to make the NCAA tournament, and their talented forward/center was left selling programs outside the Final Four—held, heartbreakingly, at Hec Edmundson Pavilion. The next year, Houbregs was the program, averaging nearly 35 points a game in the tournament and leading the Huskies to the semifinals. He was named national Player of the Year, was picked third in the NBA draft and is now in the Basketball Hall of Fame.
DANIEL O'NEILL, '72: Most UW students look for a job after graduation. O'Neill sold his possessions and took off on a volunteer mission to Africa, Europe and the Middle East. In 1981, he founded Mercy Corps, a humanitarian organization that has since provided over $1 billion in assistance to people in 100 nations.
DAWN WELLS, '60: She achieved television immortality as Mary Ann on the short­running, long-syndicated sitcom "Gilligan's Island"—the wholesome counterpart to sex-kittenish Ginger Grant. Wells still receives about 50 fan letters a week.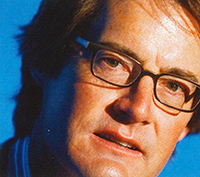 KYLE MACLACHLAN, '82: Maclachlan studied drama at the UW, and he must have studied well. Not long after graduating, he starred in the films "Dune" and "Blue Velvet." A Golden Globe Award winner and Emmy nominee, he can now be seen playing mysterious dentist Orson Hodge on "Desperate Housewives."
CHRIS DeWOLFE, '88: Who knew an online networking site like MySpace.com, which hosts over 230 million accounts, would be so popular? MySpace CEO and co-founder De Wolfe did. Launched in 2003, the site quickly took off and has only grown more since News Corp. bought it for $580 million in 2005.
DAVID HORSEY, '75: A two-time Pulitzer Prize winner, editorial cartoonist Horsey has entertained, enlightened and sometimes outraged readers of the Seattle Post-Intelligencer and 450 other newspapers. He got his start when The Daily staff elected him as editor in 1974, the first time a cartoonist assumed that exalted position.
DAN EVANS, '48, '49, AND NORM RICE, '72, '74: Democrat Rice, is Seattle's first and only African American mayor; Republican Evans is Washington's beloved former governor and U.S. senator. Rice is currently Distinguished Practitioner in Residence at the Daniel J. Evans School of Public Affairs.
CHUCK CLOSE, '62: Close thinks of himself as one who builds painting experiences for the viewer. His photographs and photo­realistic paintings, often produced in very large scale, focus on portraits of himself, his family and friends. His work can be found in the Museum of Modern Art, the Guggenheim Museum and the Tate Gallery.
JAMES SUN, '99: Thanks to the technology investment company he started as a freshman at the UW, Sun had over $2 million in the bank by the time he graduated. In the years since, he has founded the networking site Zoodango.com and made the finals of the reality show "The Apprentice."
RITA COLWELL, '61: Colwell was the first female director of the National Science Foundation. In 2007, President Bush awarded her the National Medal of Science for her research on marine microbes and the links between environmental and human health.
ROBB WELLER, '72: In front of the camera, Weller is the host of A&Es "Top 10," and formerly co-anchor of "Entertainment Tonight." Behind the camera he's partner/executive producer of Weller/Grossman Productions, the company responsible for bringing reality and documentary shows to life for the Food Network, the Discovery Channel and others.
PATRICK DUFFY, '71: When TV idol Duffy left the nighttime soap opera "Dallas" in 1985, the writers simply killed his character off. That proved disastrous for the show's ratings, and a year later Bobby Ewing was back. The entire 1985-86 season of the show, it turned out, had been a dream in the mind of his wife Pam.
ERIC NALDER, '68: An investigative reporter for the Seattle P-I who knows how to follow the money, the smoke and the oil slick, Nalder has received two Pulitzers. He exposed dangerous flaws in the regulation of oil cankers, the misuse of HUD funds and the abuse of vulnerable people in long-term-care facilities.
FOUAD AJAMI, '69, '73: Born and raised in Lebanon, Ajami is a professor of Middle East Studies at Johns Hopkins University and a prominent public intellectual. He writes on Middle Eastern affairs for the Wall Street journal and other publications, and has served as an adviser to Secretary of State Condoleezza Rice.
RODNEY MOORE, '82: It's a good thing Moore has experience in office from his time as president of UW's Black Student Union—he'll surely use it as president of the National Bar Association, the nation's largest association of African American lawyers and judges, for 2008-09.
JOHN CARLSON, '81: A well-known Seattle-area conservative, Carlson raised his voice against what he considered an unfair quota system by pushing I-200 in 1997. The initiative, which passed overwhelmingly, eliminated affirmative action in UW admission policies.
REBECCA NELSON, '88: Nelson was discussing potato diseases with a colleague when she received a phone call celling her that she'd received a 1998 MacArthur Fellowship, or "genius grant," for—you guessed it—her work in combating potato blight.
W. RON ALLEN, '83: As chairman of the Jamestown S'Klallam Tribe in Sequim, Allen works to ensure the sovereignty and economic vitality of his people. He has led the tribe from zero revenue to a $6 million annual operating budget and expanded a landless reservation base to include over 300 acres without federal assistance.
JOE SUTTER, '43, AND BONNIE DUNBAR, '71, '75: Dunbar is one of the world's most experienced female astronauts, with 50 days in space covering 20.4 million miles on five shuttle flights. Sutter, known as "the father of the Boeing 747," invented the concept of the "wide body" aircraft and served on the presidential commission that investigated the Challenger explosion. They were photographed at the Museum of Flight, where Dunbar is now the President and CEO.
ASSUNTA NG, '74, '76, '79: Frustrated that she "had to get a San Francisco newspaper to get any Chinese news," Ng founded the Seattle Chinese Post and Northwest Asian Weekly newspapers in the early 1980s. These publications, together with her tireless volunteerism, make Ng an invaluable presence in Seattle's Asian American community, and beyond.
ANDREW F. BRIMMER, '50, '51: The first African American to serve on the Federal Reserve Board of Governors, Brimmer has also headed his own financial consulting firm, Brimmer & Co., in Washington, D.C., since 1976.
JEAN SMART, '74: Smart may be best known for her role on "Designing Women," or for being the emotionally volatile first lady of the TV series "24," but to the Juvenile Diabetes Foundation, she's known as a mentor and fund-raiser. These days, the Emmy Award-winning actress can be seen in the comedy series "Samantha Who?"
STEVEN HOLL, '71: The chance to design an addition to Kansas City's Nelson-Arkins Museum of Art drew interest from some of America's top architects, but the contract ultimately went to the one who "broke all the rules." Named "America's Best Architect" by Time magazine. Holl has made a career satisfying his clients' needs while defying their expectations.
NORM DICKS, '63, '68: In early 2006, Dicks thought about retiring from Congress after nearly 30 years representing Western Washington. But that fall's elections put his party back in power, and now he chairs one of the House's most important subcommittees, Interior and the Environment.
MARGARETHE CAMMERMEYER, '76, '91: After disclosing she was a lesbian, Col. Cammermeyer was discharged from the National Guard. She fought back with a lawsuit and in 1994 a Seattle judge ruled the ban on homosexuals in the military unconstitutional. Her memoir, "Serving in Silence," became a TV movie starring Glenn Close in 1995.
TIMOTHY EGAN, '81, IVAN DOIG, '69, AND CHARLES CROSS, '81: Seattle is a famously literate city, and here are three reasons why. Cross (right) is the best-selling biographer of Jimi Hendrix and Kurt Cobain. Doig (center), whose books include "The Whistling Season" and "Prairie Nocturne," is perhaps the dean of Northwest novelists. Egan took home the National Book Award in nonfiction for his Dust Bowl chronicle "The Worst Hard Time."
EDWIN GUTHMAN, '41, '44: Guthman found it—the guest registry that proved UW Professor Melvin Rader had spent his summer at a resort in the Cascades, not at a communist training school. Guchman's series of articles for the Seattle Times cleared Rader's name and received a 1950 Pulitzer Prize.
BRYAN MONROE, '87: It took Monroe three tries to get into the then-School of Communications at the UW. His tenacity paid off then, and has continued to—he received a Pulitzer Prize in 2006 for his team's Hurricane Katrina coverage in The Sun Herald (Biloxi, Miss.). Monroe is now vice president and editorial director of Ebony and Jet magazines.
JULIA SWEENEY, '82: Who's that? That's Pat, though you wouldn't know by looking at the sparkling Sweeney. Best known as the androgynous Pat on "Saturday Night Live," Sweeney is responsible for the acclaimed one-person shows "God Said, 'Ha!"' and "In The Family Way." Her "Letting Go of God" hits the big screen this summer.
WAYNE QUINTON, '58: The "father of bioengineering," Quinton collaborated with physicians to create more than 30 innovative medical devices. One in particular—a shunt that made long-term dialysis therapy possible for patients who had lost their kidney function—has saved millions of lives. He also invented the treadmill.
CHARLES Z. SMITH, '55: Smith planned to be a psychiatrist, but changed fields when he observed a surgery and realized he couldn't stand the sight of blood. One field's loss was another's gain. The UW law school grad became the first person of color in Washington to serve as a municipal judge, superior court judge and justice on the state Supreme Court.
DAVID BONDERMAN, '63: Self-made billionaire "Bondo" Bonderman, founding partner of the Texas Pacific Group, hired the Rolling Stones for his 60th birthday. He also started the Bonderman Honors Travel Fellowship, which offers UW students an opportunity to travel not for research but to "wander and wonder."
YOSHIHIKO MIYAUCHI, '60: In 1964, four years into his career, Japanese deregulation proponent Miyauchi and 12 colleagues founded ORIX Corporation. Under his leadership it has grown to an $8 billion conglomerate with 15,000 employees. In 2005 Miyauchi appeared on the cover of Forbes Japan as "Japan's Most Powerful CEO."
LINDA BUCK, '75, AND WILLIAM GATES SR., '49, '50: She's the 2005 Nobel Laureate in physiology and medicine. He's the co-chair of the Gates Foundation. And the breakthrough she's making the lab—explaining the human sense of smell, among other things—may one day yield the medicines he's helping disseminate throughout the world.
KIM BOTTOMLY, '69, '75: After 27 years as a faculty member and administrator at Yale, Bottomly was recently named the 13th president of Wellesley College. Despite these East Coast affiliations, her ties to her alma mater remain strong. Her daughter, Hannah Janeway, graduated from the UW last year.
ALFREDO ARREGUIN, '67, '69: If Arreguin struggled to find his place in the world—he was raised by his grandparents in Mexico until their deaths three days apart—his art hasn't. His works hang in galleries around the world; he has two paintings in the permanent collection of the Smithsonian's National Museum of American Art.
TOM FOLEY, '51, '57: You might say former U.S. Speaker of the House Foley is a Spokane man—he was born and raised there, and represented the 5th District of Eastern Washington for 30 years in Congress. Bur he earned his bachelor's and law degrees right here at the UW.
DAVID GUTERSON, '78, '82: For 10 years, Guterson got up early to work on his novel before heading off to teach at Bainbridge High School. The effort paid off. "Snow Falling on Cedars" spent 87 weeks on the best-seller list and was made into a major motion picture in 1999.
SONNY SIXKILLER, '71: Quarterback Sixkiller not only helped turn around a 1-9 Husky team, he became an inspiration for Native Americans—and aspiring QBs—all over the country. He led the nation in passing in 1970, made the cover of Sports Illustrated, appeared in "The Longest Yard" and was the subject of a song, "The Ballad of Sonny Sixkiller."
ANDREA PETERSON, '96, CHARLES MITCHELL, '65, AND MARK EMMERT, '75: Emmert has done a superb job as UW president; former football star Mitchell retires this month as chancellor of the Seattle Community College district, following a career of more than 25 years with the colleges; and Granite Falls music teacher Peterson was the 2007 National Teacher of the Year.
GEORGE W. JEFFS, '45, '48: A renowned engineer for the Apollo missions to the moon, Jeffs was part of the team that raced the clock to save the crippled Apollo 13 spacecraft, which had suffered a catastrophic explosion. The mission operations team won a Presidential Medal of Freedom in 1970.
LINDA BIERDS, '69, '71: When Bierds studied writing at the UW, she focused on fiction. Small wonder that her celebrated poems read like lyrical short stories—Bierds has a gift for inhabiting lives, and eras, other than her own. A regular in The New Yorker, she received a MacArthur "genius grant" in 1998.
CARVER GAYTON, '60, '72, '76: The descendant of Seattle pioneers and early community leaders, Gayton has led a life of pioneering leadership himself: he helped the Huskies win the 1960 Rose Bowl, became the first black FBI agent from the state of Washington, served as commissioner of employment security for the state, and now directs the Northwest African American Museum.
ANN RULE, '53: Rule was going to be a psychology major, but a class with English Professor Markham Harris changed her life, launching a career that has included New York Times best­sellers on notorious crimes. She is perhaps best known for "The Stranger Beside Me," her personal encounter with fellow UW alum Ted Bundy.
JEREMY JAECH, '77, '80: As personal computers have become ubiquitous, so has Jaech. He has been involved in creating and running some of the most important software companies in the world: Aldus, Visio, RealNetworks and Trumba.
ALBERT ROSELLINI, '32, '33: At 98, he's the oldest living former governor in the United States. Rosellini held Washington's top office from 1957 to 1965, and has served as a mentor to several of his successors, including Gary Locke and Chris Gregoire, '69, '71.
H. JON RUNSTAD, '65: UW students aiming for careers in real estate can follow in the footsteps of former Regent Runstad, thanks to the Runstad Center for Real Estate Studies in the College of Architecture and Urban Planning, which he and his wife Judy, '74, helped launch in 2000. He is the co-founder, chairman and CEO of Wright Runstad & Company, which, since 1972, has developed 52 buildings in five states.
DON CORYELL, '50, '51: A Husky defensive back, Coryell went on to become a genius on the offensive side of the football. As head coach of the San Diego Chargers, he devised the "Air Coryell" passing system. A pioneer of the I-formation offense, he is the only coach to record 100 victories in both college and the pros.
PETER ADKISON, '97: Adkison knows how to make magic. The founder of game-publishing company Wizards of the Coast, he helped launch wildly successful card games like Magic: The Gathering and Pokemon. He also used his business savvy to acquire Dungeons and Dragons, the phenomenon that first sparked his love of role-playing games in high school.
WHITNEY HARRIS, '33: Harris knows how to make a convincing case. At the Nuremberg International Military Tribunal, he presented evidence against Ernst Kaltenbrunner so overwhelming that the former head of the Gestapo didn't bother appealing his conviction. At 96, Harris is the last surviving prosecutor from the famous trials.
ED VIESTURS, '81: On a 27,000-foot peak in Nepal, Viesturs found a young climber—perfectly preserved—who had frozen to death 20 years earlier. It was a harrowing reminder of what he risks every time he goes out. So far, Viesturs has climbed (and come down from) all 14 of the world's 8,000-mecer mountains.
ROBERTO MAESTAS, '66, '71: In 1972, Maestas helped lead a peaceful occupation of the abandoned Beacon Hill Elementary School, protesting cuts to basic education at South Seattle Community College. Today his organization—El Centro de la Raza—owns the building, from which it provides services like bilingual child care, a food bank, job training and home-ownership programs.
LOREN CARPENTER, '74, '76: Part of the Pixar founding team and now its chief scientist, Carpenter celebrated an Academy Award win in 2000 for advancements in motion picture rendering by Pixar's RenderMan software. He helped develop the software, which made possible the stunning visual effects in movies like "Finding Nemo" and "The Lord of the Rings" trilogy.
MIKE LUCKOVICH, '82: A former door-to-door salesman, Luckovich today is one of the premier (and funniest) cartoonists in all of journalism. He's captured two Pulitzer Prizes (1995 and 2006) for his work in the Atlanta Journal­Constitution and is syndicated nationally in 150 newspapers.
SCOTT CARSON, '85: A former director of sales for the Boeing Co., Carson is given considerable credit for helping reverse the company's bad fortunes. Now CEO of the commercial aircraft unit, he's overseeing the production of the 787 Dreamliner.
RICHARD KARN, '79: In 1991, actor Karn had no savings, no other professional prospects, and no idea whether the show in which he'd been cast was going be a hit. So he kept his day job as the manager of an apartment complex for the entire first season of "Home Improvement." He needn't have worried. The show would enjoy a triumphant nine-year run, and Karn's character, the unflappable Al Borland, would enter the pantheon of classic TV sidekicks. Karn went on to host the game show "Family Feud" from 2002-2006.
JEFFREY BROTMAN, '64, '67: The son of a successful entrepreneur, Brotman has said that he entered law school at the UW "to get out of the retail business." That didn't exactly happen. In fact, he went on to co-found Costco Wholesale Corporation, the largest membership warehouse chain in the world.
JOHN "BUD" HAWK, '51, '52: A longtime Bremerton educator, Hawk received the Medal of Honor for his heroism during a battle with German tanks and infantry that left him wounded near Chamois, France, on Aug. 20, 1944. He not only helped fight off an attack but, under heavy fire, directed American tanks to force 500 Germans to surrender.
CHRISTINE GREGOIRE, '69, '71: Gregoire was the first woman to be elected attorney general in Washington and served three terms, notably winning a $4.5 billion share for the state in a tobacco settlement. In 2004, she became Washington's second female governor.
PETER CHIARELLI, '80: Lt. Gen. Chiarelli was the No. 2 U.S. military leader in Iraq in 2006. He later became senior military assistant to Defense Secretary Robert M. Gates, and is a leading candidate to succeed Gen. David H. Petraeus as top commander of U.S. forces in Iraq later this year.
ALEX EKWUEME, '55, '57: In 1979, Ekwueme became the vice president of Nigeria. Four years later the government was deposed by military coup, and he spent six years in prison. But he has continued, all his life, to take courageous stands for peace and democratic principles. He currently heads Nigeria's Reconciliation Committee.
JOHN ELLIS, '52, '53, AND JIM ELLIS, '48: When Robert Lee Ellis was killed by a German artillery shell during World War II, the news sent his older brother Jim (right) into a self-destructive rage. But Jim's wife, Mary Lou, persuaded him to redirect his anger: "Why not make your life count for his?" she asked. Inspired, Jim spent the next six decades pursuing community-betterment projects with the energy of two (and sometimes more) people: the cleanup of Lake Washington, the creation of METRO and the establishment of the Mountains to Sound Greenway, to name just a few. His efforts have inspired many others in turn, including Microsoft Chairman Bill Gates, who once said he'd like to do as much good as Jim Ellis had, and Ellis' own brother, John, the widely admired former head of Puget Sound Energy who led the movement to keep the Mariners in Seattle. "Both of us were influenced by our parents," John has said, "but if l had an example, it was my brother Jim."
DAVID KOPAY, '64: A solid college and NFL running back, Kopay made a real name for himself in a courageous 1975 newspaper interview: he was the first professional team athlete in a major sport to announce that he was gay.
KENNY GORELICK ("KENNY G"), '78: By day he was Kenneth Gorelick, accounting student at the UW. By night, he was Kenny G, saxophone soloist in Barry White's Love Unlimited Orchestra. Has anyone but Clark Kent had a cooler alter-ego? Kenny G would go on to become the multi-platinum-selling king of smooth jazz.
SHIRLEY MALCOM, '67: As head of education programs for the American Association for the Advancement of Science (AAAS), Malcom helps improve public understanding of science, especially among underrepresented groups. In 2003, she received the Public Welfare Medal of the National Academy of Sciences, the highest award given by the Academy.
LAURA CHANG, '84: Chang must have put both of her UW areas of study—journalism and psychology—to good use when she stayed up all night excerpting the Unabomber manifesto for the New York Times in 1995. She's now the paper's science editor.
ORIN C. SMITH, '65: When Smith was gulping down coffee while cramming for exams at the UW, he probably had no idea that he was holding his future in his hand. As vice president, director, and finally president and CEO of Starbucks, Smith helped shape the modern cafe concept, complete with specialty drinks and friendly baristas.