---
Your turn
It's time to get printing. Don't be intimidated—you just need a simple idea to get started, like drawing a smiley face or making a stamp from a flower you found on the sidewalk.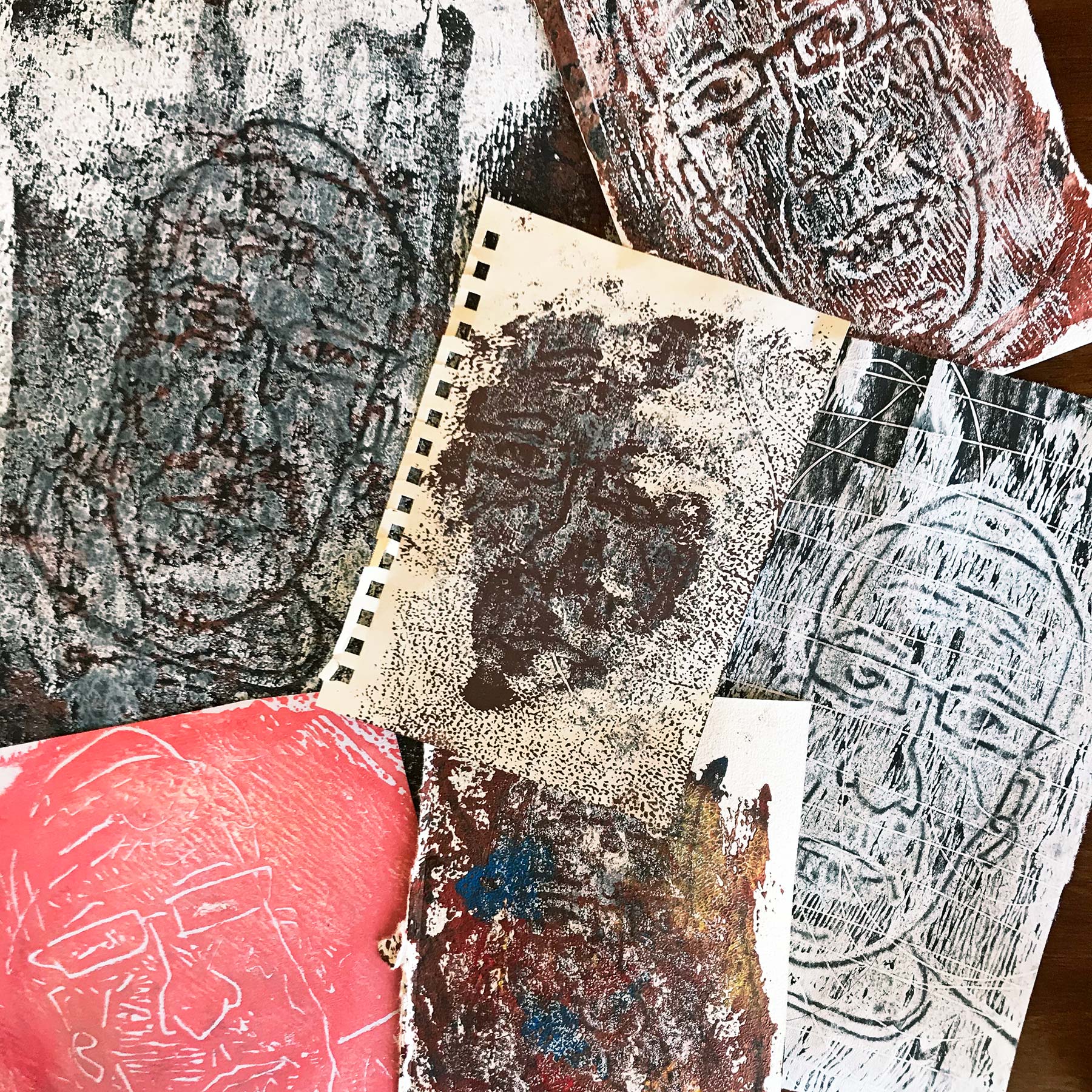 Supplies
Remember, the history of art is about making due with what you have. These are the main ingredients, many of which you likely already have around your house, but there are plenty of substitutes and workarounds.
A surface to work on
Clear off your coffee table, kitchen counter or desk. We're working with water-based ink, so it will come off of finished surfaces with an all-purpose cleaner like Simple Green. (But just to be safe, don't use it on great-grandma's antique table.)
Water source
You need to splash, spray and wipe down things throughout this process. A sink is the best water source, but keep a spray bottle handy.
Paper
You can use printer paper, construction paper, mixed media paper or even the back side of junk mail. There are two categories of paper: thin and thick. Thin will absorb the ink better, but it tears easier. Try both.
When ink or paint is involved, the paper works best when slightly damp. Spray it lightly with a water bottle (don't soak it!) and hold it up to your face to make sure it's cool. If you're doing a bunch of printing, Labitzke suggests making a "damp book" the night before: Spray a bunch of pieces of paper, and then stack them in a plastic bag overnight.
Ink
Block-printing ink, which you can find at any art store or buy online, rolls out smoothly and can be easily cleaned. You can also use acrylic or watercolor paints. Start simple with black and white, which you can also mix into gray.
To add color from your kitchen, you can start with white and add household dyes like coffee, curry powder, cherries, sriracha and even pulverized Cheetos. Get creative. Before arts and craft stores, printmakers had to make all of their own supplies.
Writing utensils
Grab whatever you have lying around the house: Colored pencils, crayons, markers, pastels and graphite pencils. Thick, water-soluble graphite sticks work particularly well for rubbings, and are a great kid-friendly alternative to sharp pencils in general. Other pointed objects, like a chopstick or a paper clip or a hairpin, are great for cutting into clay.
Ink plate
This is what you put ink on before it's transferred to the paper. A thin sheet of acrylic works well for this, but any smooth surface will do the trick: a sheet of glass, such as from a picture frame, a mirror, or a smooth countertop with tinfoil on it.
When doing clay prints, we'll roll ink onto oil-based clay, which you carve into with a pointed utensil, like a stick or a needle, to create a stamp. You should buy this specific type of clay, made by Plastilina among other brands, because it's nondrying.
Roller & burnishing tool
We'll be smoothing out the ink with a one-handed rubber roller, called a brayer, which can be found at any art store for about $10. But you can also spread the ink onto the ink plate with a paintbrush, a plastic knife or even your fingers.
You'll need to press the paper on to the ink plate so that it soaks up the ink. You can do this with your hands, but a burnishing tool, such as a flat wooden spatula, works well. It also helps to use wax paper or tracing paper on the back of the paper, to prevent it from tearing when you burnish it.