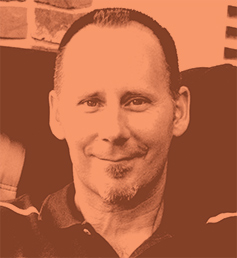 Born in 1961, he possessed extraordinary drafting skills as a child. Watching the wonders of television production, he was fascinated by systems that could encode and decode a person's presence. He understood that to make great art, he would have to "transcend our biology, our space and time in a way no artist had ever attempted – and synthesize art and science," Brixey says, "so that I might be the first to map out the way to transcend the lost hope that a drawing or an object points at – but will always fail to become – which is the thing itself."
After earning a B.F.A. from the Kansas City Art Institute, he got his master's degree from MIT's Media Laboratory and Center for Advanced Visual Study. He came to the UW in 1994, left for Cal-Berkeley and then returned to co-found DXARTS.
His works include "Alchymeia" for the 1998 Winter Olympics Ice Art Festival in Karuizawa, Japan, "Chimera Obscura" for the Henry Art Gallery and "Altamira" for the "Hyper-runt" exhibition at Philadelphia's National Projects Building.
"Chimera Obscura"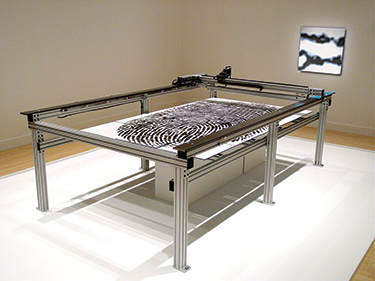 "Chimera Obscura," a collaborative project with artist Richard Reinhart for the Henry Art Gallery's 2004 "Gene(sis): Contemporary Art Explores Human Genomics" exhibition, is a net-based telerobotic maze-style game, based on a human thumbprint, that is accessed and navigated on the Internet. To play the game, visitors "travel" through the maze and deposit a virtual trail of media memes (audio, video, text and graphics) for others to read, duplicate or delete in the search for a unique sequence that will decode the maze. To date, "Chimera Obscura" has not been solved or hacked.
"Alchymeia"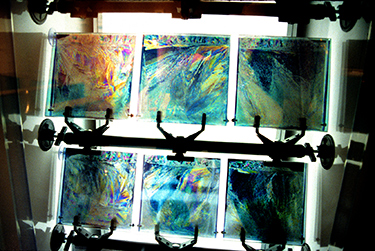 Created for the 2998 Winter Olympics Ice Art Festival in Kuruizawa, Japan (held in conjunction with the Nagano games), Brixey's "Alchymeia" literally transformed one state of matter to another. The piece was a genetically engineered, on-line ice installation that used hormones from the urine of Olympic athletes and ultra-pure, ultra-cold water to stimulate the growth of individual ice crystals. The result is a work of art grown from a preordained genetic blueprint. (At right is a wall of images from individual ice crystals, and below is a detail of one crystal.)
"Altamira" (pictured at top)
To understand just how out-there the concept behind Shawn Brixey's "Altamira" is, it helps to first know it was created for an exclusive 2004 exhibition called "Hyper-runt" in Philadelphia. Artists working in science and new technologies were given full rein to create and exhibit their cast-off projects, those far-reaching artworks nobody wanted (read: understands) and that are therefore unable to find a home in traditional museums and gallleries. "Altamira," a neuro-prosthetic, uses radio waves recorded from pulsars (collapsed stars) in outer space to create a code that stimulates viewers' retinas. That stimulation, in turn, triggers phosphenes (those patterns of colored light we see when we squeeze our eyes shut), which create a "cosmologically scaled experimental work of art in the 'mind's eye.'" (Imagine, perhaps, seeing dazzling constellation patterns in your mind.) As yet unrealized, "Altamira" cannot currently be viewed by the public pending a safety review by the FDA.