As we've seen, borders of urban space were not malleable for Genthe's subjects in ways the borders of the photograph were malleable for him as the photographer. Re-reading Genthe's photography gives us a small glimpse into the lives of those he photographed, but it isn't the full picture. A good first step to better understand the Chinese immigrant experience is through those who lived it: their oral stories, writings and importantly their art. Many of Genthe's subjects remain unidentified, but stories like Mr. Liu's give a voice to the voiceless and powerfully reclaim Asian American history. It's our duty to unearth and prioritize them.
Although borders for Chinese Americans may look different now, interrogating them cannot be limited to the past. In a book documenting anti-Chinese prejudice in America, sociologist Dr. Ai-li Chin writes that "for most Chinese [now] the problem is not so much physical barriers… as it is a question of identity."
My parents left Beijing for Oklahoma just thirty-two years after the Chinese Exclusion Act was fully repealed. With two suitcases and $200, they came in search of a better life. While there was no law prohibiting them from attending graduate school or coming to America, they still encountered borders that were reminiscent of the past. At one point it was nearly impossible to obtain a passport, let alone a visa and scholarship money. On top of all that, the unavoidable language and cultural barriers immediately labeled them as foreigners.
The reality of questioning identity as a major barrier for today's Chinese Americans is also especially significant in my own life. Dr. Ai-li Chin asks the young American-born generation, "Who are you as a Chinese in the United States?" Born and raised in Washington state I now ask myself: Who am I as a Chinese woman born in the United States?
When others first look at me, I am not considered an American until they hear my English. Even then I have had strangers ask me, full of surprise, how my English became so fluent. I have gone through what my Asian Americans peers now consider a rite of passage: having your lunch ridiculed by classmates, then coming home from elementary school heartbroken and angry, begging for sandwiches instead.
On the contrary, when others first look at me in China, I am immediately considered one of them, until they hear me speak Mandarin and then consider me as American. I have had strangers scoff when I struggled to read characters on a billboard perfectly, and tell me how I'm definitely American and not actually Chinese.
So perhaps my answer to "Who are you as a Chinese in the United States?" is that I am caught in a balancing act between these two cultural boundaries. A space of in-betweenness where I am not quite American enough, but also not Chinese enough. Despite the challenges and unanswered questions that come with that, I am immensely proud to be Chinese-American. The sacrifices my parents made to be first generation immigrants, coupled with my experiences growing up in America, are the reasons why I'm here at the UW, here sharing my research, insight and writing with you.
Let's take one last close look at "An Unsuspecting Victim." Discreetly camouflaged, you'll see the remnants of Genthe's white companion as a shadow on the stairs. Perhaps in the same way, similar to that shadow, the borders and mistreatment of America's 19th century Chinatowns still resonate on the streets today. These photographs are of the past, but that does not mean that history is to be left there, forgotten or excused.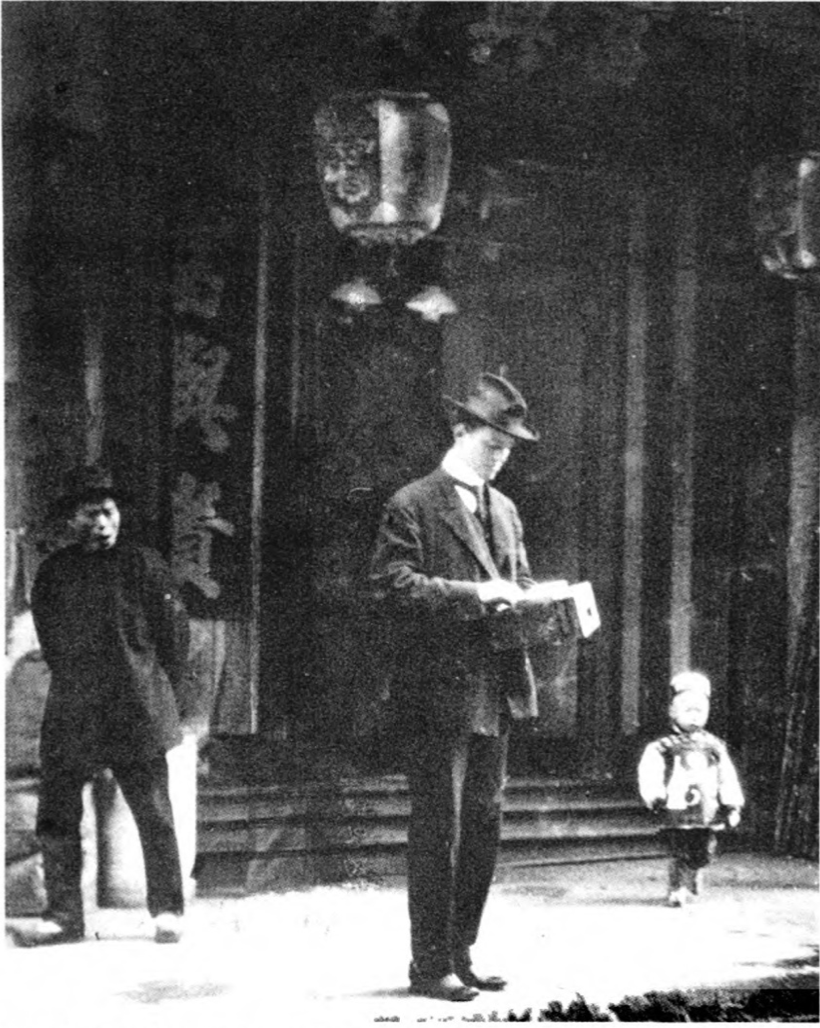 For many, injustices facing Asian Americans today may be just like that shadow: barely seen, fleeting, not tangible. However, the unsettling similarities between violence at the edges of San Francisco's Chinatown during Genthe's time and that of the Bay Area this past year obliterate those misconceptions, and our city is not exempt. A 10-minute drive from the UW campus is Seattle's very own Chinatown-International District, a community that, similar to San Francisco's Chinatown, also suffered under extreme social, political and economic discrimination in the late 19th century. Yet, we also cannot limit this conversation to the 19th century. Racism towards Asian Americans, especially the community's most vulnerable, is not just a shadow of the past. It is still here now.
For the past year as the world struggled to cope with COVID-19, headline after headline reported surges in verbal and physical assault against Asian Americans. San Francisco. New York. Atlanta. But less reported is Seattle, where an Asian woman was violently attacked on the streets of Chinatown-International District, saying in a press conference, "since that attack… I haven't gone back." This was not an isolated incident, as hate crimes targeting Seattle's Asian community have increased. We are afraid to walk our own streets—which is an all too familiar statement.
However, few people talked about it, and everything felt somewhat distant from my life in southwest Washington. As each headline became harder and harder to read, I tried pushing down the fear, as if ignoring them would help relieve my feelings of helplessness. It didn't.
Then, a week or so after the March 16th Atlanta shooting, family photos of the six Asian women who lost their lives that day were released. Glimpses into their immigrant story, and their lives as mothers, were released by mourning family members. I was heartbroken. In those smiling photographs, and in each word detailing their life of perseverance, strength and sacrifice—I saw my mother. I saw my aunt, the women at my small Chinese church, and the friendly faces at my local Asian grocery store, all reflected in those shared stories. Suddenly it wasn't just a breaking news story that had nothing to do with me, or photographs I could scroll past and forget about.
I knew I had to do something, and with Professor Sperling's guidance and encouragement, art history has given me this chance to share my findings and my story. The process has not only shaped how I understand our complex and changing, yet broken world, but also provided opportunities where I can better know myself, and especially this past quarter, who I am as an Asian American.
Coming to the UW as a computer science major with little prior programming experience, I hoped to find my place in computer science integrated with something that I was passionate about. Now I can confidently say that I may have found a path to that place. Although computer science is often focused on getting the right answer, art history has challenged me creatively, and pushed me far outside my comfort zone. It has taught me that it's OK to not have the full answer yet, and oftentimes it is in those very moments where I've learned the most.
I've seen how art comments and touches on every aspect of life—from what's comfortable, to confronting the uncomfortable, and always going beyond what I first assume. I see computer science playing a vital role in helping more people experience moments like those for themselves. Technology connects people with new ideas in an increasingly accessible way, and art history generates those new ideas that help us grow to better understand ourselves, our communities and our shared histories. The space between these two fields excites me, and it's something I will be pursuing passionately in my time at the University of Washington.