At the entrance to the meditation hall, the men and women slip off jackets that cover their dark robes, remove their shoes and bow. Inside, they settle on cushions and chairs for 45 minutes of stillness. Meditation is a central part of a monk's life, explains Rev. Berthold Olson, '87, as he instructs a visitor in the practice. "The point is to learn to direct your attention in," he says, "and that allows you to direct your attention out, compassionately and wisely."
Olson is one of three UW alumni who live at Shasta Abbey—a fourth recently moved to a priory in Berkeley. Founded in 1970, the abbey is home to nearly 30 monks, all westerners who entered monastic life as adults. While relatively new to the west, monasteries have been essential to Buddhism since its beginnings more than 2,500 years ago as places to preserve Buddhist teachings and traditions. The monks who live there "dedicate their lives to understanding and living the teachings of the Buddha," for themselves, the lay community of Buddhists, and for anyone interested in learning about Buddhism, Olson says.
Olson himself came to Buddhism as an adult, though he'd been searching for a different kind of meaning most of his life. As a kid in Santa Rosa, Calif., he was often flummoxed by the things other people were chasing, from high-powered jobs to new cars. "In some respects, I felt like I was among Martians," he says. After high school, he traveled overland from Europe to Nepal, "searching for something I could see wasn't going to be satisfied by normal life."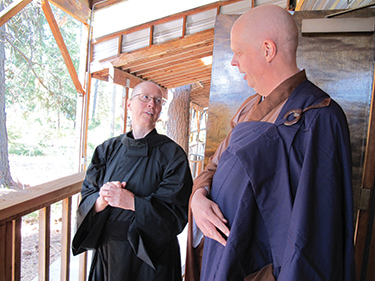 He returned without an answer. Then, before his freshman year in college, he went to a lecture by a Buddhist monk. Olson was the first person to show up; the monk grinned at him, pressed his hands together, and bowed. "Something in me said, 'This is it.' "
Olson started meditating. He also carried on with his life. He went to college and married his girlfriend soon after. He worked as a nurse's aide and as an activities director at an adult day health center. And he kept meditating as his marriage broke up, and even as he saw clients in the hospital who had been healthy and whole just the day before.
Inspired by a boss, he got his master's at the UW and became a social worker. And he continued to meditate; to drive from Seattle to Shasta Abbey, which he had visited in 1979; to spend hours on the phone with monks. He deepened his commitment to Buddhism and became certified as a lay minister.
No one single event made Olson realize he needed to be a monk. Seattle was full of loving friends and family, avocations such as tennis and classical guitar and satisfying work. "I was happy at one level," he says, but he also felt his life energy wasn't focused where it was needed. "I could see that being a monk was going to address that longing."
So he spent more than three years paying off his student loans and raising a $10,000 stipend to cover his health insurance before entering the monastery in 1990. He says he needed every moment. "Saying goodbye to most of what I thought was my life was really intense."
Becoming a monk means shedding much of one's former life. While not all traditions require celibacy, monks entering the Order of Buddhist Contemplatives—to which the abbey belongs—must end romantic relationships. They undergo other transformations, too. Olson once had blond hair and a full beard and was known as Craig. Now he is Rev. Berthold, and his head and face, like those of all the monks, are shaved clean.
This journey is much the same as that taken by Buddhism's founder, an Indian prince born in the 5th or 6th century B.C.E. Confronted by the suffering in the world, the prince left his family and his wealth to become a wandering ascetic. After sitting under a Bodhi tree and meditating, the story goes, he achieved enlightenment—a complete understanding of and connection with the universe and the resulting freedom from suffering. All Buddhist traditions stem from that simple moment, Olson says: a man sitting under a shady tree, wanting to be still and look inward until he found the truth.
***