The beach. The briny air. The invasive European green crab! Carcinus maenas first clawed its way onto Washington's southern beaches in 1998 and arrived up north in 2015. It is skilled at prying open bivalves and makes meals of a number of other organisms that normally feed native birds and fish.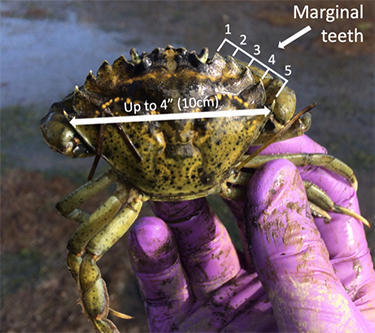 Having started in the northeast Atlantic and Baltic Sea, it has spread to northern Africa, the U.S. East Coast, Brazil, Australia and now the West Coast where it was first seen in San Francisco Bay in 1989. Washington fisheries, including Dungeness crabs, oysters and clam, are in danger.
The Washington Sea Grant Crab Team, which is based at the UW, was launched in 2015 to understand and mitigate the spread of the green crab along the coast and in intercoastal waters. Citizens help the team monitor the spread by sharing information about sightings and locations.
If you think you have found a European green crab, you can visit the crab team's webpage for help distinguishing it from native species. Take several pictures from different angles and distances to share with the team at crabteam@uw.edu. Leave the crab where it is, the team will follow up quickly.