Hoang, UW Bothell's Distinguished Alumna of the Year for 2018, is spending four or five mornings a week in Redmond, guiding her newest eateries through these treacherous first months and making sure they stay true to her vision. But in recent years, she has also put herself at the center of some of the area's most heated political debates. Underlying it all, is city of Seattle's efforts to address the city's affordability crisis and how those efforts might help or harm small businesses.
Since the campaign to raise Seattle's minimum wage to $15 an hour, Hoang has been outspoken about what she considers the city's increasing hostility toward small businesses. "I've gotten … regulation fatigue," says Hoang, who graduated with a business degree from UW Bothell in 2002.
In 2015, she sold one of her four Pho Cyclo Cafe restaurants in Seattle and closed another last year. The rising cost of real estate, in addition to new laws, make doing business in Seattle too expensive, she says. In particular, she cites the recent ban on plastic straws, the new soda tax, the $15 minimum wage and a proposed employee head tax on businesses with annual revenues over $20 million.
The restaurateur's road to small-business advocacy was a long one. Hoang's father, a soldier in the South Vietnamese Army, escaped to the United States in 1975. Hoang and her mother, Lien Dang, stayed behind, and Hoang lived with her grandparents while her mother was forced to live in a Communist re-education camp for several years. In 1982, when Hoang was 7, she and her mother joined Hoang's father. The family settled in Everett, but Hoang grew up at her mother's restaurant, Huong Binh, in Seattle's Little Saigon. Her time after school was spent snapping peas, peeling garlic and waiting tables.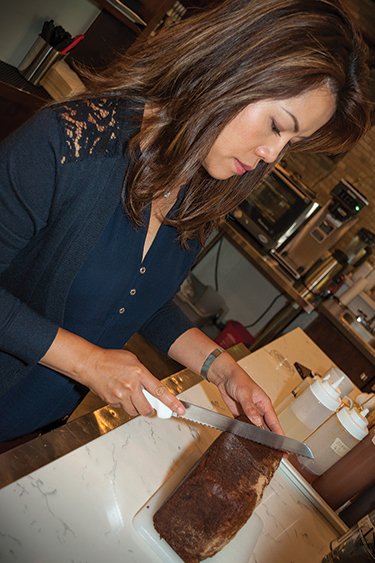 Hoang's mother, now 65, still works seven days a week at her own restaurant. She also makes the pickled vegetables featured on District 1's menu. "My mother can't sit still," Hoang says. "She always, constantly has to be doing something." The pickling recipe for mustard greens comes from Hoang's grandmother.
A few years ago, with her own restaurants thriving, Hoang decided it was her turn to speak for small-business owners in Seattle. Unlike her mother's generation of immigrant business owners, Hoang says she has the language skills, education and time to get involved in politics and policymaking. "For my generation and other entrepreneurs I work with in the community, we know that our voices and our actions can count for something."
Hoang co-founded the nonprofit Ethnic Business Coalition in 2014, after the minimum-wage law passed in Seattle. Her mission was
to promote small businesses owned by immigrants and people of color and help them navigate local laws. Last year, Mayor Jenny Durkan appointed her to the city's new Small Business Advisory Council.
"She looked at her mother and she realized all of these issues that her mother had gone through being an immigrant and not knowing the language and the system well," says Assunta Ng, a member of the Ethnic Business Coalition's board of directors and publisher of the Northwest Asian Weekly and the Seattle Chinese Post. "You have to run the business and compete for labor and buy good ingredients," Ng says. "That's not easy."
Hoang believes the $15 minimum wage—the highest in the country—is particularly challenging for immigrant-owned small businesses, which are often already operating on thin profit margins. She echoes a refrain among opponents of a higher minimum wage who say employers—especially smaller businesses—will be forced to cut jobs, ultimately hurting workers.
She acknowledges that immigrants also make up a large percentage of low-wage workers in the city's restaurants, warehouses and retail shops and would benefit the most from a higher minimum wage. "That…was a very difficult conversation," Hoang says. "We kind of pointed out to policymakers that, yes, we want to support this, but at the same time we also can't forget" that immigrants are business owners, too.