Words to guide us
A message from Rickey Hall, Vice President for Minority Affairs & Diversity
This has been a challenging and painful year. Many Black students, faculty, staff and members of our BIPOC communities have suffered disproportionately from the grief and outrage that comes with witnessing tragedy and injustice. At this institution and in this state, we talk a great deal about equity. As we move forward, the decisions we make and how we make them will determine if we truly are centering equity in our actions.
This issue of Viewpoint is produced with BIPOC communities in mind, especially our Black students, faculty, colleagues and alumni. In this edition, six UW community members have graciously shared their experiences and used their voices to further conversations about the role our university should play in undoing systemic racism. Their words are a reminder that we must do better—be better.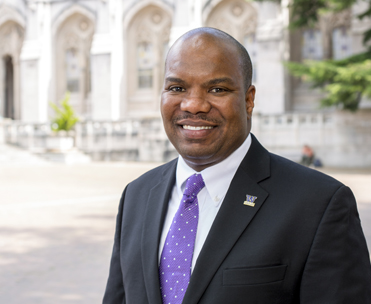 As we note the urgency of this moment, may we also reflect upon the work of countless alumni, student leaders and UW community members who, over the last 50 years, have catalyzed significant changes in the University. UW student activism during the Civil Rights era led to the establishment of OMA&D, increased diversity in faculty hiring and made way for generations to follow with new demands for a changing world. As a public university, it is important that we acknowledge that the work itself is part of a long struggle to dismantle systems in higher education that have historically caused harm to underrepresented and marginalized communities. Still today, we must work to go beyond acknowledgements and further our efforts to create an accessible, welcoming and equitable institution and community.
Five years ago, President Ana Mari Cauce launched the Race & Equity Initiative to confront bias, transform our institutional policies and center racial equity in all we do. There has been progress made, but not enough. We are doubling down on our efforts and are working toward meaningful and lasting institutional change. We realize the work cannot be done in isolation and are calling on our alumni to be a part of the change process. With that in mind, the UW Alumni Association has developed a Race, Equity and Justice Resource Center to extend the stories and expertise from our campuses to our community of alumni and friends. One goal for the resource center is to engage alumni from BIPOC communities and center their voices. Another is to provide resources to help all alumni join in the work of dismantling structural racism. It is time for all of us to roll up our sleeves and set about helping to make the University of Washington truly be, as President Cauce often says, the University FOR Washington. We do that by removing barriers for those from underrepresented and marginalized communities, addressing structural and systemic racism and seeing the humanity in us all.
---
Editor's Letter: I won't stop lifting up our voices
"Institutions move slowly," writes sociology professor Alexes Harris, guest editor of Viewpoint Magazine. "But we are at a moment for change and we need to apply and support constant pressure and expect certain outcomes."
Students for a safer campus
"A lot of institutions in our society are inherently not built for our needs—the needs of Black people," writes Navon Morgan, class of 2023.
Are you part of the problem or the solution?
"We're moving in the right direction," says LeAnne Wiles, director of First-Year Programs in Undergraduate Academic Affairs. "Things we're doing right now might have seemed radical when I first came to the UW in 2009."
Justice should be our North Star
"We need an urgent shift in the climate and system stemmed in anti-racism, anti-colonialism, and any other form of discrimination," says Claire Gwayi-Chore, a Ph.D. student in Global Health.
What the UW has gotten right
"It's important to take stock of what we've accomplished so we can remember that our collective activism, past and present, isn't in vain," says LaShawnda Pittman, an assistant professor of American Ethnic Studies.
How can the UW engage?
"Something I hear all the time is that those who are closest to the pain and to the solution are furthest from the power to make the change," says De'Sean Quinn, a Tukwila City Councilmember.
About the cover
Artist Moses Sun recently participated in two significant Black Lives Matter mural projects in Seattle including the mural at the Wing Luke Museum featured on our back page of this issue. He describes his work as a visual meditation that expresses Blackness, humanity and his personal history. After conversations with the guest editor, Professor Alexes Harris, and reading the essays in this issue, he was inspired to create our cover honoring Black voices.