Calamitous Cast
Growing up in a household full of books and culture, Greg Olson surrounded himself with a variety of characters who touched the imagination.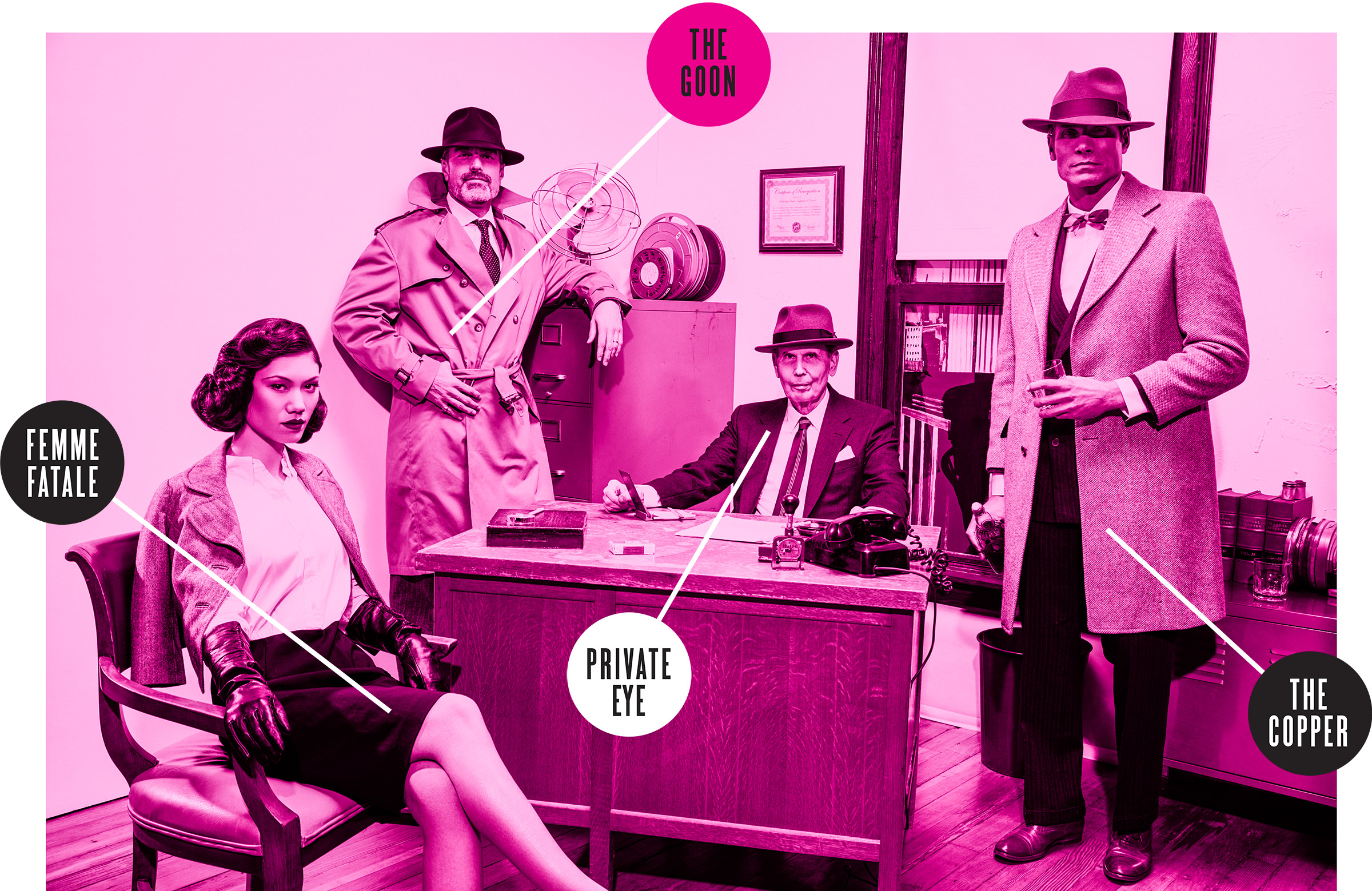 Private Eye
Greg Olson stars as the hard-nosed antihero of the film noir genre. Dressed in a classic fedora and a cynical smile, this archetype is both a rough-necked seeker of justice and a sophisticated outsider who stays above the fray. He doesn't trust the police. He trades blows with the bad guys. He really should know better than to trust the femme fatale.
Femme Fatale
A dangerous woman. Hard to ignore, impossible to forget. As likely to double-cross as any man. Played by Neomi Pantic.
The Copper
Keeper of the cuffs. Bound by law, tempted by greed. A friend and a foe to the private eye. Played by Scott Milligan.
The Goon
Works for somebody in the shadows. Plays rough, hits hard. He'll be history by the second act. Played by Toby McAuliffe.
Olson's Need-To-Watch Noir Films

1. Double Indemnity (1944)
Director: Billy Wilder
Night-blooming jasmine, a shady man and woman, a big-money scheme. Smells like gun smoke when they kiss.
2. Moonrise (1948)
Director: Frank Borzage
The dark, haunting past has a death grip on a man, but his deep sense of alienation yields to love and compassion in this rare redemptive noir.
3. Phantom Lady (1944)
Director: Robert Siodmak
Brooding German Expressionist aesthetics meet American pulp fiction, and the atmosphere of film noir is born: a heroic woman, not the usual deadly one, walks shadowy streets on a mission to save her man.
4. Point Blank (1967)
Director: John Boorman
Noir goes corporate. A man double-crossed out of a lot of money comes to L.A. to even the score. He's so cool he frosts palm trees; he'll tear apart skyscrapers if he has to.
5. Detour (1945)
Director: Edgar G. Ulmer
A guy hitchhiking to L.A. to see his girlfriend encounters a wickedly dangerous woman—you never know when the abyss is going to open under your feet.