For a little while, my wife and I were able to keep the news of George Floyd's death away from our kids—and I was relieved. I didn't want to talk to them about the police. When you're 8 and 10 years old, you should be allowed, you know, to be boys.
But then they saw posters of Charleena Lyles and George Floyd, and it was hard for us to explain how things like that could happen. They were afraid, and for the next several days, they kept asking us if the police were going to hurt them. It was just a heartbreaking conversation to have with your kids.
I want us to create a better world for my children and my students, one where Black people aren't treated with disdain, or as subhuman. To make that world, we need education, and we need love. We need leadership—people willing to challenge racist systems and policies.
Above all, we need accountability. Back in June, many UW leaders came out with statements supporting Black students and Black lives. We have to come back around and ask our leaders: "What have you done? What are you doing?" We need to hold them accountable.
* * *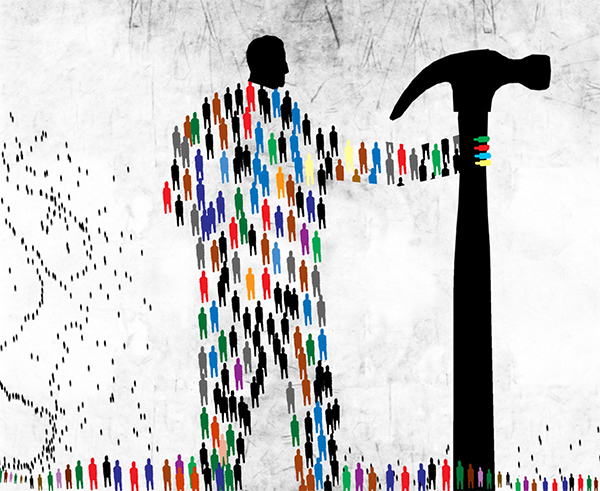 We need to be ready
"Polarization has always been with us; it isn't this new thing that we've cooked up in the 21st century."
History is a slow process, a series of gradual accretions. Except when it's not. Over the past year, American society has endured an epidemic, grappled with inequality, and worried about the future. It's a good time, says historian Margaret O'Mara, to think about what we want from our government.
Before speaking their piece, historians usually wait for the dust—or the tear gas—to settle. Still, like all of us, I've been thinking about racism and activism, about the government and the pandemic. We have a global-health disruption, an economic disruption and political disruption, and all of the anger and concern and energy people have for change is starting to become a path.  As we're thinking about protests and paths, I'd suggest we also consider how we view big government. It's worth noting that the U.S. has always had a big government; it just shifts its spending priorities. Between the middle of the 20th century and today, for instance, government priorities moved from supporting social services and infrastructure to underwriting security operations, the military and tax breaks.
Rather than resisting the concept of big government, then, we need to pay attention to it. What do we, as citizens, voters and taxpayers, want our government to do? Whom should it benefit?
Over the past few months, millions of citizens have been asking that question. Calls to halt racism and to defund police departments are the most recent examples, of course, but you could say that Americans were agitating for social and economic change four years ago: Just think about the wildly different candidacies of Donald Trump and Bernie Sanders.
Americans, in fact, have been agitating since the country's founding, and while history doesn't repeat itself, there are patterns that appear repeatedly. We do see comparable moments of disruption, unrest and rules-changing in the 1850s, 1920s and 1960s. Both the 1850s and the 1920s, for instance, saw viciously racist and nativist movements in response to upswings in new immigration.
Underneath the crises and protests, however, there are often quieter years of preparation. Decades of activism around government reform made the New Deal possible. Years of Black activism led to civil rights victories in the 1960s.
We're in an unpredictable political moment. However, history shows us that—with publicity and broad-based buy-in—movements can create real change at the highest levels. And I know that, whatever the issue, Americans have a tradition of protest. We express ourselves collectively by going to the street. This is an indication of the strength of democracy, and it does move the needle.